As I mentioned in previous posts my garden is flourishing! It's not just flourishing but producing in abundance.   I don't want to take this for granted so I'm trying to be very wise and not waste.  I recently fell in love with the green smoothie movement and thought that the overabundance of Kale and Swiss Chard in my garden might be great pureed and froze.  I'll show you how to freeze fresh kale for winter smoothies.
Freeze Kale for Winter Smoothies
Harvest your kale and Swiss chard.  Wash it real well  Dirt like to hand out in the stems.  I then cut the stems out and fill my blender with handfuls of greens. I also add 3/4 to 1 cup of water.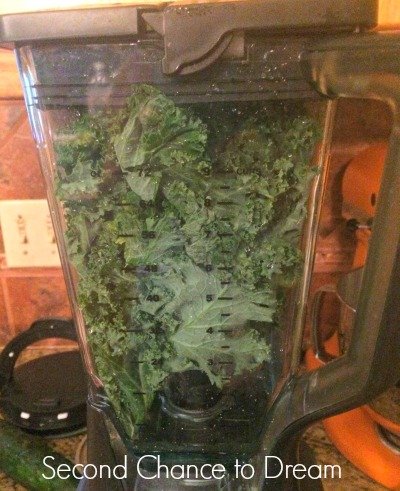 I puree it up until it looks like this.  I know it doesn't look real appetizing.
I found some bags at Target that had labels and 1 cup measurement.  I poured my greens into these bags.  I laid them all onto a baking sheet and stuck them in the freezer to freeze individually and flat.  Once frozen I took and put them in a freezer bag to store for the winter.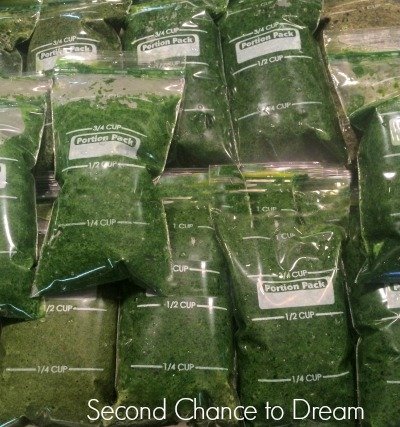 Then when snow is 3 feet deep in my garden I can make these yummy smoothies with my garden fresh kale.  Not only am I not wasting anything I know exactly what chemical was placed on them.
Check out this awesome Power Smoothie Recipe that is perfect for your frozen kale.
Need more garden fresh veggie recipes?? Check these out:
5 Recipes that use Garden Fresh Tomatoes
5 Recipes that use Garden Fresh Cauliflower
5 Recipes that use Garden Fresh Beets
5 Recipes that use Garden Fresh Kale
5 Recipes that use Garden Fresh Swiss Chard
5 Recipes that use Garden Fresh Zucchini
5 Ways to Use Garden Fresh Spinach
5 Recipes that use Garden Fresh Turnips
Thanks for stopping by. I'd love to have you follow along and subscribe to my RSS Feed or sign up to receive daily Emails delivered to your inbox. You can also follow along via Facebook.
(Visited 1,252 times, 3 visits today)