Hi, today I'm sharing these free printable Elf on the Shelf Activity cards with you. Now before I go into what I'm sharing I need to let you know we don't have an Elf, nor have we ever.  They weren't around when my kids were young. My daughter and daughter in law have Jack and Twinkle and do this with my grandchildren. I am very familiar with how the Elf works.  My intention was to make cards that Adriane and Marcy could use with my grandchildren. My activities have a slight twist to some you might see around the blog world.  I have included some activities that promote serving others.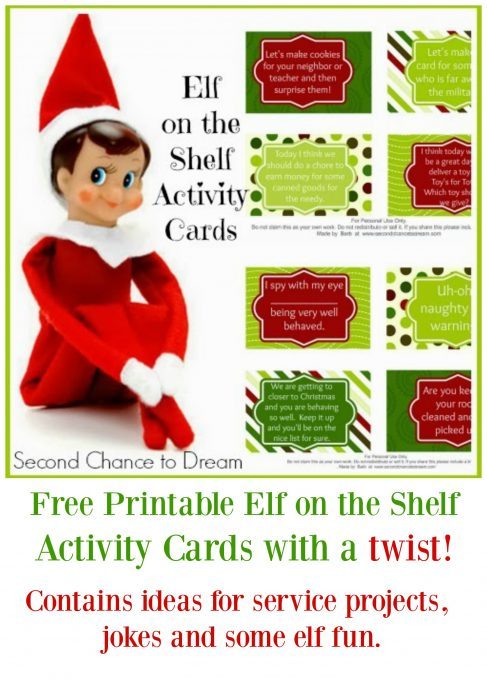 I LOVE the idea of creating whimsy and memories into a child's life, but I have a huge aversion to having a month full of "it's all about me" mindset.  That just breeds bratty, entitled children.  So my intention was to create cards where at least part of the month the focus was on "others" and doing something nice for them.  OK, with that said, I want to share another warning I have with the Elf on the Shelf movement.  Young moms today are already burdened and barely find time to sit down.  So when you add the "pressure" to keep up every day with another activity that just triggers guilt if you can't keep up.  So PLEASE be nice to yourself, your children won't die if you can't do something elaborate every day.  No pressure, just have fun building memories!
OK, now that I'm off my soapbox let's get down to business.  To use these you just need to download and print and cut the cards.  You could also laminate and keep from year to year if you have access to a
laminator.
 That's one way to cut down on the work for yourself.  Since I haven't done the elf I'm not able to show pictures, but I am describing the cards that I feel need some explanations.
These first two sheets are just random fun notes from your Elf.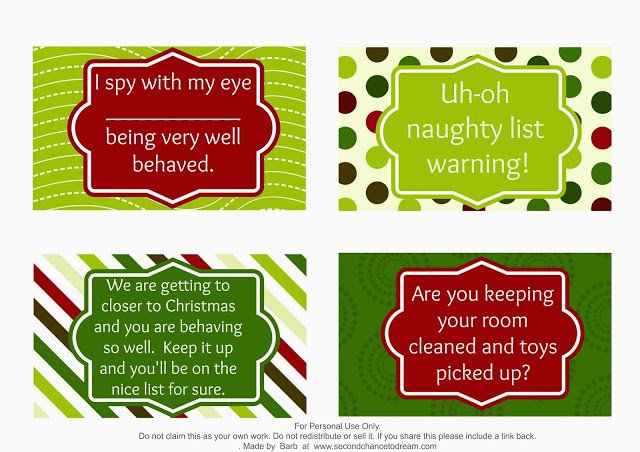 These next two sheets are jokes.
The next two cards are service oriented as well as spiritually oriented.  
Card 1: You could have a picture of Baby Jesus and remind them of why we celebrate Christmas
Card 2: You could set out a story about the birth of Jesus and read it to them or even leave their favorite Christmas book out to enjoy together.
Card 3:  You could encourage them to let someone go in front of them in line, or share a toy with their sibling. Help them brainstorm small ways to give to others.
Card 4:  Lay out some crayons and paper and let them draw a picture for a grandparent or someone at church who is sick, teacher, etc.  The goal is to get them thinking of other people.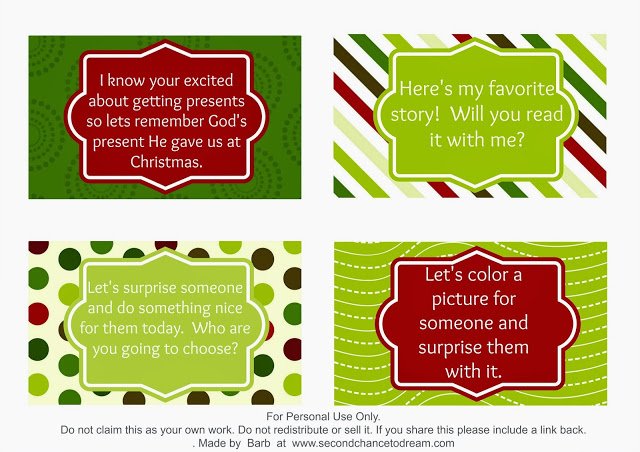 These next 4 cards are service related.  You would need to think ahead a bit and plan out these projects. But they are doable and if you have a crazy week then choose a joke card.
Card 1: You probably will be baking cookies sometime in the month.  Think ahead and save that card for the day before you'll make cookies.
Card 2: Give your kids some paper and markers and let them make a card for someone in the military.  Here is where you can find the address to send it to.
Card 3: Give your kids a small chore and then go to the store to buy a couple of canned goods that they can drop in a food drive box or the church food pantry.  This takes a little time but teaches A LOT!
Card 4: This card will take a little planning ahead but it's a great way for your child to get the message that there are kids who receive very little for Christmas.  It doesn't have to be a big gift but something to get the message across.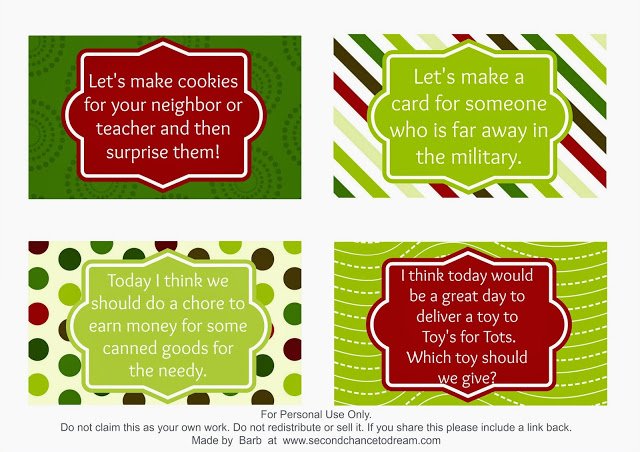 I've also included blank cards so that you can personalize them as needed for your family.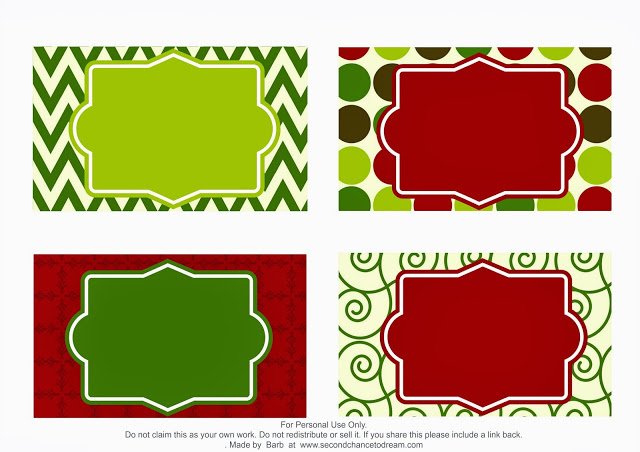 Here is a calendar for you to do a rough sketch of the month.  Kinda, like menu planning.  Look at your month and start plugging in ideas. Then on dates you know are crazy plan those days to use joke cards.  Turn your sheet over and write down anything you might need to buy to make the activities happen. Don't forget to be nice to yourself!! Remember you set the tone and mood for the whole house.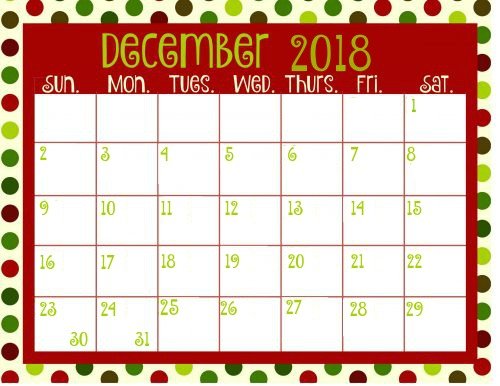 You can download the calendar HERE and the printable cards HERE
You can also grab this Elf on the Shelf idea page to help you organize your month. It can be found in my Buffalo Check Planner here.
 I hope you enjoy these and build lots of wonderful memories with your children.
 You can also grab this
Printable Elf on the Shelf Welcome Letter
to personalize for your children.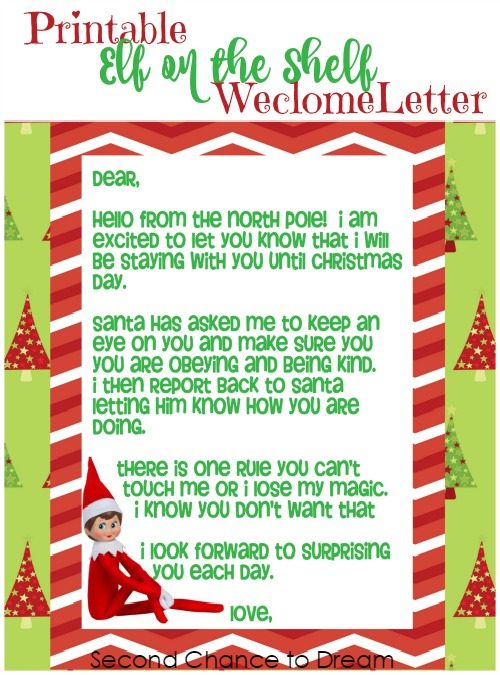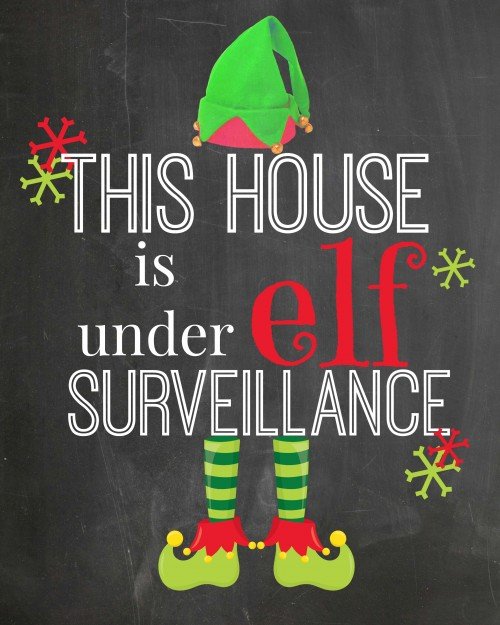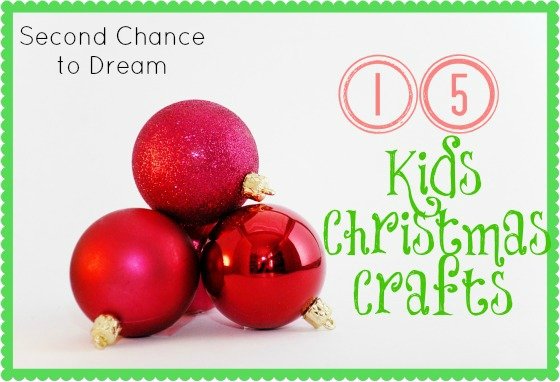 I'd love to have you follow along. You can subscribe to my
RSS Feed
or
sign up to receive daily Email
s
delivered to your inbox. You can also follow along via
Facebook, Google + or Twitter.



(Visited 71,396 times, 14 visits today)