My husband Jim and I have been married 39 years.  We have 6 children, 3 of whom are married and we have 5 grandchildren for a total of 16 people.  We have done a lot of Christmas' together and have traditions that we have had for almost all of the 39 years.  I wanted to share with you some ways you can create meaningful Christmas traditions by sharing some of ours.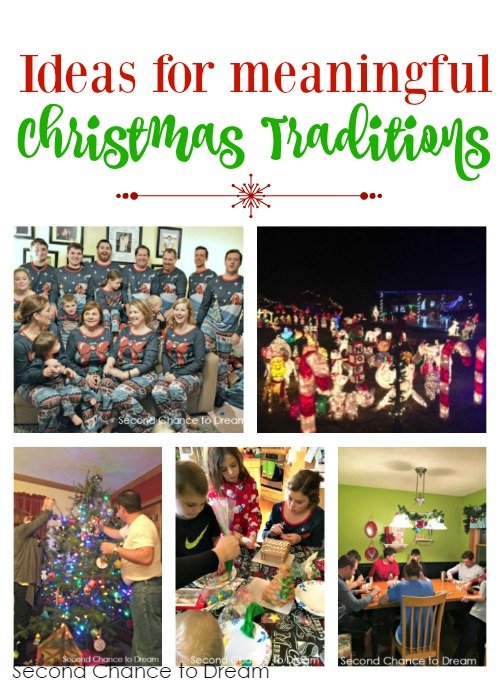 One thing we have done for 39 years is to buy a real Christmas tree. We go out and hunt for a tree and cut it down We slog through mud or snow, depending on the weather that year.  Lots of snowball fights and memories have been made.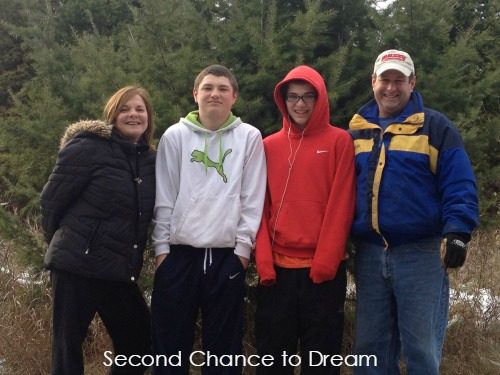 When we get the tree home we all decorate the tree together with Christmas music playing.  We then eat Pizza, cookies and drink hot chocolate together.

I buy the kids an ornament each year until they are married.  The Christmas after they get married I take all the ornaments and hot glue them to a wreath and give to them as a present.  Our tree definitely looks kid friendly but that will change in the near future since the last 2 will be graduating in the spring.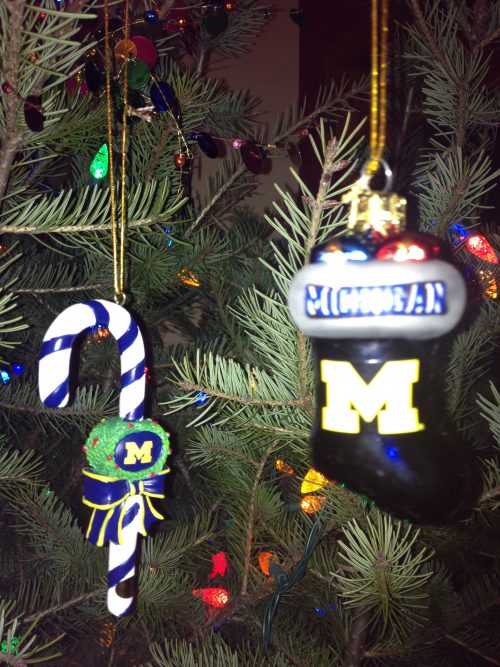 I make breakfast casseroles ahead of time and have them ready for everyone when they wake up.   For our clan, we have to make 3.  See how I prepare them ahead of time.
Our Christmas Eve Meal is always pick up from a Chinese restaurant and a couple pizzas for the few that don't like Chinese.
I always buy EVERYONE a pair of pajamas that we open on Christmas Eve. We then put them on and open all of our gifts Christmas Eve night except Santa's, of course.  This past year we did matching pajamas and it was sooooo fun!  We'll be doing that again even though not everyone will be home this year.  (This will be the first year to not have everyone home.  :()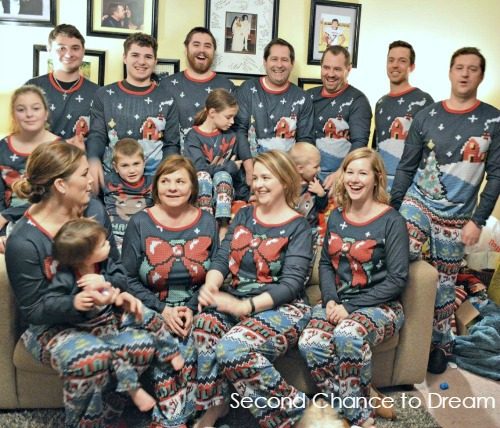 7I fill 17 stockings every year!  Now, this tradition often feels like a burden to me, I'm sorry to say that.  🙁  But this is a tradition that a few of my children LOVE, like really LOVE or I would pitch this one.  This year I won't have all the stockings to fill and I'm sure I will miss it.
We have eaten the same Christmas meal for almost 39 years.  It is really the only time we ever eat that meal at home.  We have prime rib and crab legs with English Christmas Cabbage and Winter Trio (potatoes, rutabaga, and turnips, mashed.)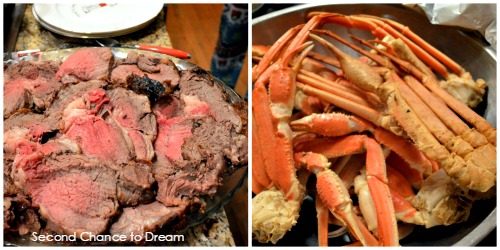 We make Gingerbread houses or decorate a Gingerbread village every year.  So much fun for the kiddos.
We play lots and lots of games.
We load the kids up in the car and head out for a Christmas light scavenger hunt.  It's so exciting to see the excitement in the little one's eyes.  Search Pinterest for some free light scavenger hunt printables.
There is always a puzzle being worked on.  These two are working hard! 🙂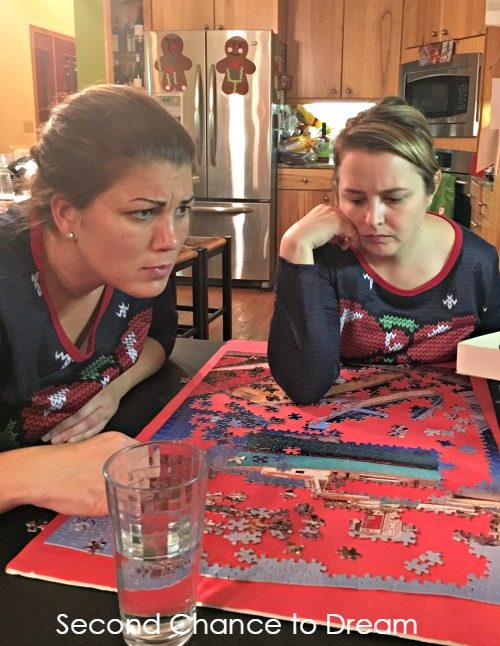 We always leave Santa a plate of cookies.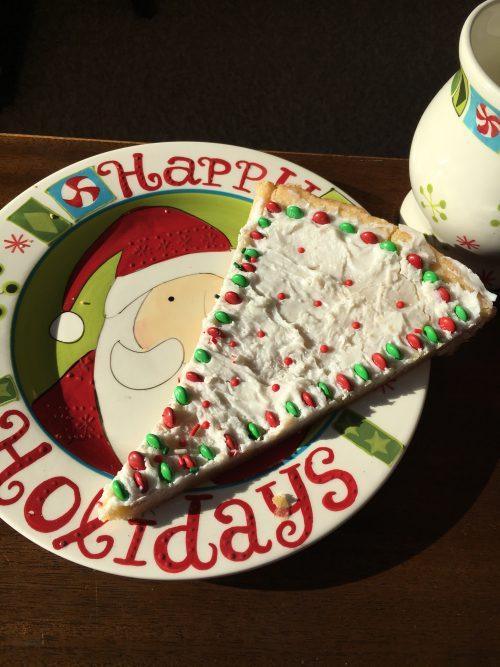 We have a Birthday Cake for Jesus and read the Christmas story.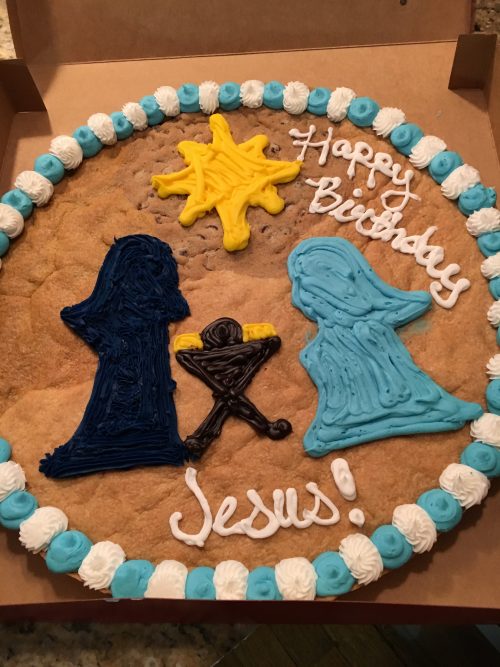 Now that I've shared our Christmas traditions I would like to say be careful to not become a slave to those traditions.  We have a LOT and there have been times when we try to cram them all in and we have some not so pleasant attitudes.   We need to remember the reason why we celebrate Christmas.
As my children are leaving home and the empty nest is approaching I find it important to evaluate which traditions we will keep and which ones we will let go.  I also think it's important for my husband and me to start some new traditions that are for just us to keep the magic of Christmas in our home.
Do you have a lot of Christmas traditions in your family?
The Great Expectations of Christmas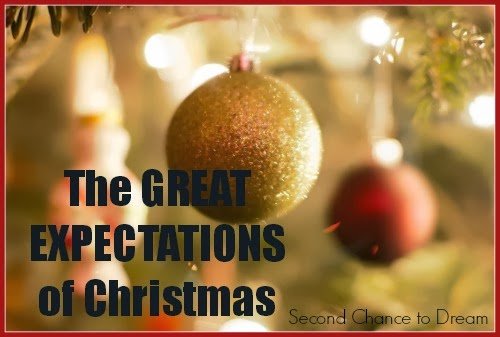 Ways to Keep Christ in Christmas
I'd love to have you follow along. You can subscribe to my RSS Feed or sign up to receive daily Emails delivered to your inbox. You can also follow along viaFacebook, Google + or Twitter.




(Visited 815 times, 1 visits today)