It's time for another lesson in our More: It's time to dream again series.  You can find previous posts here.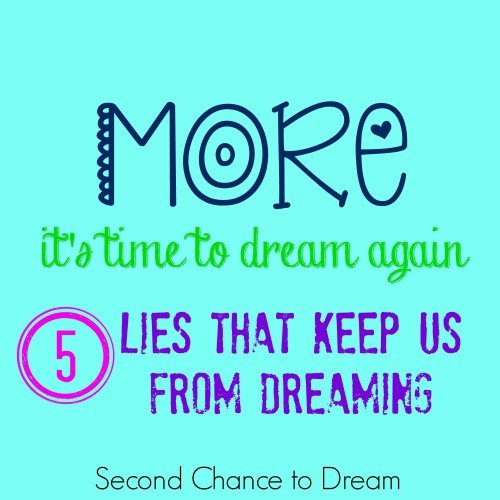 Have you ever sat down and analyzed what keeps you from dreaming? I know, I'm probably the only weird one who does stuff like that.
From all my analyzing I believe the #1 thing that keeps us from dreaming is we are coasting through life. We are not living FULLY ALIVE!
William Wallace in Braveheart said, "Every man dies; not every man lives".  That is a sobering thought.  I know this to be true in my life and I think there are a LOT of us functioning this way.
Here are some scriptures that speak specifically to us waking up:
 Isaiah 60:1 "Arise [from spiritual depression to a new life], shine [be radiant with the glory and brilliance of the Lord]; for your light has come,And the glory and brilliance of the Lord has risen upon you.

 Eph. 4: 14-17 "Awake, sleeper, And arise from the dead, And Christ will shine [as dawn] upon you and give you light."   Therefore, see that you walk carefully [living life with honor, purpose, and courage; shunning those who tolerate and enable evil], not as the unwise, but as wise [sensible, intelligent, discerning people], making the very most of your time [on earth, recognizing and taking advantage of each opportunity and using it with wisdom and diligence], because the days are [filled with] evil. Therefore, do not be foolish and thoughtless, but understand and firmly grasp what the will of the Lord is.

Revelation 16:15 AMP "Behold, I am coming like a thief. Blessed is he who stays awake and who keeps his clothes that is, stays spiritually ready for the Lord's return, so that he will not be naked—spiritually unprepared—and men will not see his shame."

1 Thess. 5:6 So then let us not sleep [in spiritual indifference] as the rest [of the world does], but let us keep wide awake [alert and cautious] and let us be sober [self-controlled, calm, and wise].

Isaiah 52:1-2 Awake, awake, Put on your strength, O Zion; Put on your beautiful garments, O Jerusalem, the holy city; For the uncircumcised and the unclean Will no longer come into you. Shake yourself from the dust, arise, O captive Jerusalem; Rid yourself of the chains around your neck, O captive Daughter of Zion.
It's time for us to wake up, to be alert, to live life on PURPOSE!
I think we've bought into some lies that give us permission to NOT dream.  Lies that keep us stuck.
Here are 5 lies that keep us from dreaming:
1.When I dream I'm being selfish!
Have you ever thought that lie? The reasons I hear often that  people aren't dreaming are, "I've been given so much, I need to be grateful for what I have."  "I need to be content with what God's given me."  Those statements are true.
We as women are very caring, giving individuals.  We certainly don't want to be known for being selfish and I believe the enemy know that and that one little word  can stop us dead in our tracks.  If God has given you are dream, then you are NOT selfish. If He's given you a dream and you're not doing it, that's disobedience.
2.  I don't have what it takes
The minute we give ourselves permission to dream the trap of comparing ourselves to others stops us dead in our tracks.  I don't think I could do it as good as how she's doing it. She definitely is better qualified. Before we even get started we disqualify ourselves. The lie is my dream is the same as everyone elses.
I am fully aware that there are people out there that could teach better than me!  They are more eloquent and classy than I am.  BUT I've got something they don't.  I've got life experiences and ways to minister to people that the others don't. God has a dream for you, your life and your talents that no one else has.  We aren't in competition with each other.
For example: I co-teach with Kori on Monday mornings.  We both have a dream to teach women.  We are both pastors daughters.  We have very different personalities.  Kori was a very obedient pastors daughter and I was a very rebellious wild child who made a lot of wrong decisions. We have very different life experiences that we can bring to the ladies.  We both have very different teaching styles.  We have the same dream, but how it is expressed is very different and that's exactly what God wants.  If I would try to be Kori, the results would be disastrous. There is NO NEED to compare myself to her.
3. It's too late to live my dream
Who says?  Not God. Look at how old Abraham and Sarah were before their dream of having a child was.  Sarah was 90!
 I believe that as long as we are alive our God given dreams are alive as well. It's possible that our original dream might not look like it started out.  (Read my post on God wants to resurrect our broken dreams). But God doesn't place dreams and desires in us to let them wither and die.  They may lie dormant for a while but they're still possible!
It's only too late if we write "The End" on our stories and close the book.
4. I don't deserve to dream
I've been there and done this lie really well in my life.  Thank Jesus He has set me free and pulled those self imposed lies off of me.  We may feel we've done things so bad that we don't deserve to dream. Lie, Lie, Lie…. Look at those in the Bible.  Moses murdered an Egyptian and could barely talk and God uses him to set his people free.  Gideon was so full of fear he hid and God came and found him.  David committed murder and adultery and yet God calls him a man after his own heart. Paul the most famous person in the New Testament besides Jesus of course murdered and persecuted Christians before he came to Christ.   I can go on but I'll stop.
If you've made mistakes confess them, repent and move on. Jesus took all our guilt and shame we do NOT have to carry that around for the rest of our life.  Do not believe the lie that you have to "pay" for your sins.  Not true!
No matter what you've done, no matter the choices you've made, you are NOT disqualified from dreaming. Dreaming is about the future, not about what's happened in our past.  Give yourself permission to walk out of that prison. Give yourself permission to dream!
5.  I don't have time
Ugh!  This one gets me right now. My life is busy! Crazy busy!  I don't have time to dream or to pursue my dreams or at least that's the lie being thrown at me.
It seems as if the enemy can't get us to deny our dreams, then his next tactic will be to get us to delay them.  We have to be alert to his tactics.
Newsflash, there will NEVER be a perfect time.  Life isn't going to stop so that we can do it perfectly. We are going to have to FIGHT for our dreams.
Can you relate to any of these lies?
I sure can.  I'm pretty sure I've believed all of them.  The lies will never go away. They will chase you every step of the way.  It doesn't mean you heard God wrong or your dream is wrong, it means you are in a battle.  Expect opposition.
Eph. 6:12 For our struggle is not against flesh and blood, but against the rulers, against the authorities, against the powers of this dark world and against the spiritual forces of evil in the heavenly realms.
Every day that we dare to dream we push back the darkness just a little bit and let the light of Christ shine through us.
Action steps:
 Which of the above lies can you relate to the most?  What's the truth that God wants to speak to your heart instead?
We are in a battle see Eph. 6:12 above.  What's one thing standing between you and your dream God has placed in your heart right now?  What's a way to overcome it?
Review your dream list.  Ask God if there's anything He wants you to add.
If you missed any of the More: It's Time to Dream series you can find previous lessons here:
More Series:  Digging up those God Sized Dreams
God's dreams becoming our dreams
God wants to resurrect buried dreams
 Why having a dream is necessary
(Visited 785 times, 1 visits today)