It is December 15th!  That means I have 10 days to get an enormous amount of work done and it's down to what am I going to ditch on the "to do" list and what am I going to keep.   Starting in November I usually start formulating pictures in our mind of what I would like our Christmas to look like. All the while telling myself this Christmas is going to be different.  I'm really going to pull it together! Don't you do that too?   I picture music blaring through the house, sipping a cup of coffee, while I calmly wrap presents with gorgeous intricate details. I picture the kids trouncing through the woods to pick out our tree, singing carols all the way there and back. I picture the kids decorating the tree while I decorate the house. I picture making sugar cookies and reminiscing of Christmas' past. You know, the Hallmark kind of Christmas.
Well, REALITY this year for us is I didn't get the house decorated until Dec. 6th, which is much later than normal. We didn't go to a tree farm, we didn't have time because of our crazy schedule so we stopped at Roy's Hardware and bought a tree off the lot. (I think it's only been one other year in 36 yrs that we haven't cut a tree down our self). Oh and we weren't singing Christmas carols there and back.  Nope, I was being harassed by one of my  15 yo twins complaining and griping for a half an hour about having to get the tree that I got so mad at him I swore at him and told him to shut up. How's that for celebrating Jesus birthday? I had some repenting to do.! This year my mom came to visit and she helped me wrap presents, but usually I run out of time and the kids are home having fun and I have to lock myself in my bedroom and cram gifts in gift bags!  Cookies, well I whipped some up for my sister's cookie exchange and did a blog post on them.  I killed to birds with one stone.  But NO they were not intricately cut out sugar cookies with gorgeous decor as you see on Pinterest, but they were very tasty!
Will my Christmas be ruined if I put my gifts in gift bags instead of wrapping them? Will it be ruined if I buy a tree from a hardware store instead of walking through a tree farm and cutting my own. Will my Christmas be ruined if I make cookies using Pillsbury dough instead of homemade dough. Nope! But I will ruin it if I'm constantly grouching at my kids and snapping at my husband because I'm doing too much.
As a family, we have learned as we have gotten older that we can't keep up with every tradition we have ever celebrated.  Some of our traditions were started when we homeschooled  When the kids were home all day we could incorporate those traditions in our schooling.  Time wasn't such an issue with them being home all day.  Now we have school and sports schedules, spouses and grandbabies and we try and cram 2 weeks worth of activities in 2 days and it doesn't work. We don't end up liking each other very much.
Ladies, I need you to hear me!  We don't have to be Martha Stewart or the latest blog guru who shares such wonderful ideas.  We CAN'T do it all.  Most of you are working women outside the home on top of being a wife, mother, and blogging. You may be able to do it for a few years but it will catch up with you.  So PLEASE hear me and be nice to your self.  Give yourself permission to lay some things down. Let's not forget why we have Christmas in the first place.  Baby Jesus can be so lost on His own birthday. We want to make sure we have room for Him in our inn.
Here's how to check your expectations:
Stop.  Sit down on your couch and shut your eyes and take some deep breaths.
Take your "to do" list and analyze it.  Pray and ask God what you can "give up" and what "has to get done" and what you'd "like to do" if time allows. You CAN'T do everything well.
Here are some questions to help you analyze your motives:
If you accomplish everything on your list will your husband and children feel like you shoved them aside or that you were connected this holiday season?
Is there something on your list that if it doesn't happen you will feel like a failure?  If so, why?
Is there something on your list that if you do make it happen you will feel like a hero?  If so, why?
If you accomplish everything on your list will you feel more connected to Jesus the real meaning for Christmas?
Is everything on this list something my family really wants to do or am I doing it to please someone else?
After analyzing, take some time to watch a Christmas movie with your kids and hubby.  Sit in front of the Christmas tree with the lights off and pray and ask God to fill you.  Read a Christmas book to your kids and sneak some time in there for a Christmas book for you too! Craft or bake if it feeds your soul, NOT because you HAVE to!  Stop and smell the Christmas tree.  You don't have to do it all.
Need some more food for thought? Check out these 2 posts.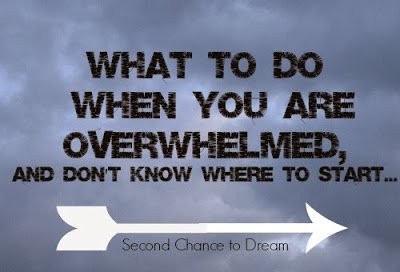 What to do when you are overwhelmed and don't know where to start

(Visited 460 times, 1 visits today)