The past year has involved a lot of staying at home, and for many people, that's meant turning our attention to our backyards to create a more suitable outdoor living space. 
There are many benefits to landscaping your backyard and creating some useful spaces for relaxing and entertaining. Not only can it help you create an extension to your home, but it can add some value too. 
If you want to take things to the next level this summer, there are some things you can do to help you make the most of your outdoor space. Here are some tips for making your backyard a little 'extra' this summer.
Add some striking lighting
Lighting can make a big difference to your outdoor space. It can help add some atmosphere, as well as help you keep the party going once the sun has gone down. Some outdoor lighting can really make a big difference to your backyard, and if you choose solar-powered lighting, you won't face any ongoing running costs while also helping the environment.
Upgrade your garden furniture
Garden furniture has really come into its own lately. You can pick up some beautiful styles that can help your backyard look like something from a vacation destination. While there are some garden features that won't break the bank, garden furniture is worth investing in to make sure you end up with something stylish and comfortable. 
Install an outdoor kitchen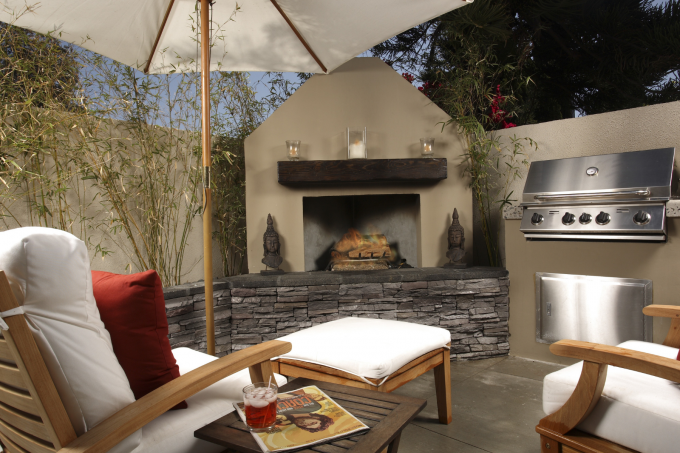 Want to create the perfect outdoor entertainment space this summer? Why not install an outdoor kitchen? An outdoor kitchen can help you house your barbecue, a bar, and even more to give you some space to host and cook up a storm. Take a look at some outdoor kitchen ideas to give you some inspiration. 
The right outdoor kitchen should meet all of your needs, but could also contain some additional features like increased storage, such as all-weather storage boxes. Get working on plans to help you decide the best course of action for you.
Make it suitable for all-weather
The weather can be very unpredictable, but that doesn't mean you can't enjoy your backyard no matter what! Having a plan in place to ensure there's shelter and heating can make your garden a more pleasant place to be, even when it's cold and chilly outside. Pergolas have become increasingly popular over the past couple of years and could be a great way for you to enjoy your backyard space, even if it's raining outside. 
With so many great ways to make your outdoor space a little 'extra' this summer, you could soon be making the most of your backyard. From lighting and heating to finding the best patio furniture, there's still time to get your backyard order ready to welcome friends and family into your home this summer.
I'd love to have you follow along. You can subscribe to my RSS Feed or sign up to receive daily Emails delivered to your inbox. You can also follow along via Facebook or Twitter.



(Visited 40 times, 1 visits today)