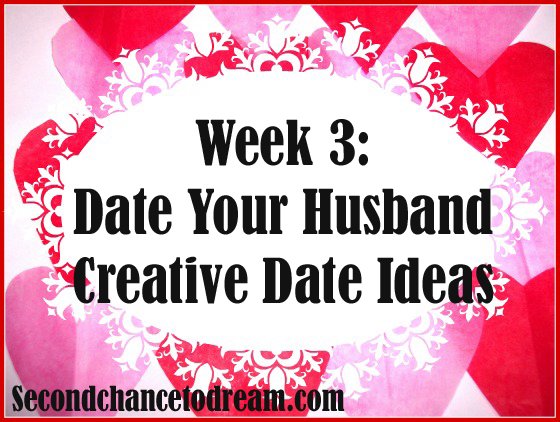 With Valentine's day coming it's the perfect opportunity for you to date your husband. My hubby and I have always placed date nights at the top of our must-do list!  I really attribute weekly date nights to the success of our 35 years of marriage.  When I found this list of reasons to date your spouse I knew I needed to share it..
TOP TEN REASONS TO DATE YOUR SPOUSE FREQUENTLY! 
-by Carwin Dover
The hecticness of work, community service projects, church activities, and family often relegates a marriage relationship to the bottom of the list. At times, it's necessary to give attention to others. It's also important to keep something else in mind. Your spouse is the one most likely to be with you when you're teetering around with a cane! With that in mind, take the time to date your spouse regularly. Here are a few reasons why?
1. Marriage relationships are dynamic. They're alive and always changing. they need to be fed and stimulated to stay alive.

2. There's always something new about your spouse. Dating is a good way to create a safe environment. Your spouse is more likely to let you know "what's new!"

3. Invest in the future. Just like a savings account — it's easier to add a little to an existing account and watch it grow than to start a new one from scratch. That's because the interest grows exponentially over time.

4. You got married because you dated! It only stands to reason that a good way to stay married is to keep dating.

5. Marriage can be compared to a set of tires. During the course of driving, there's normal wear and tear. In marriage, dating serves to maintain alignment, balance and pressure. When done well, your marriage will last a lifetime.

6. Dating is an opportunity to focus. Day in and day out, various distractions, pull your attention away from your spouse. Dating each other helps you to refocus on the person at the top of your priority list.

7. Remember the good times! A good date will often bring up pre-marriage memories. Recalling memories can generate anticipation for your next meeting.

8. Create your future. Dating lays the framework for future family gatherings. Great dates attract your spouse and family to want to spend time with you.

9. Laughter's the best medicine. Laughing together makes it possible to hurt together when you must.

10. Remind your spouse, "I love you!" There are many ways to say, "I love you!" A date is one of the special ways to do that and to honor your spouse.
(The above "Top Ten List" is an excerpt from Intentional Partnerships Newsletter, "Lutheran Coffee Break!" Year 2, Edition 10, January 2, 2000. It is written by Carwin Dover, a Relationship Coach. You may subscribe to the "Lutheran Coffee Break! a weekly, e-mail newsletter, with an e-mail to subscribe@LutheranCoffeeBreak.com.)
I found the above article on 
Marriage Missions 
blog.  A GREAT resource for marriage help.
Now that we've established WHY you should date, let's find some creative date ideas. Please keep in mind that these are just ideas!  Pick and choose from the date what you feel your spouse would enjoy.  But, I'd encourage you to step out of your comfort zone, just a little bit.
OK, here's one for the couple that has childcare issues.  Olive Garden date night at home includes the recipes and a printable menu.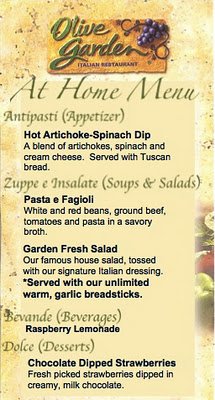 Here are 10 different date nights in a bag!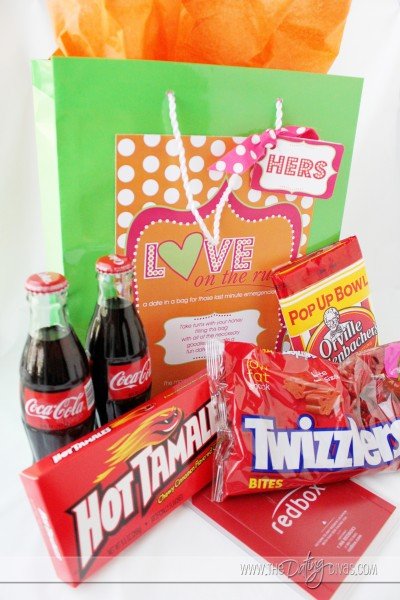 Shanna from My Mix of Six shares how she plans one date a month at the beginning of the year.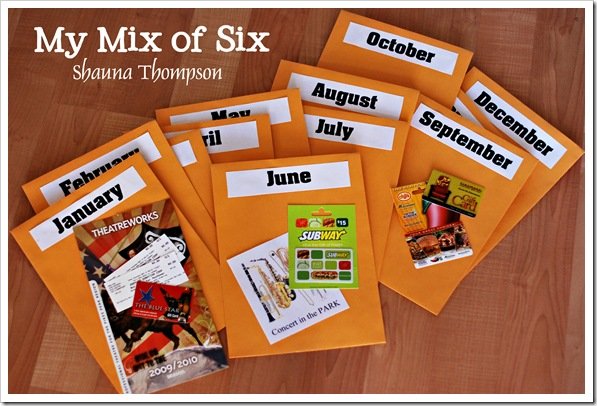 My Mix of Six Blogspot
Jim and I LOVE the bookstore and go there often, so when I saw this date I knew I had to add it to the list. I would definitely have to cut down the tasks but even doing one of them would be fun.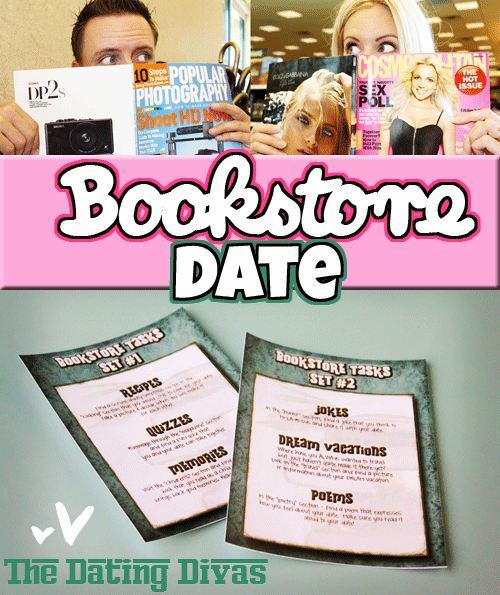 The Bookstore Date by Dating Divas
Here is another take on A Year of Creative Dates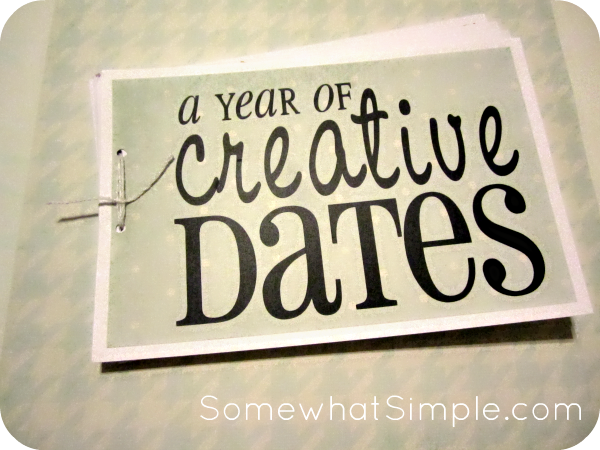 by  Somewhat Simple.
  When is the last time you've played a game together??  Here are a few ideas for a twist on some classic games. This idea would be perfect for a date night at home.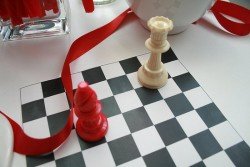 Here are some conversation starters to take along on a date.  DO NOT ask them all on one date.  Do one or two a date and make sure you do something that HE enjoys on that date.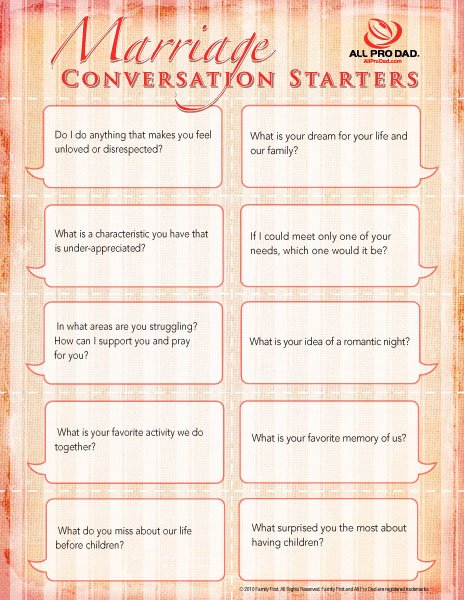 Conversation Starters
Here are 30 Date Nights for at home.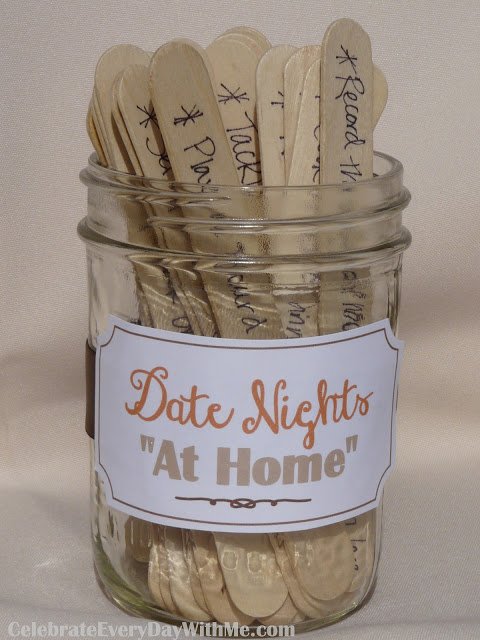 Celebrate Every Day With Me

UPDATE:
Tara from Spot of Tea Designs shared with me her Year of Date Ideas she made for her good friend who got married recently.  She has some fun ideas.  Remember you don't have to do everything "as is"  take the idea and make it "YOURS".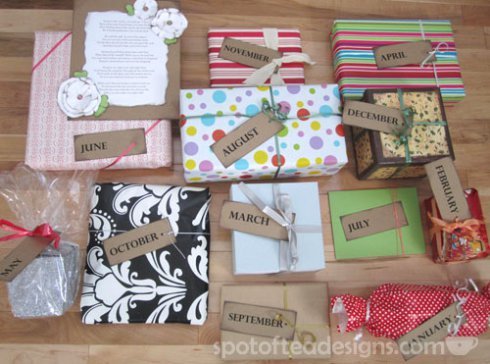 Spot of Tea Designs
This is just a teeny tiny selection from what is out there in the blog world.  It doesn't matter what you do, but connecting and sharing needs to be the priority. Remember ladies, being married is a gift!  Something we need to value and appreciate and work on every day!! Don't let all the cares of work and children rob you of your #1 earthly relationship.
I'd love to have you follow along. You can subscribe to my RSS Feed or sign up to receive daily Emails delivered to your inbox. You can also follow along via Facebook, Google +, or Twitter.




(Visited 8,768 times, 5 visits today)