Do you ever just get in a rut in your marriage relationship?  I sometimes do.  Not in a bad place but just kinda blah!  When Courtney from Women Living Well posted she was issuing a "Be My Valentine" Marriage Challenge I  thought fought with myself about whether or not I wanted to participate.  Now I've learned that if I fight within myself about doing something it almost always means I NEED to do it.   

I think I need to do this challenge.  Deep down I don't want to work on #1 from my post 35 Things I Learned in 35 Yrs of Marriage post. Not because I don't love my husband but because  I can sometimes get resentful that I'm the one who puts the creativity and energy into our marriage.  Most times it feels really one sided.  It feels like a LOT of work at times, know what I mean?  

So I decided to ask God why I have to be the one to do this and He gently reminded me of two things.

1.  I am the creative person in the relationship.  
2.  As Gary Smalley teaches, the woman has a built-in marriage manual and can almost always tell where things are off and how to fix them. 

When I do this for our marriage I am using the gifts and talents God gave me plus I'm learning how to quiet the selfish part of me. So, I am going to be participating and wondered if you would like to join in with me.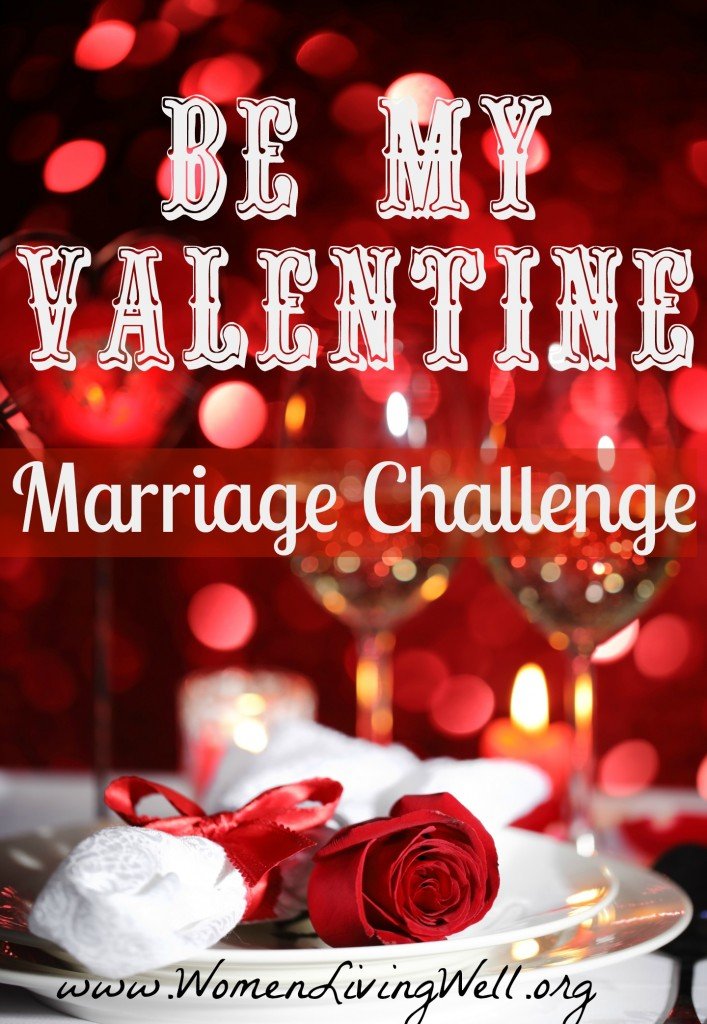 Here's how it will work since Valentine's Day is 4 weeks away each week Courtney will post a theme and then that week we will work on that one theme.  

Each week the challenge will be the same – to praise, encourage, inspire, admire, build-up, thank and appreciate your husband. But each week she will give you different ways to express your praise. Feel free to tweak it for what you think is best for your husband.
Week 1 our focus will be looking for ways to praise your husband verbally.
Here are some suggestions from Courtney:
Praise him in front of the kids, friends, family, co-workers, on Facebook tweet it – get praise out any way you can! Try to mention something noteworthy he has done – in his role as provider, father, husband, lover, or friend. If the thought of trying to come up with one terrifies you, then pray right now that God will give you new eyes to see your husband as God does. Then open your mouth and say something kind and uplifting to your husband today and tomorrow and the next day until Valentine's Day arrives!
OK, ready or not here we go!  Let's praise our husbands.
We're working on #31 from my 35 things list:
31. Be your spouse's publicist!  Brag about your spouse whenever you can. Especially when they can hear you. They will secretly eat it up!
Will you be joining me in this challenge, I hope so?? If you are please leave me a comment.
Check these out:
(Visited 1,023 times, 1 visits today)