I shared on Tuesday that I was going to be focusing on marriage this month.  I shared a post on Love your husband well. Go read that if you missed it.  I've been thinking about my attitude towards marriage.  I have picked up some of the worlds attitude and have been carrying it around.   Take for example this scripture:
the wife [must see to it] that she respects and delights in her husband [that she notices him and prefers him and treats him with loving concern, treasuring him, honoring him, and holding him dear]. Eph. 5:33 AMP.
The world would scoff at those words and honestly I have too. Loving your husband has almost become a dirty word.  God is calling me to more.  I want MORE of Him and His attitude in me. I want to LOVE like He loves.
We're going to break down the verse and see how to practically apply it to our lives.  I am going to move respect down the list.  Not because I want to ignore it, because it's extremely important.  I need more time to pray and ponder that one.
 Today we will focus on taking delight in our husband.
the wife must see to it that she delights in her husband.
I like to define words so that I know what they really mean, not what I think they mean.
Delight:
1.  a
high
degree
of
pleasure
or
enjoyment;
joy;
rapture:  
She
takes
great
delight
in
her
job.
2.  something
that
gives
great
pleasure:  
The
dance
was
a
delight
to
see.
3.  
to
give
great
pleasure,
satisfaction,
or
enjoyment
to;
please
highly:  
The
show
delighted
everyone.
4.  
to
have
great
pleasure;
take
pleasure
:  
She
delights
in
going
for
long
walks
in
the
country.
Pause for a second- Do you delight in your husband?  Does he know you delight in him?
I realize there might be some repenting that needs to take place after answering those 2 questions because I know I needed to repent.  Take sometime right now and confess to God your lack of delighting in your husband and ask Him to help you take delight in him.
Now let's focus on some practical ways to "delight" in our hubbies.  These are nothing NEW or earth shattering but they're worth nothing unless we do them.

Here are 3 practical everyday ways to delight in your husband:
1.  Verbally praise your him.  
Speak life to him.  It's sooooo easy to focus on the negative things that drive us nuts, but harder to be a
Good Finder.
  It's important to  praise him in front of your children as well.
Examples:
~I appreciate the way you __________________.   (help clean the house, bathe the kids, spend time with me, take me on a date)
~I love that you are so ____________________.  It's one of your best qualities.
~I appreciate you finding time to________________________. It makes me feel loved.
~I love that you put God first in your life.
~I love your _________________.  It's one of my favorite things about you.
2.  Know your husbands love language and speak it!
My husbands love language is Acts of Service.  That doesn't come natural to me but I'm LEARNING how to speak it to him.  I have to be intentional.  Gary Thomas wrote a book called the 
The Five Love Language
 and it's a must read for your marriage.
 3.  Send him random texts surprising him with why you love him.
Here are a few to get you thinking:
~ I love being your wife.
~ I appreciate all your hard work.  You bless our family so much.
~ I spent time praying for YOU this morning. Have a great day!
~ What do you think about putting the kids to bed early tonight? 🙂
~I'm blessed to have someone as wonderful as you.
You get the point, now make up your own.
4.  Do something that he wants to do with out complaining.
Is there things you hubby wants you to do with him that you don't particularly like?  If so do it without complaining.  It's even better if you offer to do it before he asks.
5.  Enjoy him intimately.
Let's face it men were created by GOD to want and need sex.   We were too, sometimes it just gets lost in the translation.  Spend some time and effort working on this area of your marriage and I'm positive he will appreciate you delighting in him in this way.  I wrote a blog post on Loving Your Husband Intimately.  There is lots of good stuff there. Go check it out.
Love is an action, not a feeling.  Do the action and the feelings will follow. It may feel awkward to do these things, but keep it up and it will soon feel natural.
Great marriages don't just happen!  They take work, but the reward is worth the effort.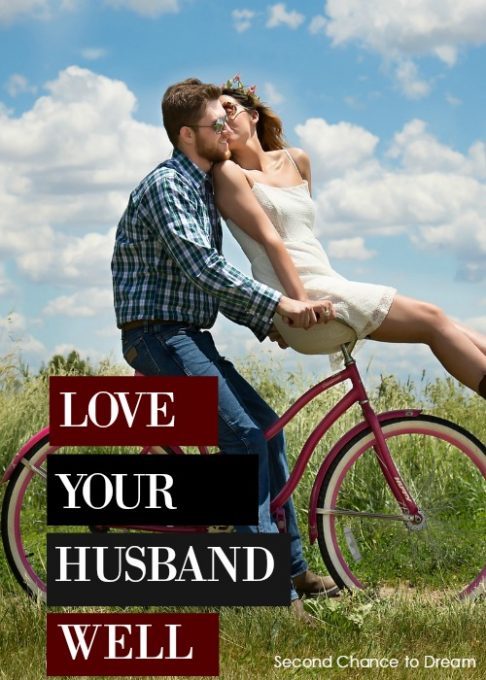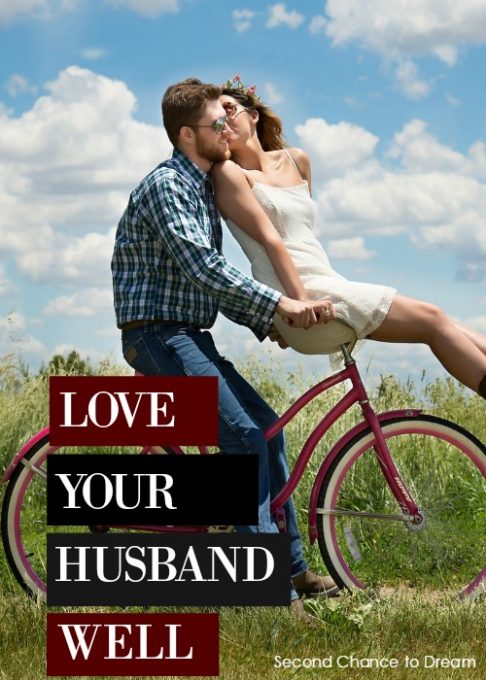 I'd love to have you follow along. You can subscribe to my RSS Feed or sign up to receive dailyEmails delivered to your inbox . You can also follow along via Facebook, Google + or Twitter.



(Visited 2,551 times, 7 visits today)