Hi all,  I hope and pray that you are all doing well and hanging in there during this drastic change in our world.  We have just been assigned another 30 days of quarantine and social distancing.  In Michigan, we are on a stay at home order.  If you're like me you've had a huge range of emotions.  I've gone from this won't get me down, God's got this, I'm going stir crazy, to times of feeling discouraged and depressed.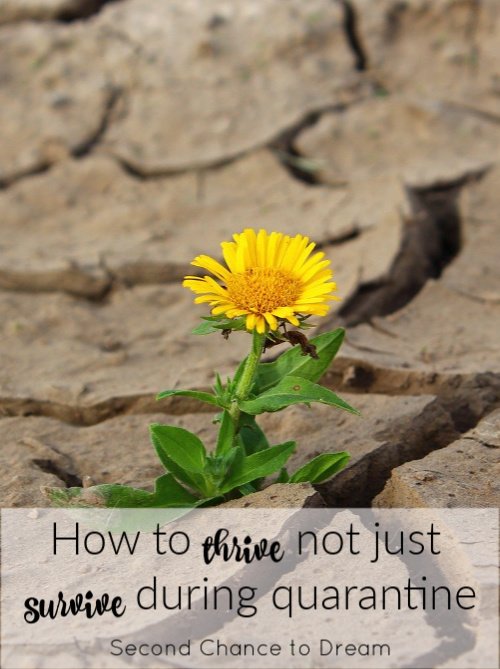 The best advice I would give to you is to allow yourself to feel your feelings no matter how ugly they are.  Don't deny you feel what you feel BUT don't live there. I had a couple of days where I was in a dark place after my family's dream trip to Ireland was canceled.   I had to give myself a talking to and say Barb lets get it together.
Today is April 1st!  We all have the same 30 days of quarantine.  We all get to CHOOSE how we will spend these 30 days.  I want to choose these 30 days and use them wisely and to THRIVE, not just survive.  I hope you will want to do this as well.
Here are some tips I found that helped me THRIVE:
1. Get up and get dressed
I love to lounge around and sip my coffee but every single day isn't good for my mind. I had to get up and get dressed.  Some days I will even put makeup on just so I feel normal.  I'm worth the self-care so are you.
2. Keep your routine as normal as possible
Again, I love the days when I can throw my routine out the window but weeks of it is not good for my mental health nor anyone.  Getting up and following my morning routine helps me stay in a positive place.  Plus, I NEED to have my time in God's word to keep my peace.
3. Use this time to educate yourself and grow
There is such a strong pull to go into apathy and autopilot.  I mean for goodness sakes I'm going to gain 20 pounds if I don't get more conscious.  To counter this I am trying to use this time to grow and learn.  I've bought some courses that I've started and not completed so I'm using this time to get those out and do them.
4. Use this time to do some menu planning and meal prep
Get organized so that you are on top of things when life gets back to normal.  I dislike trying to figure out what I'm going to make for dinner at 4:30. This happens all too much because I don't take the time to plan menus.   Use this time to do some menu planning and meal prep. Make some meals and freeze them or take one day and meal prep for the week.  This is a great way to involve the kids in helping you.
5.  Don't Isolate
I know that sounds like an oxymoron with the quarantine we are under but there are things we can do.  Plan a zoom meeting with your girlfriends or your small group.  Facetime your parents or grandkids.  Text and encourage someone every day.   We were made for community!  It can still be done.  We just had our Wednesday night Couples in Action group via Zoom and it was actually much better than I expected.
6. Find someone you can bless every day
In marriage counseling years ago my assignment was to do one nice thing every day for my husband.  It changed my whole mindset toward my husband.  What we focus on GROWS!  Make good things grow.
Make a list of things you can do daily and add to it as new needs arise.
Call or Facetime your grandma in the nursing home daily.
Check-in on your neighbors and see how they are doing.
Text or call a friend to encourage them.
Make cookies for someone.
Smile at someone just because.
Let someone go ahead of you in line.
These are just a few ideas. Pray and ask God if there is anything He would like you to do. Get your kids in on this.  They will love it and it will teach them to get their minds off themselves.  If you get stuck check Pinterest for RAK ideas.
7. Read your Bible
Start a new Bible study plan.  There are Easter studies on the Youversion app to do.  Love God Greatly, She Reads Truth,  and Proverbs 31 ministries offer free Bible Study Plans.  There is nothing better for you than God's word.  And there is nothing more important than building your relationship with Jesus. You could also spend some time meditating and memorizing God's word and let it sink deep in your soul and move it from your head to your heart.
 8. Start a gratitude journal
Gratitude changes things.  God's word is filled with scriptures telling us to be thankful.  Start with writing down 3 things a day.  It will change your perspective & mindset.
9. Read
Pick up a book and do some old-fashioned reading!  Don't know what book to read?  Modern Mrs. Darcy is a great website to follow for book suggestions in addition to discounted books shared daily.
 10. Exercise
Get out and get some fresh air and take a walk. It's so good for your mental health.  If you can't get outside find a YouTube video and exercise with that.
11. Do some Spring Cleaning
This is a perfect chance for us to get some spring cleaning done. I am cleaning my scrapbook room that has been a dumping ground for 6 years.   Give your kids a list and make it a family project.  I did a series you might find interesting called Spring Clean your Life Series (clickable link)
Here are some links to different areas that might be helpful for you.
Struggling with Fear and Anxiety:
Here are are some podcasts from Caroline Leaf, a cognitive neuroscientist.  You can listen to these here.
Episode 138: How to protect your mental and physical health during this crisis
Episode 140: Panic Attack Audio Guide
Episode 142: Managing money anxieties during a pandemic
Episode 144: Parenting during the Pandemic 
Episode 145: Everything you need to know about COVID-19 from an epidemiologist (Out on Sunday, March 29th!)
Igniting Hope has 25 Scripture-based declarations for you to meditate and focus on.  You can find those here.
Jennie Allen has a new book called Get out of your head.  That talks about anxiety and mind battles.  She also has a podcast going through the book.  Go back and listen to this series.
Spiritual Inspiration
Beth Moore & Jennie Allen did a video last week to encourage us during this crazy time.  It was very encouraging! I recommend you watch it.
Read Psalms 91
Read Psalms 46
Read Psalms 27
Do you have any tips that have helped you THRIVE during this crazy time??  Please leave me a comment.
Thank you for subscribing to my newsletter. If you have any suggestions of things you would like to see on Second Chance to Dream drop me an email and let me know.
You can follow me on Pinterest, Facebook, Instagram, or Twitter.
(Visited 299 times, 1 visits today)