Hi, all!  How are you doing?  How are your goals coming?  I've had a few slight setbacks but I'm pushing through. Besides eating clean another goal I have is to clean up the clutter in all areas of my life.  I'm sick of not being able to find something when I need it.  I'm sick of the way clutter weighs me down physically and emotionally. I want to make some real CHANGE in my life in this area.  I've decided that  I'm going to start with decluttering my home and then move into other areas of my life. Disclaimer:  I am not an expert in this area of my life.  I've had success at times and complete failure at other times.  So, I will be learning right along with you.
Why should we declutter?
1.  It reduces our stress.  A disorganized home is a constant source of mental and emotional stress.  When we are surrounded by clutter it has a tendency to close in on us. Psychologist Sherrie Bourg Carter in her article Why Mess Causes Stress says,
 "Clutter bombards our minds with excessive stimuli (visual, olfactory, tactile), causing our senses to work overtime on stimuli that aren't necessary or important."
2.  It saves you time. You may be wasting time finding your keys, purse, bills, briefcase, etc.  I can't tell you how often I know I have something, but then have to spend 30 minutes trying to find it.
3.  A de-cluttered home helps you love yourself.  If you are constantly looking around at all the things you haven't done their tends to be a lot of guilt and self-loathing.  When it is de-cluttered and your home is a sanctuary, you have much more confidence and self-love.
4.  A de-cluttered home helps your relationships.  There can be a lot of tension between family members when the home is cluttered.  Another benefit, it keeps you from being completely mortified when someone comes over to visit. Ugh!  maybe you have no idea what I'm talking about, but I sure do.
5.  A de-cluttered home helps you be creative.  You love to be creative and enjoy life but your house makes you want to run away. Instead of creative juices flowing when you get to your craft room you are completely overwhelmed with all that needs to be done there.
So why do you need or want to de-clutter?
Why don't we de-clutter?
1.  I don't know where to start.  It all needs to be done and I'm overwhelmed and I don't know where to start.
2. I don't know what to get rid of?  What if I need it somewhere down the road.
3.  I don't have the time.  I mean I've got years of clutter, I just don't have time to start it.
4.  I don't have the items needed to organize it perfectly.
4.  I don't have a plan.
I hope to share ideas and tips on how to overcome these objections over the next few weeks. Here is a worksheet to get you started: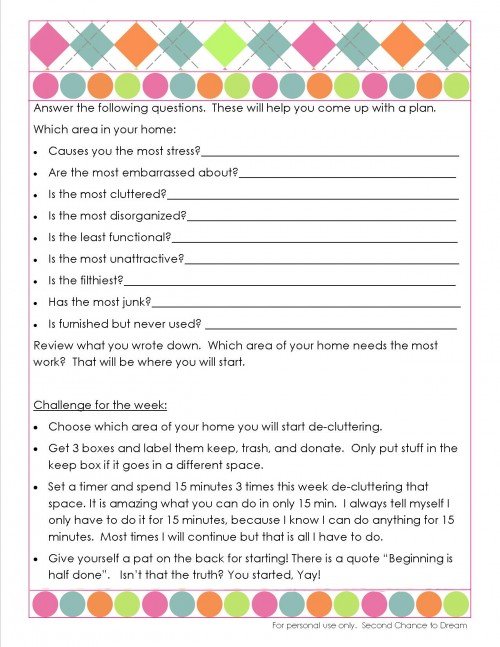 You can download this Here
I shared with you that I had started de-cluttering.  Let me show you what I did. On New Year's Eve, my hubby and I loaded up the truck full of de-cluttered treasures and headed to Goodwill.  I can't describe to you how good it felt to get rid of all that clutter.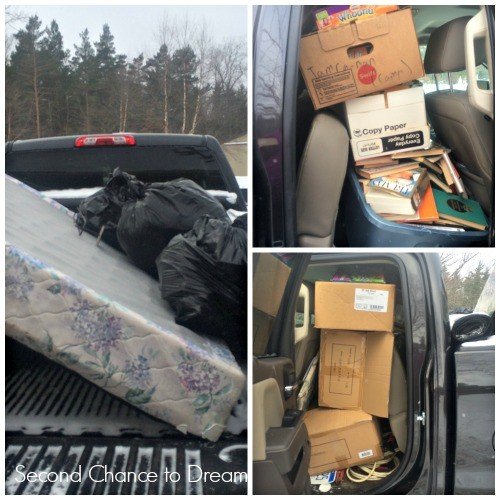 The biggest reason to eliminate clutter from your life is because it will open up your mind and your life to greater possibilities, which is exactly what we want in 2015, right??  Let's do it.
Leave a comment and let me know if you are doing this with me and let me know when you have accomplished this first challenge.
I'd love to have you follow along. You can subscribe to my RSS Feed or sign up to receive daily Emails delivered to your inbox. You can also follow along via Facebook, Google + or Twitter.



(Visited 704 times, 1 visits today)