Welcome to my series on Spring Clean your Life.  I'm so glad you are here. If you are new you will want to check out our previous posts from this series.  Spring Clean your Life and Spring Clean your Goals and Dreams.
I'm not sure about you but I am in desperate need of this post on how to Spring Clean your Technology for myself.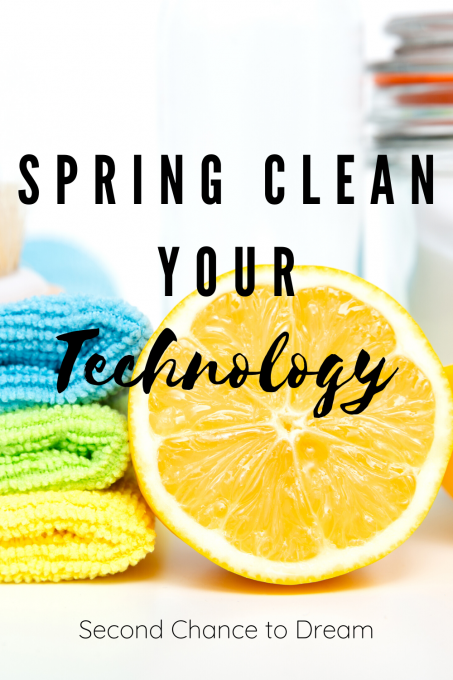 Technology can suck me in and never let me out. I would say I'm addicted to my phone. Hi, My name is Barb and I'm addicted to my phone.  Everyone knows that if someone can't get a hold of my husband to contact me because I'm always on mine. 🙁  My biggest issue with what I'm about to share is finding the time to do what I'm suggesting.  I have found the best way to accomplish these suggestions is to set a timer or I get severely sidetracked.
So here we go.
Spring Clean your Computer:
Clean your inbox & create folders for your emails
If you haven't gotten to those 12,000 emails go ahead and delete them. You will be surprised at how FREE you will feel. Create a folder for things you buy online and then keep them all in the Things Bought folder.  You will know where to find the receipt if you need to return something.
No Social media or reading email  before___________
For me, that is no social media or reading my email before I have my quiet time in the morning.  What would be yours?
Clean up your social media
Do you know everyone you are following?  Is it necessary to read all their posts if you don't know who they are?  Go through your social media and unfollow those you don't know.
Turn off Facebook Notifications for things you don't care about.
Clean up your Pinterest boards.  Here's a good post to read on that.  How to Clean up your Pinterest Boards  
Organize your desktop

Set a timer for 15 minutes and delete any file you don't need.  Create folders and put like items in the folder.  Do this 15 min. a day and you'll be amazed at how organized you will become.

Unsubscribe from emails
Again, set the timer for 15 min. and go through and unsubscribe from stores, blogs, etc. you don't care about anymore.  UPDATE:  I just ran across this site Unroll.me that finds all your email subscriptions and helps you unsubscribe easily. You can do all of them in 15 min.  SCORE!
Organize the photos on your computer.
I'm not very good at this  and desperately needs to be done, so I found a couple of posts to help you out with it:
How to organize your photos, a system that works
3 Steps to Kick Photo Overwhelm
Spring Clean your Phone and/or Tablet
Delete old phone numbers on your phone
I don't need to keep that mom's number from when my boys were in Kindergarten. They've graduated.
Delete and organize any apps
I do this periodically to create space on my phone.
Delete and transfer the photos from your phone
Here is a good post on How To Delete Apps & Digital Clutter From Smart Phones, Tablets & Computers
One last thing- what about challenging yourself to a technology-free day or night or hour???  I know, it'll be a huge stretch for me as well.  I think I need to do it.
Ready set go!  Set your timer for 15 minutes and start your spring cleaning.
I'd love it if you would drop me a note and let me know how you're doing with Spring Cleaning your Technology.  You can do that by leaving a comment.  Also if you love it please share this on your social media or with a friend.  I would appreciate that.
Do your Goals and Dreams need a little sprucing up?  If so you'll want to read this post on Spring Clean your Goals & Dreams
Make Sure You Check Out These Other Spring Clean Your Life Posts:
I'd love to have you follow along. You can subscribe to my RSS Feed or sign up to receive daily Emails delivered to your inbox. You can also follow along via Facebook, Google + or Twitter.





(Visited 436 times, 2 visits today)