I need to start this post with a disclaimer. This post is very Christ centered so if you are uncomfortable with that you might not want to read it. But I highly encourage you to.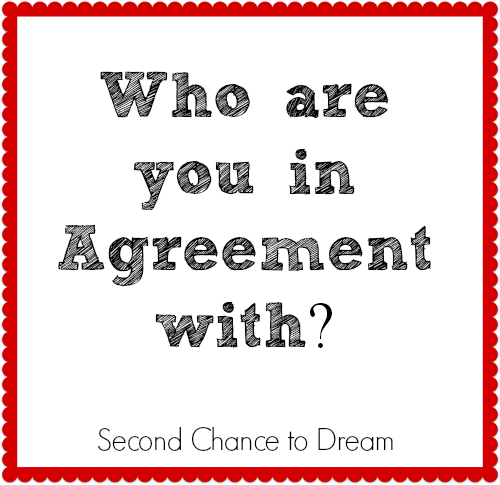 I just recently had a light bulb moment. Do you ever get those?  They always feel like a great big drink in a dry, hot desert.  I am reading a book and something this author said just opened my eyes wide.  He said, If we are not in agreement with what God says then we are in agreement with what Satan says to us. Just think about that for a moment.  If God says to me "I am His child, that I am His beloved, that He chose me", and satan says to me" I'm worth nothing, I screw everything up, etc." Who am I agreeing with?  Does my life and my actions reveal that I am a child of the one true king or is my life filled with unbelief, shame, regret and guilt.   If my life looks like that latter one, then I'm NOT agreeing with God and I won't walk in Victory.
 Agreement is a very powerful weapon in our arsenal. (Deuteronomy 30:19) It is a weapon that I've not really been aware of, thus the light bulb moment.  I'm discovering that it also is a very powerful weapon used against me if I'm in agreement with satan. It keeps me stuck and my wheels spinning.

When we agree with something we give dominion over to the one we are agreeing with.  OK,first, let's define what dominion is:


noun
1.
the

 

power

 

or

 

right

 of governing and controlling; sovereign authority.
3.
a 
territory,
usually
of
considerable
 size, in 
which
 a single rulership holds sway.
4.
lands or domains subject 

to

 

sovereignty

 or control.
Here are a couple scriptures that talk about agreeing:
Amos 3:3  

Do two walk together unless they have

 

agree

d to do so?
Matthew 18:19
"Again, truly I tell you that if two of you on earth
agree
about anything they ask for, it will be done for them by my Father in heaven.
I've read those scriptures numerous times but I didn't really know how they related to my life.  Sure I know in my head that I am the apple of His eye, His beloved  but I haven't been living it.   I have been agreeing with You could never be his beloved, look at how you screwed up yesterday or last week, or your whole life.My light bulb moment is Satan has NO POWER except for what I give him.
Let me say, if you have asked Jesus into your life you are His child.  Satan can not have full control over you but he can have control over certain areas.  BUT ONLY THE ONES YOU GIVE HIM POWER OVER! Think of your heart as having lots of little doors in it and when we become a christian we gladly turn over the key to most of those doors, but there are some that we still agree with satan on.
Let's apply this to our lives.  Where might we be in agreement with satan?
~Financially-  I'll never have enough money to pay my bills.  What does God say,  I will supply ALL your needs.  Phil 4:19 Heb.
~My spouse will never change, he will always be a jerk. I might as well divorce him. God says  "I love your husband with an everlasting love and I can change your husbands heart".
Ezekiel 36:26 And I will give you a new heart, and a new spirit I will put within you. And I will remove the heart of stone from your flesh and give you a heart of flesh.
~I'll always be fat.  God says You can do ALL things through Christ who strengthens you.  Phil. 4:13
~I'm so tired I won't be able to do it all.  God says
Matthew 11:28 C
ome
to
me
,
all
you
who
are
weary
and burdened, and I will give
you
rest.
At that point we have a choice to make. We can agree with what we see, what satan says or we can agree with what God says. We have to look at this situation through eyes of faith.  It is through faith we come into agreement with God. 
What is faith?
Hebrews 11:1
Now faith is the assurance of things
hoped for
, the conviction of things
not seen
.
It is seeing our problems with spiritual eyes. The minute we agree with satan we hand over dominion to him. He holds the reins on that issue.  He wants dominion over all our life.  Remember he comes to steal, kill and destroy.
John 10:10 The thief comes only to steal and kill and destroy. I came that they may have life and have it abundantly.
Now the great news is we can disagree with satan We can break the  agreement we've made at any time. That's the beauty of God's grace and forgiveness.
We just need to ask Him to break that agreement. 
Assignment: Pray and ask God where you have made agreements with Satan. Write them all down. Now go back over the list and ask God to break those agreements and make a new agreement with God.
Old agreement:  I 
 have no money. We will always live paycheck to paycheck.
New agreement: God shall supply ALL that I need.
Old agreement: I can't do that it's too hard.
New Agreement: I can do ALL things through Christ who gives me strength.
It's important that you replace the old agreement with a new God centered one.
To live this principle we have to pay close attention to what we are thinking.  A lot of times the voices and whispers we hear are screaming at us so loud as if they are truth, but they aren't truth.   And secondly  we have to know Gods word so we can know the truth.
John 8:32 Then you will know the truth, and the truth will set you free."
So… Who are you agreeing with??
(Visited 664 times, 3 visits today)