It's been a while since I've done a life lesson.  God's been brewing this one in me for a while.  I'm reading the book, "When Life Hurts: Finding Hope and Healing in the Pain you Carry by Jimmie Evans.  I had never heard of him until my sister in law recommended the book.  She mentioned that he talks about a hurt pocket and the vows  we make which keep us hurt.  God has my heart on that subject and I've shared about it here and here.  I knew I NEEDED to read it.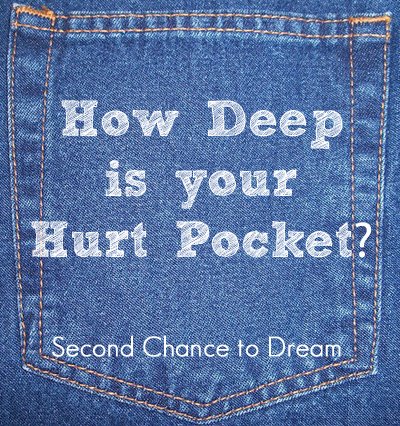 Basically the gist of the book is we ALL have been hurt in life and a have a hurt pocket in our soul  We get hurt and those hurts collect.  Most of us think time will take away the pain but that's not how pain/healing works.  Most of us are not equipped to deal with pain.  It seethes deep inside, and like a cancerous tumor  and it begins to slowly spread and reproduce. Before we know it, the infection is affecting every other area of our lives. Wounds that are tucked away lead to inner thoughts that are dangerous. Sometimes these thoughts turn to vows.
 Inner vows are damaging promises we make in order to comfort ourselves in times of pain, frustration, or difficulty. And they are never healthy.  Inner vows do far more than cause emotional stability. They damage our relationships, including our relationship with God. They cause us to act out in ways that are not only unhealthy, but go against God's word
Inner Vows are damaging because:
 1.They are sinful.  We are not supposed to make oaths or vows to anyone but God. Matt. 5:34,37  When we make a vow that vow is not under God's submission and when Jesus is not in control satan is.
2.  They cause us to overreact to things.  Inner vows can make people do things that are completely out of character for them. Suppose you made an inner vow as a child to never be poor again.  You will go to great length to earn money.  You may start hoarding things or stashing away money at your families expense.
3.    They become the guiding forces of our life.  Inner vows guide us in ways that are completely irrational and unhealthy. And they control us in ways that only God should be allowed to do. Jimmy shares the example that as a child he only had a couple outfits and he vowed that that would NEVER happen to him as an adult.  30 years into the marriage his wife asked him why he was such a clothes horse and he was shocked and didn't even realize that he had been collecting clothes, not even wearing most of them.  Vows become the guiding force in our life.
Here's an another example of an inner vow playing out in someone's life.  A woman grows up in an emotionally abusive family and vows that she will never be taken advantage of ever again in her life.  In order to keep that vow she lashes out at every little thing and becomes the abuser, the very person she vowed to stay away from.
When we make an inner vow we are saying to God, "I don't think you're big enough to help me or big enough to protect me or loving enough to heal my pain.  I don't think you are enough to get me through this and so the hurt pocket begins.  The hurt pocket begins as a way to protect ourselves and ends up being a way for us to hide our pain from God and others.  Inner vows create in us a heart of stone.
Emotional pain will only heal when it's brought into the open.  Any wound that is not dealt with  remains deep in our hearts and spirits. Time may dull the pain or distance us from the memory, but it doesn't heal the wound. The cut is just as open and vulnerable and exposed as it was the day we were hurt. The wound remains in the hurt pocket of our spirits, right where it was the day we stuffed it .   And the more unprocessed wounds we suffer over the course of time, the more they grow and accumulate within us. By the time many of us reach adulthood, our hurt pockets are filled to the brim with untreated, unresolved emotional pain and baggage.
We have to deal with the pain one way or another and almost always we don't t deal with in the right way. Jimmie says that we handle our pain in one of three ways?
We medicate.  We drink, eat, shop, do drugs, have sex, etc.  ANYTHING to numb the pain.  The addiction is not the problem.  It's the pain underneath the surface that's the  problem.
We motivate ourselves– We turn to busyness and performance to control things and to numb the pain. Do you know anyone who is always striving working towards that next goal.  Once we reach that goal the pain is still there so we set another lofty goal.   The ghosts always come back to haunt.
We  meditate– we focus on the issue nonstop.  We focus on how hurt we are.  We focus on who hurt us. Their pain becomes the consuming obsession.  Jimmy says, "Meditator's hang on to every injustice they've suffered. They eventually develop a victim mentality and often become negative, bitter, and unforgiving."
 Recognize any of these things in your life?
 There is  HOPE!!! If you are someone who is struggling with intense pain, know that there is healing.  God is able to remove the hardness from our hearts if we allow him.  God promises a new heart and a new spirit. He replaces our heart of stone with a heart of flesh.  Ez. 36:26  He wants desperately to heal us.  He is for us not against us.  The only way to begin  healing is to surrender those inner vows to God.  Did you know that the pain we keep hidden from God gives satan great power over us to cause more and more pain in our lives?  Healing can only begin when we decide to give him access to the deepest and most painful areas of our hearts.
"Blessed are those who mourn, for they will be comforted" (Matt. 5: 4). I have never really understood this verse so it usually gets swept over but what Jimmy shares about this verse is  "When life gets hard, bring your pain to him and He says He will comfort you."   Blessed are those who turn their pain toward God for they will be comforted..
OK, I'm really good at knowing what's wrong but I don't always know what to do to fix it.  Here are the things Jimmy says we nee to do to begin healing.
1.  Begin by confessing your sins to God. Get honest before God.  Share your heart with God. Satan wants us to keep it in the dark.  Journaling is a great way to get things out  and on paper.  Just start spewing and confess it to  him.  He's BIG enough ti take it.
2.  Find a safe person you can share with,  find people you can trust, people who will pray for you, stand by you, walk with you on your journey toward healing. Find people who will hold you accountable."
James 5: 16 says, "Therefore confess your sins to each other and pray for each other so that you may be healed." Scripture teaches that there is supernatural healing to be found through humility and vulnerability.
3.  Take responsibility for what has happened.  Where have I fallen apart? how have I acted out?  Life doesn't form me.  I am responsible for how I respond to the hurts done to me.
4..  Receive mercy from God. .  Forgive myself.  Regret is one of Satan's biggest weapons.   Forgive those who have hurt and give mercy to those people.  Forgiveness is so much more about us than them.  It sets us free!
It's NEVER too late to empty out our hurt pockets and carry a lighter load. God wants that for us.
How deep is your hurt pocket??
Thoughts??
I link up to the following Link Parities:
It's Overflowing

, 

DIY Showoff

,  

Titi Crafty

,

 

The Girl Creative

,

Interior Frugalista

/

Under the Table and Dreaming

, 

Skip to my Lou

, ,

 

Keeping it Simple

, 

Between Naps on the Porch

,

 Thrifty Decor Chick

, 

I Should Be Mopping the Floor

, 

Craft

, 

The Hankful House

// 

Tip Junkie

, 

Sugar Bee Crafts 

, 

Not Just a Housewife

  

A Bowlful of Lemons

,

 

Coastal Charm

, 

Growing Home Blog

, 

Timewarp Wife

,  

New Nostalgia

, 

Yesterday on Tuesday

, 

The Gunny Sack

///

Inspiration Exchange

, 

The DIY Dreamer

, Gingersnap Crafts

 

, 

We are that Family,

 Raising Homemakers

 

,

 

Women Living Well

  

NY Melrose Family

,  

Someday Crafts

  

Family Home and Life

, 

Life with the Crust Off

, 

Crystal & Comp,

 

 

Live, Laugh, Rowe

, 

Imparting Grace

,  

Saving 4 Six

,, 

Artsy Fartsy Mama

, / 

The Shabby Nest, 

 

Chic on a Shoestring,

   

Craft O M

aniac

, 

One Project Closer

,

The Best Recipes Blog

, 

 

Filled Fridays

,

The

Thirty Sixth Avenue

,

Six

. 

Link Party Palooza

//

 Sister's Stuff

, 

Bowdabra Blog

, 

Cheerios and Lattes

, 

Funky Junk Interiors

,

 

Be Different, Act Normal

, Too Much Time On My Hands, 

Made From Pinterest
(Visited 759 times, 1 visits today)