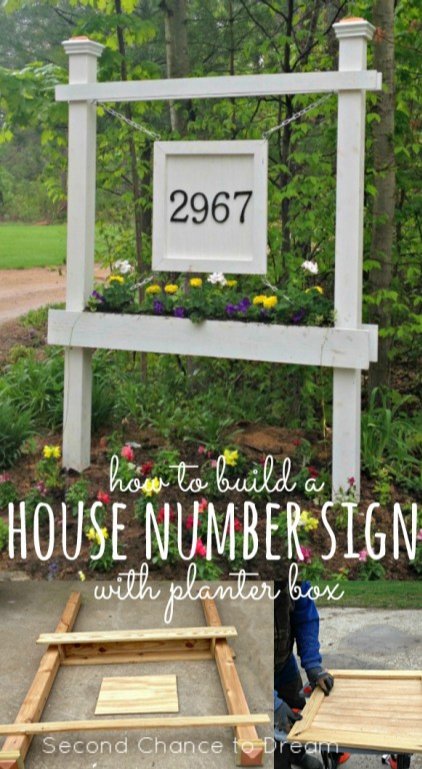 I'm excited to share with you my DIY House Number Sign that my hubby and I made.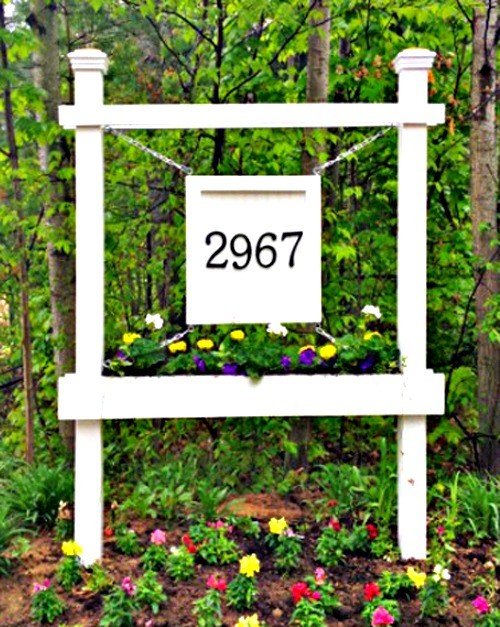 This was the entrance to our driveway which is really boring. We wanted something that would really stand out! I was visiting Pinterest and I ran across this sign
here
 and fell in love. This was the perfect project for our entrance.
I'm going to show you a step by step tutorial on how my hubby built it.
Here are the supplies that you will need:
2 -4 x 4 cedar boards
5 -1 x 6 treated boards
liquid nails
nail gun
house numbers
5 ft. of chain
4 eye bolts
2 caps for the 4 x 4 boards
paint or stain
bag of cement
To begin you need to layout your 2 – 4 x 4 boards as pictured.
The next step was to make the window box. Our measurements were as follows:
Base 41″ long
2 Sides 54″ long
2 End pieces 5 1/2 " long
He used liquid nails as well as a nail gun to assemble the box.
We then laid everything out to get the window box at the height we wanted it to be.
For the top piece of wood, he took a 1×6 and ripped it in half and cut it to 54″ long. You will need both for the sign. Only one shows in this picture.
We had some wainscoting leftover from our
banquette seating project
 so he cut it into a 20 x 20 square. He ripped a 1 x 6 into 2′ strips to make a frame for the square. He assembled it all together.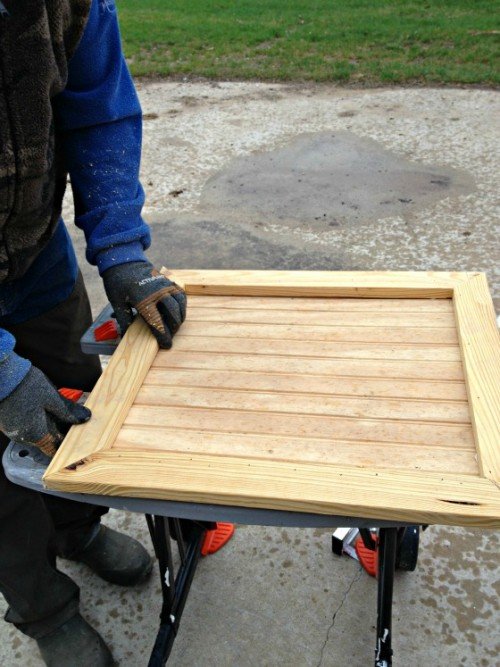 Next stain or paint the whole sign and once dry add your caps to the tops and your house numbers to the sign. After everything was painted we took it to the driveway entrance. He dug holes and sat the sign in the holes.
Make sure everything is level, then mix up your cement and pour it into the holes. Keeping it steady until cement sets.
Next, he added the sign. He used 14″ of chain and an eye bolt for all four corners. The chain will keep it swinging in the wind.
Next, plant your flowers and enjoy your hard work each time you pull up in your driveway.
Don't you think it looks so much better? It was surprisingly quick to put together, approximately 2 hours and around $75.00 to make.
I want to show you real quick how I've decorated my sign for Fall and Christmas. Here is my Fall Decor. You can find a tutorial 
here.
And here is how I decorated it for Christmas. You can find a tutorial 
here.
I can't tell you how much I enjoy pulling up to my driveway. There's beauty in every season. Go create some beauty in your surroundings today.
(Visited 3,655 times, 13 visits today)