If you've visited my blog much you know that I LOVE and I mean LOVE COLOR!!  I love color all around me and I really enjoy color in my outdoor decor.  The problem becomes it can be very expensive to buy outdoor decor.  So, I've put on my thinking cap and came up with some cheap ideas to add color to your outdoor decor.

I want  to show you my latest project.  I have a very BORING garage wall, that desperately needed something.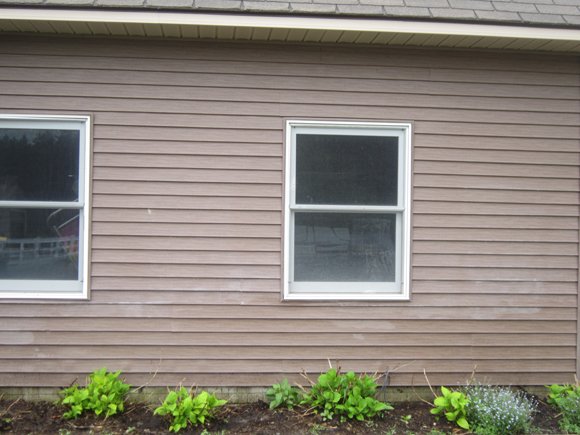 I made these cute pallet gardens and really enjoyed the color BUT the sun did not!  They would burn up every summer so I needed to come up with something different.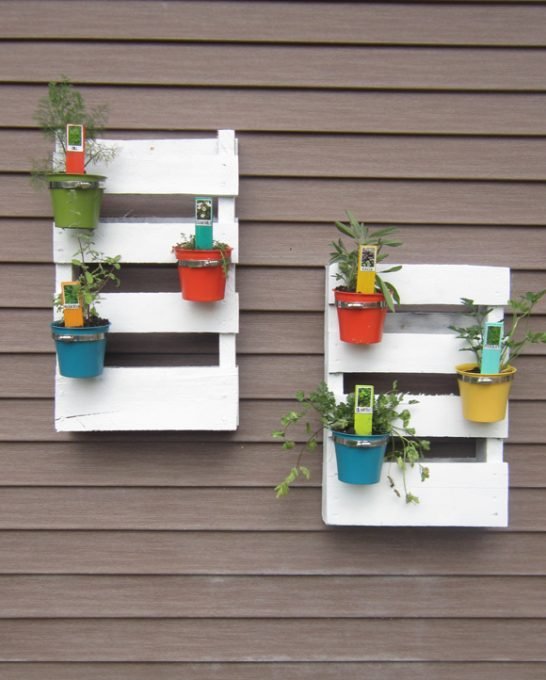 I saw this idea somewhere on the internet.  (Sorry, I didn't save the source) They took frames and spray painted them and hung a planter inside the frame.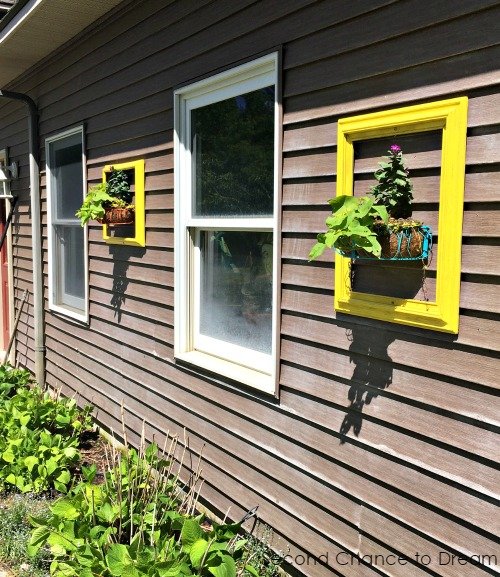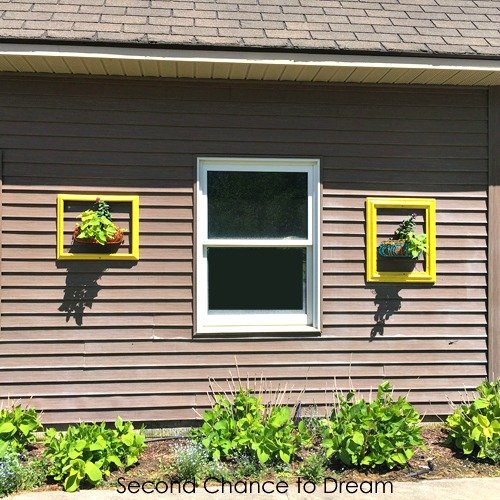 I had all the supplies for this project except the spray paint, coconut liner and flowers.  I LOVE being able to shop from my own house.  I raided my frame stash and gave them each a coat of yellow paint.  I also had these half metal baskets that I gave a coat of  spray paint.  I bought a coconut liner at Dollar General for $2.oo each and added dirt and plants.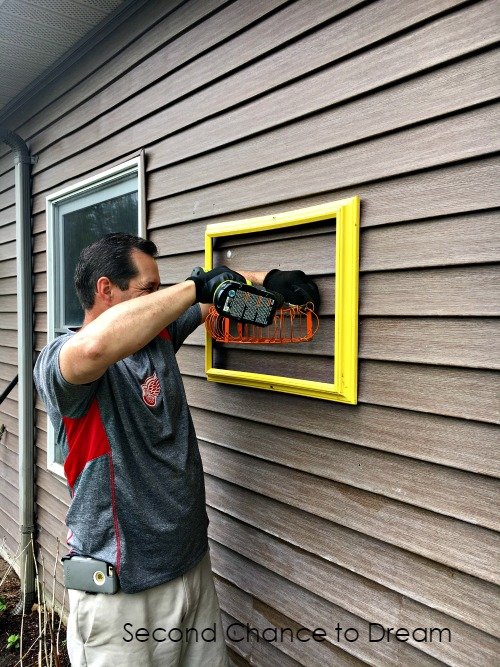 I purchased plants that are heat tolerant so we shall see if they work.  If they don't work, I'll come up with something different.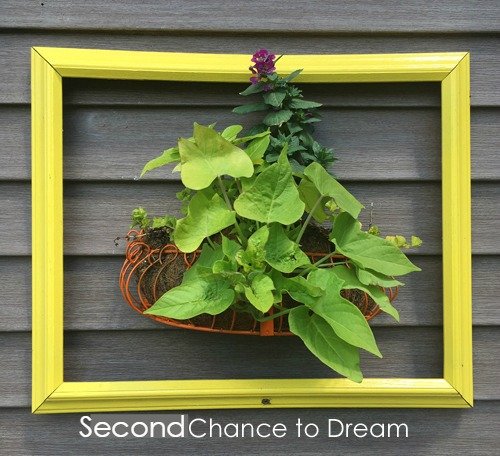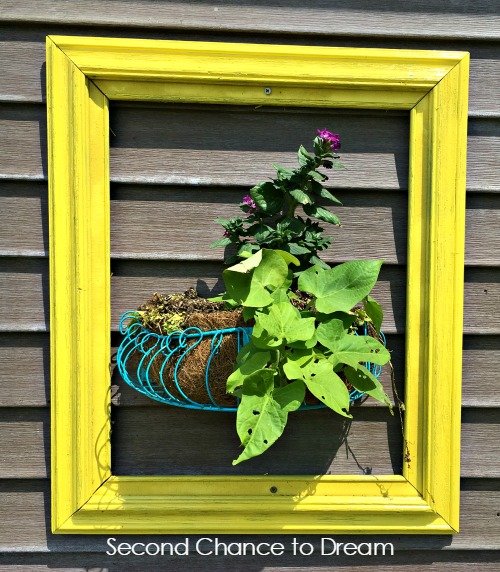 Keys to  add color to your outdoor decor, for pennies:
 Think outside the box.  Look at things with a different eyes.
 Shop garage sales or thrift shops for items to use
Stock up on spray paint-  you can transform many, many things with a can of paint. Choose your favorite color scheme.
Enjoy the beauty everyday!
This Outdoor DIY project is really bright and colorful as well. I LOVE walking up on my front porch seeing this by my front door. It's an old magazine rack that I spray painted, added a coconut liner and some plants and look how pretty it it.  See below for a full tutorial.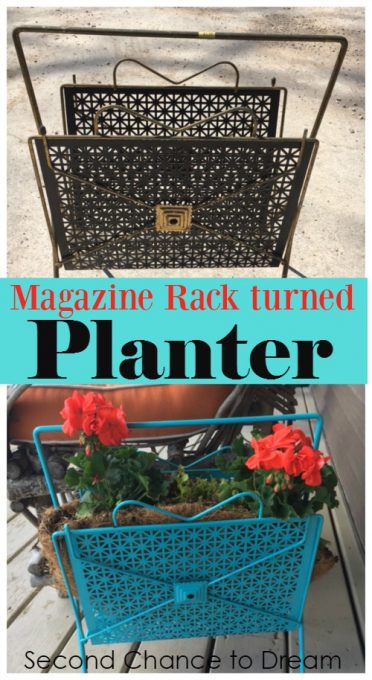 I found these old mailboxes at Goodwill for cheap.  I knew I could do something with them and this is what I chose to do.  I drilled some holes in the bottom, spray painted added dirt and plants and I have a very unique planter for CHEAP!  See the complete tutorial at the link below.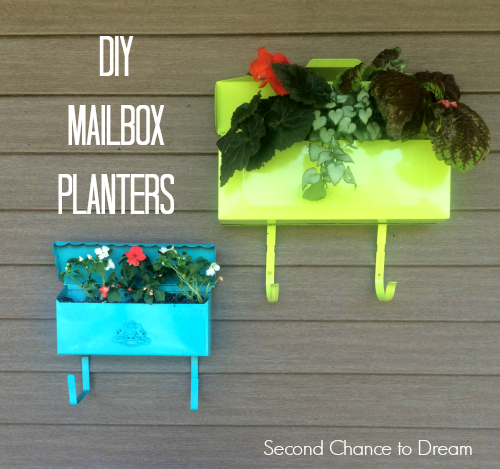 I bought these Jello molds at a garage sale and thought they would make a really cute planter.  Again, spray paint to the rescue.  Read the tutorial for the how to's.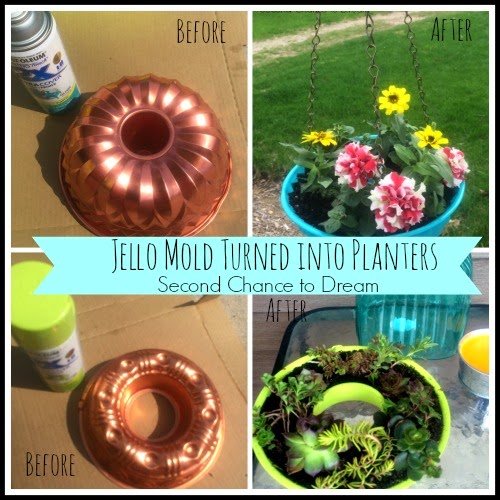 Here are a few of my planters I made this year with my Jello molds.
This next project uses old pop cans that you recycle into garden art.  Paint the cans in the colors that go with your gardens and then stick into pots or various places around your yard.  See tutorial for detailed instructions.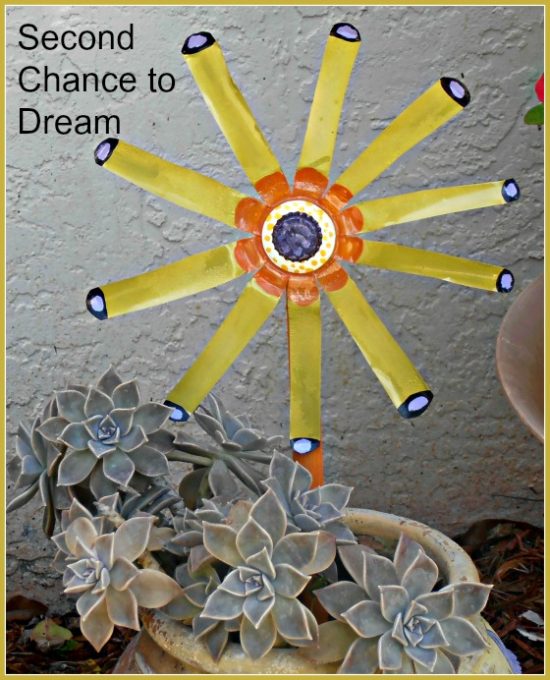 Here are 16 Outdoor DIY Tutorials that I have made.  Make sure you check them out.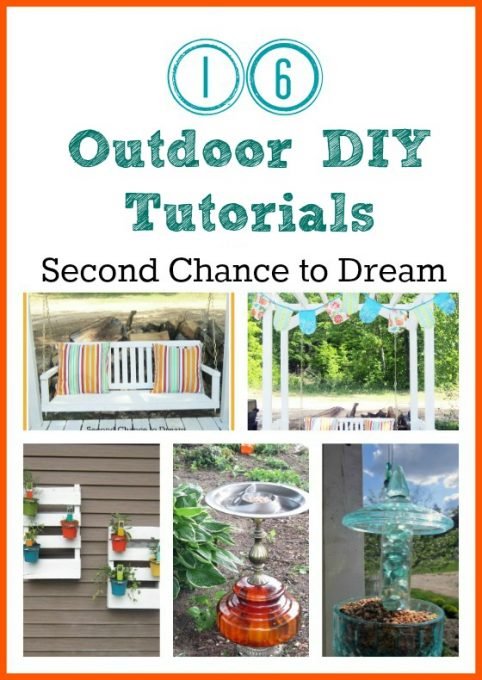 I'd love to have you follow along. You can subscribe to my RSS Feed or sign up to receive dailyEmails delivered to your inbox . You can also follow along viaFacebook, Google + or Twitter.
(Visited 1,326 times, 5 visits today)