Almost all of the blog posts I do are written because I have a need in my life and this post is no different!  I need to Spring Clean my Time.   As a blogger, mother, wife, Christian and part-time employee, I NEED some time management tips.  I don't have time is one of the biggest lies I've ever believed.  Those 4 words help me stay stuck. They keep me small and unproductive.  What about you?
This  is a convicting quote,   "You don't waste time, you only waste yourself."  Ugh! That quote stabs me in the heart.  I feel I waste too much of me! What about you?
Here is a quote from Hal Enrod's book,  The Miracle Morning
Arguably the single most significant cause of mediocrity and unfulfilled potential, which prevents 95% of our society from creating and living the life they truly want, is that most people have no sense of urgency to improve themselves so they can improve their lives. Human nature is to live with a "someday" mindset and think life will work itself out. How's that working out for everybody?  This someday mindset is perpetual, and it leads to a life of procrastination, unfulfilled potential and regret.  
I don't want to live with unfulfilled potential and regret.  What about you? So, it's time to Spring Clean my Time.
Here are some tips to help me Spring Clean my time and maybe they will you as well:
  Grab a calendar and look at your month.  Put in all the activities you have planned.  Then you will know what you can and can't do.  I faithfully use my calendar on the phone, but I need to see an overview of the whole month so I don't have 8 things going one week and 2 the next.  Schedule a date each month where you sit down and look at the next month ahead.
Make a "To Do List" daily
What is the most important thing I need to accomplish today? Plan what needs to be done the night before so you wake up knowing where you need to put your focus.  All successful people do this step. They don't just wing it. They are intentional.
Do the hardest things first
Some things I have to do are hard or ones I don't enjoy.  When you're making your daily to-do list, add the hardest thing on the list first. By doing this you are rewiring how you look at those hard things.   Do those first and your day will feel like a breeze.
 What time of day are you the most alert and productive? Identify this time as your "mojo" time, and seek to make it your scheduled "work time" each day.  During this time make sure you
stay off social media
so you can be productive.  For me, I'm much better in the morning! So doing anything of importance late at night does NOT work for me.
I work on the computer a lot and  I need to set a timer. The internet can suck me into a big black hole if I'm not careful.  It is definitely my #1 thing that wastes my time or wastes me!  I also use a timer when I clean.  I set it and see how much I can get done before the timer goes off.  It's amazing what you can accomplish in just 15 minutes.  My motto is, "I can do anything for 15 minutes."
 Or at least limit your multi-tasking.  When you're multi-tasking, your brain is constantly having to shift focus.  Group like tasks together to help you stay focused.  I'm the queen of multi-tasking and it's a habit I'm trying to break.   One habit I would like to incorporate into my life is
time blocking. 
It's doing like things altogether.  For example, preparing this series, I prepared all my photos at one time and then inserted them all in my post templates and got everything ready to publish.  All I needed to do was finish up writing my posts.  The tedious stuff is all done.  This kept my focus on one thing and it worked great! I can't wait to incorporate it into other areas of my life.
 You can save so much time by planning them out weekly or monthly.  Once a month 
freezer cooking
 also saves a large amount of time in the kitchen. So can prepping your meals on Sunday afternoon.  These things are a great example of time blocking. I have a confession, I'm just putting this principle into practice.   I usually plan the menus and don't follow the plan.  By doing this I waste time and money.
 When you set goals you know where to focus your time.  If a certain activity doesn't help you achieve a goal, then it's probably not a smart use of your time.  Keep your goals in front of you.  Make sure you read this post on
Spring Clean your Goals and Dream
s for practical tips.
 Create routines in your life
We do certain things every day. Create routines from those things that you do daily.  What do you do every morning or evening consistently? Write these routines down.  Here is a
Habit Tracker
to help you write those down and keep track of them.   For example, your evening routine might be to cook supper, clean kitchen, pack lunches, lay out clothes for the next day.   I wrote a post on the
Power of a Daily Routine.
  You can read that here and get some practical tips on how to do this tip.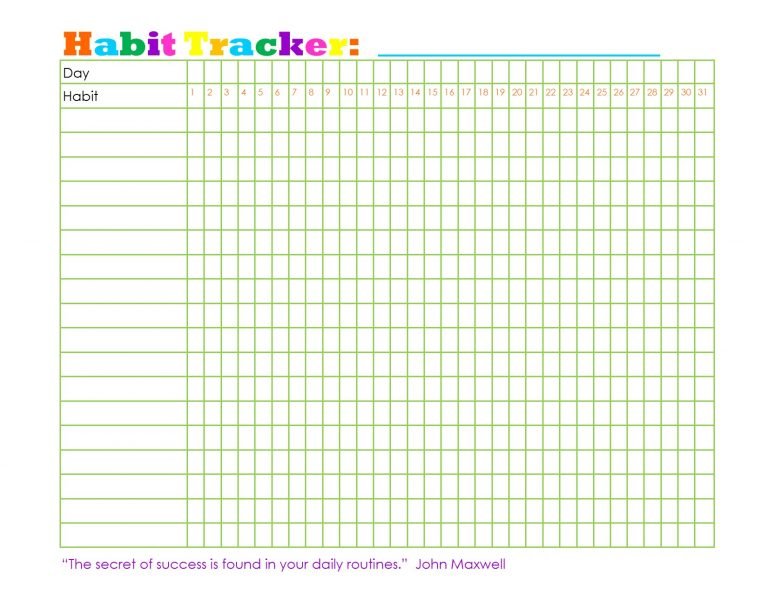 OK, my timer has gone off and I need to move on.
I hope and pray you found some practical ways to spring clean your time.
Make Sure You Check Out These Other Spring Clean Your Life Posts:
If you need a printable planner download any or all of these planner sheets in your choice of two colors.
I'd love to have you follow along. You can subscribe to my RSS Feed or sign up to receive daily Emails delivered to your inbox. You can also follow along via Facebook, Google + or Twitter.





(Visited 624 times, 1 visits today)