One important self-care habit for me (and you as well) is to eat breakfast.  I'm not a breakfast lover and have to make myself eat it. I find I do eat breakfast if I have things readily available.  While searching Pinterest I ran across a recipe for Yogurt Breakfast Bark.  The recipe looked easy enough (a must for me) and didn't require a ton of ingredients.  Let me show you how easy this Breakfast Bark is!
Greek Yogurt Breakfast Bark
Grab & Go Yogurt Breakfast Bark
Ingredients
1 32 oz. Vanilla Greek Yogurt
1/2 cup of your favorite granola
1/2 cup of strawberries, sliced
1/2 cup of blueberries
1/2 cup of pecans or your favorite nuts
Instructions
Line a 9 x 13 pan with parchment paper.
Spread the whole vanilla yogurt over the parchment paper.
Sprinkle each ingredient evenly over the yogurt.
Once done put the pan in the freezer until it's frozen hard.
After it is completely frozen you need to break it into pieces.
I then put a serving size portion in a snack size baggie.
Then I put all of the bags in a gallon size baggie and put them in the freezer.
7.8.1.2
5
https://www.secondchancetodream.com/2017/04/breakfast-bark.html
NOTE: when you pull it out to eat it, you can't dilly-dally while eating it. It will melt.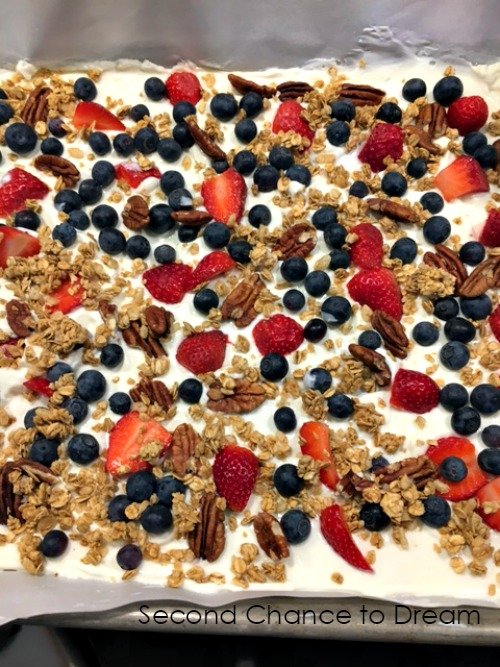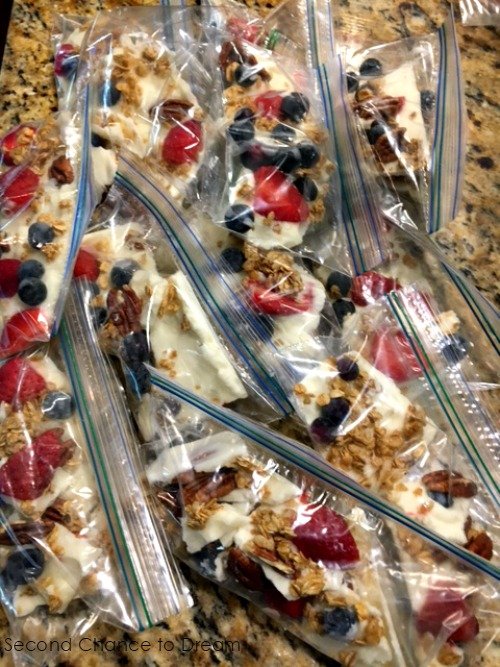 Are you a breakfast eater? Do you have a favorite grab & go breakfast recipe?  If so PLEASE share with me.
Here are a couple of my Make Ahead Breakfast posts.  I'm positive you will find something you'll love.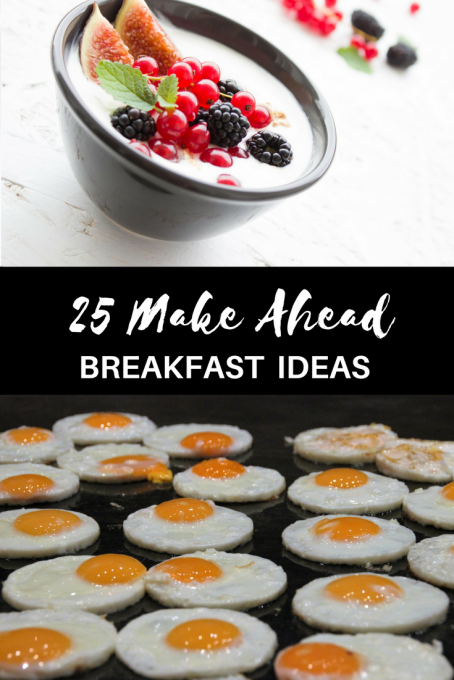 Make Ahead Breakfast Casseroles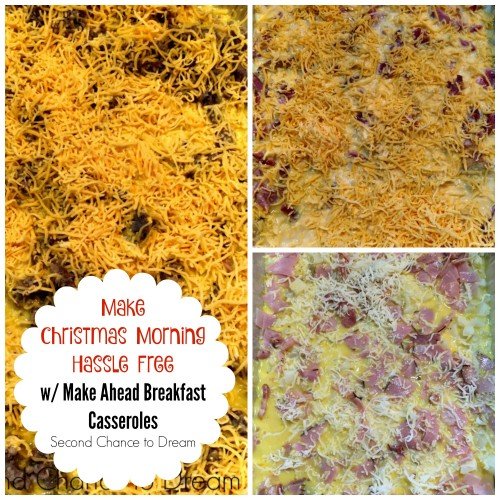 I'd love to have you follow along. You can subscribe to my RSS Feed or sign up to receive daily Emails delivered to your inbox. You can also follow along via Facebook, Google + or Twitter.



(Visited 1,621 times, 2 visits today)