I have a love for birds.  I love to hear them singing.  I love to watch them eat and interact.  Because of my love for them, I have bird feeders all over my yard strategically placed so I can watch them.  I  have some out my bedroom window. I have some outside my kitchen window. I have them placed in the gardens around my yard so that where ever I'm at I can see them.  Every year I like to make a new bird feeder or two and this year I made three.  I want to show you the easy, inexpensive Mason Jar Bird Feeders I made this year.
 The first two that I made use these supplies: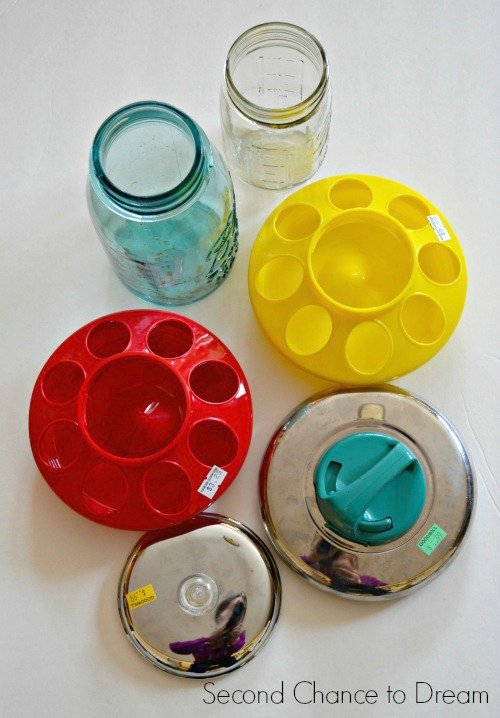 2 Mason Jars
2 screw on chicken feeder bases. I bought mine at a feed store but you can purchase on 

Amazon

 (affiliate link)
2 pot lids (I found mine at Goodwill.  Garage sales would also be a great place to look for them.)
E600o glue (not shown)
Wire to hang
Here's how you do it.  Take your feeder base and screw it to your jar.  Take your E6000 and spread it around and glue your lid to the bottom of the jar.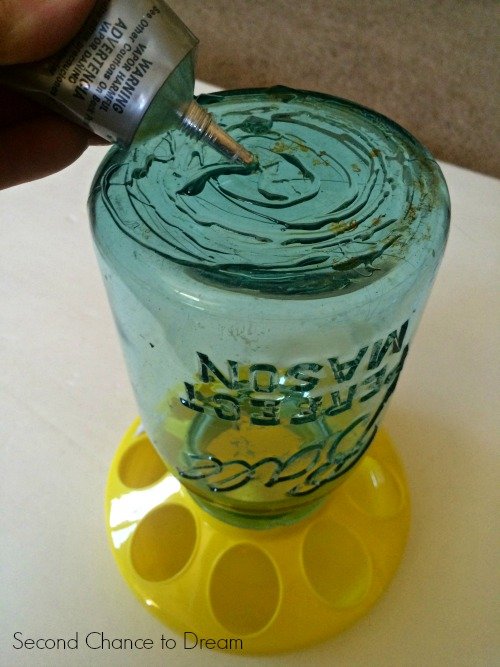 See I told you it was super easy. I then added wire around the handle to hang from my shepherds hook.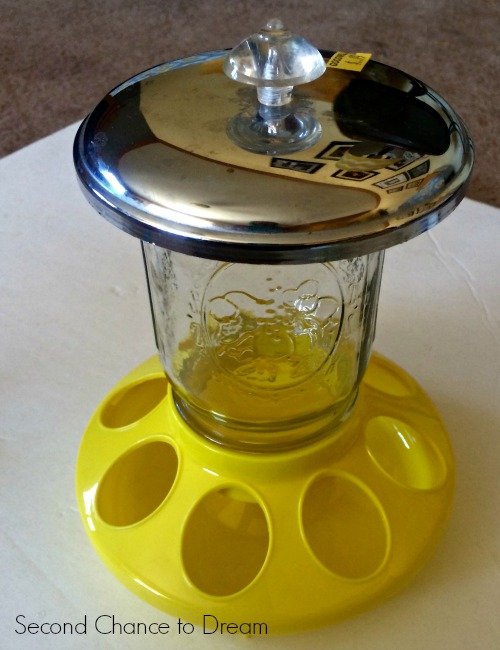 Here it is hanging by my flower box.
This bird feeder was done the same way except I didn't add wire to hang it. Because of the handle, I was able to slide it on the branch and it hangs that way..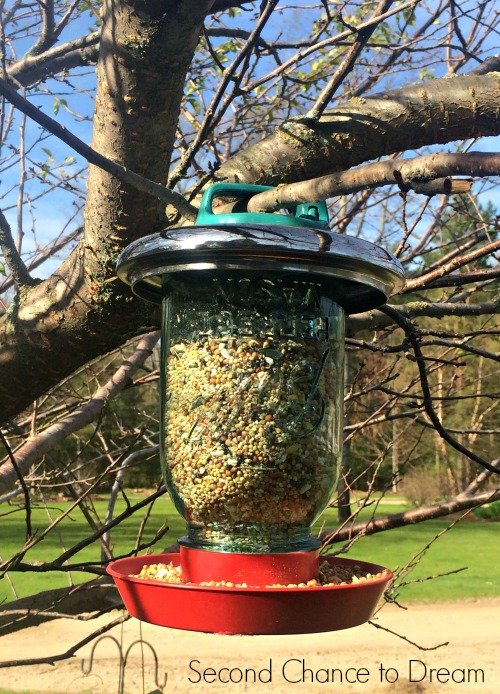 The next one I made is a little different. I bought a globe light fixture at Goodwill .  I then found a clear plate that was bigger than the feeder base to keep the rain out. Here is a picture of the supplies. (I didn't use the candy dish in the picture.)
I used the E6000 to attach the light globe to the plate.  Then I attached the plate to the bottom of the jar.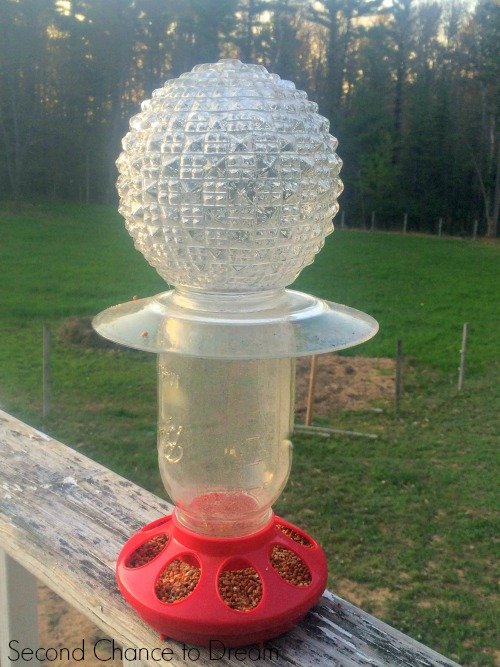 I have mine just sitting on my deck because it's pretty heavy.  I can now do dishes and enjoy the birds eating.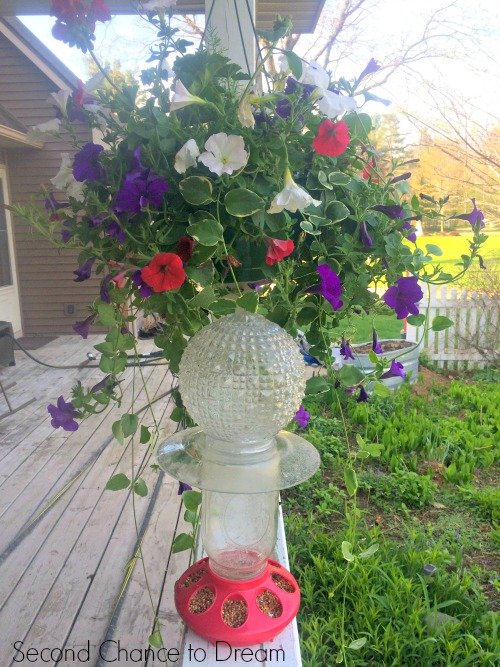 I LOVE my new bird feeders!
If you're crazy about Birds like I am please check out my other DIY Bird feeder tutorials.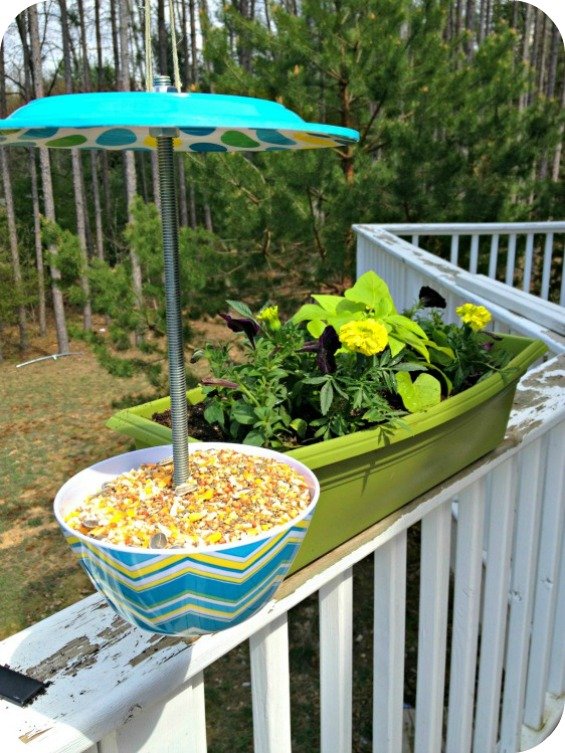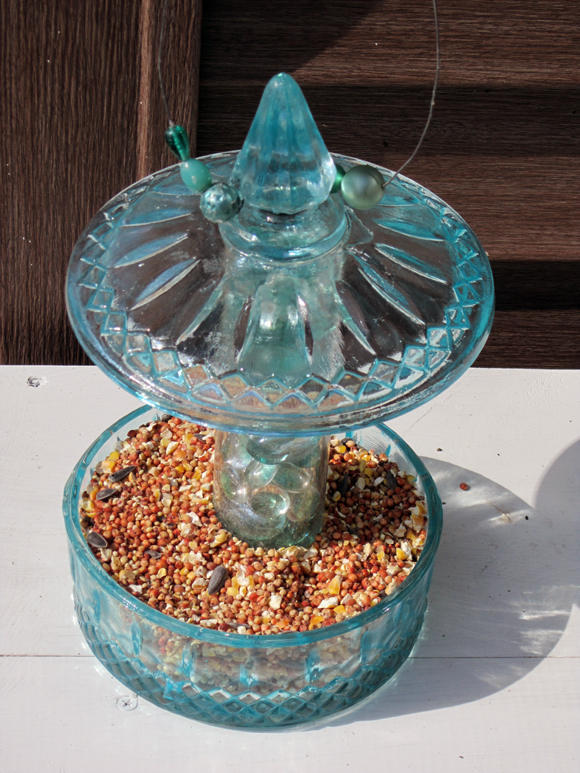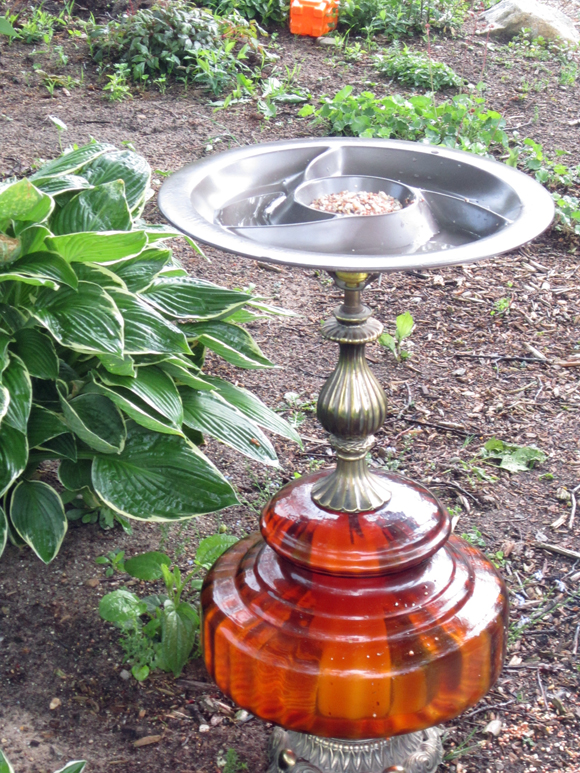 I hope you found some inspiration!
If you have any fun DIY bird feeders please leave me a link in the comments. I'd love to check them out.
(Visited 2,910 times, 4 visits today)