I'm in my outdoor decorating mood.  The snow is gone, the trees are budding, the flowers are growing and I am LOVING the nice weather we've been having.  I've noticed something different this spring and that is I've had a group of birds that have been landing on my deck right outside my bedroom window. This is such a God Kiss to me since I truly love watching birds.  What's weird about it is there is nothing on the deck for them to even hang out there.  So my project today is for a new DIY Bird feeder for my new bird friends that have been coming to visit daily.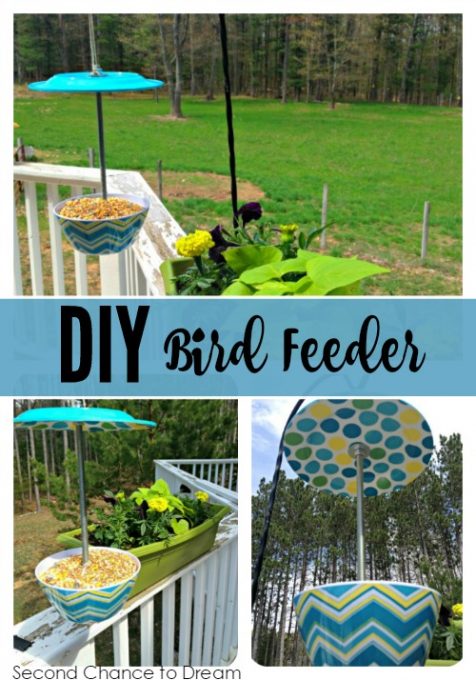 I originally saw something similar on
Erin's Creative Energy Blog
 and instantly fell in love with it and knew it would make the perfect hang out for my visitors.  Here's how I did it.
DIY Birdfeeder
When I was in Big Lots one day and I saw this plate and bowl and I fell in love with them.  The best thing was they were only $1.75!!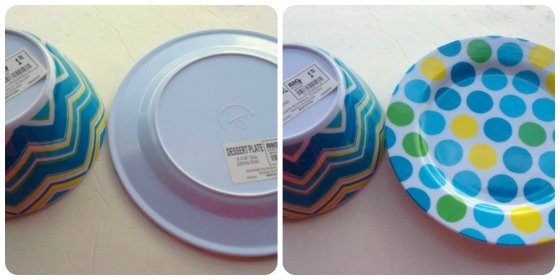 Here's what you'll need:
Plate- I used a smaller sized plate, not the dinner size
Bowl
12 in. threaded rod
4 washers
4 bolts
cording
waterproof glue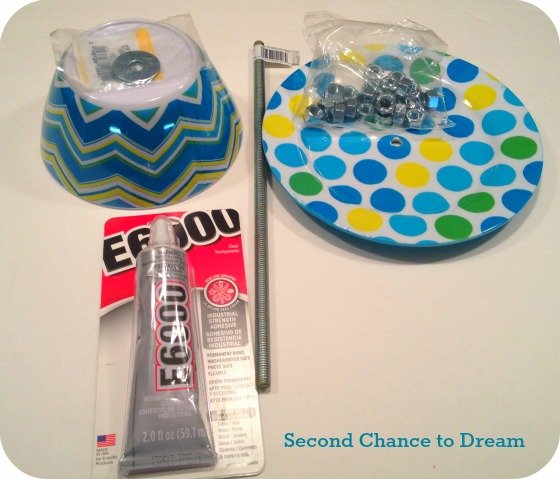 Since I didn't want the back of my plate to be white I gave it a coat of spray paint.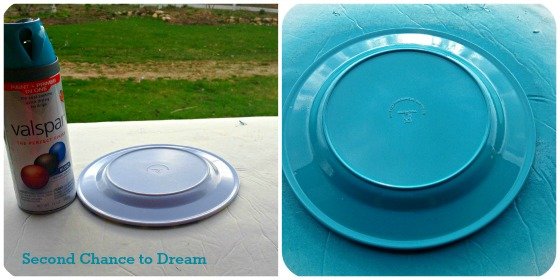 I then had my husband measure and find the center.  After that was done he took it to the barn to drill a hole in it.  This material is not the easiest to drill through and mine actually chipped but the washer covered most of it. Put a block of wood under the plate and bowl when drilling. This gives it some support and keep it from chipping like mine did.
Once the holes are drilled put the rod through the bowl  Add a washer and nut. Do this on the outside of the bowl and the inside of the bowl as shown below.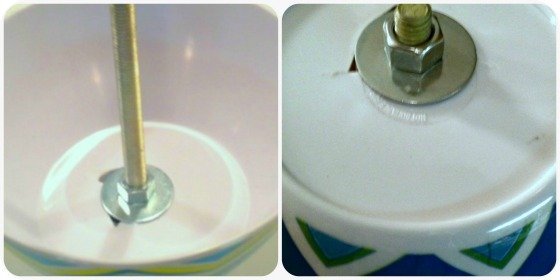 Next add the plate and then add the washer and nut on both sides like you did for the bowl. If you choose to, now would be the time to glue the washers to the bowl but not the plate. I chose not to glue mine together.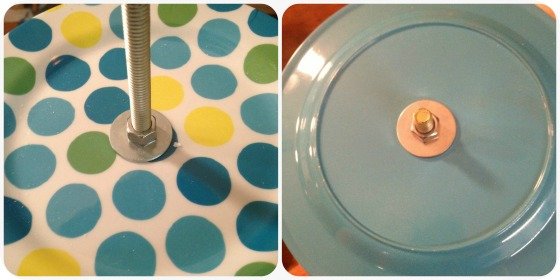 Now Erin did a lanyard knot to make a hanger but I am way too uncoordinated to do something like that.  This is how I did it.   I loosened the bolt and then took some jute and I cut it in 2 paces and then tied it on under the loosened  bolt like I was tying shoes.  I then followed the instructions at
Animated Knots by Grog,  I did this twice and then brought all 4 pieces together and tied it in a knot at the top.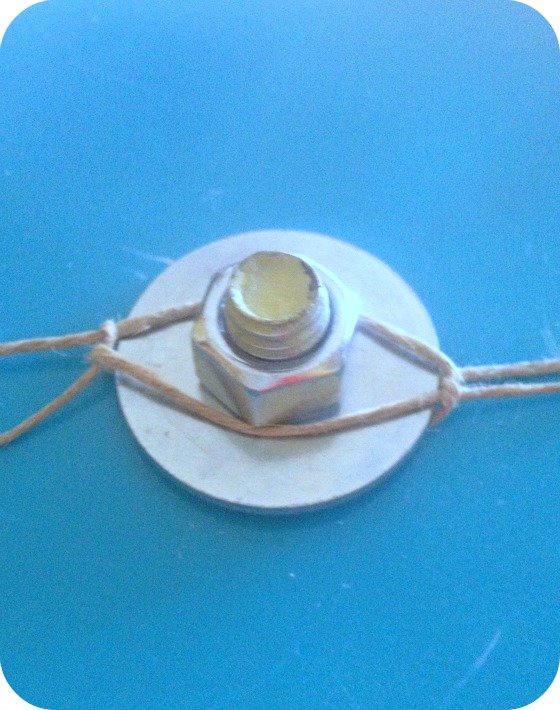 A shepherds hook that screwed to my deck was what I wanted.  I found one at Joann Fabrics for half price!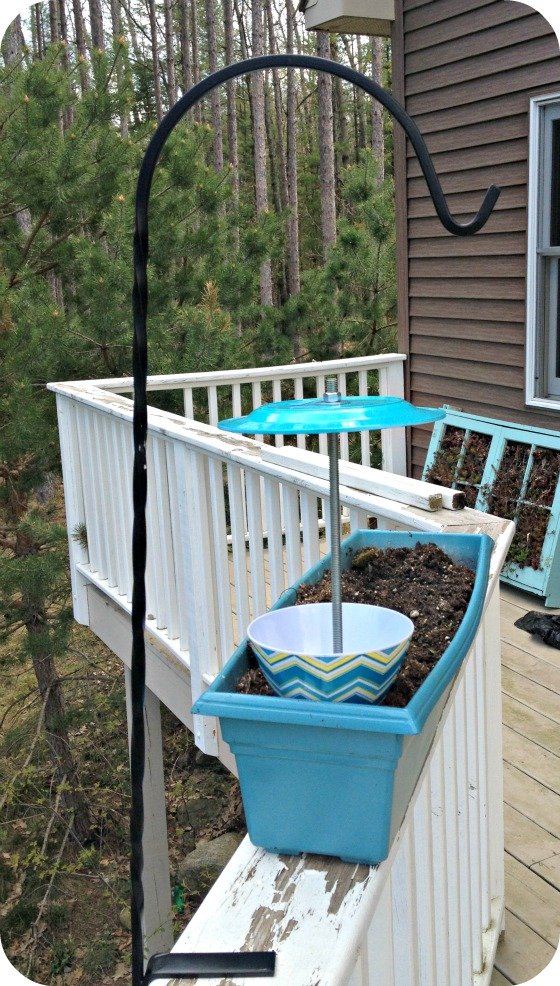 I then hung my bird feeder, added seeds and planted some pretty flowers and this is the finished product.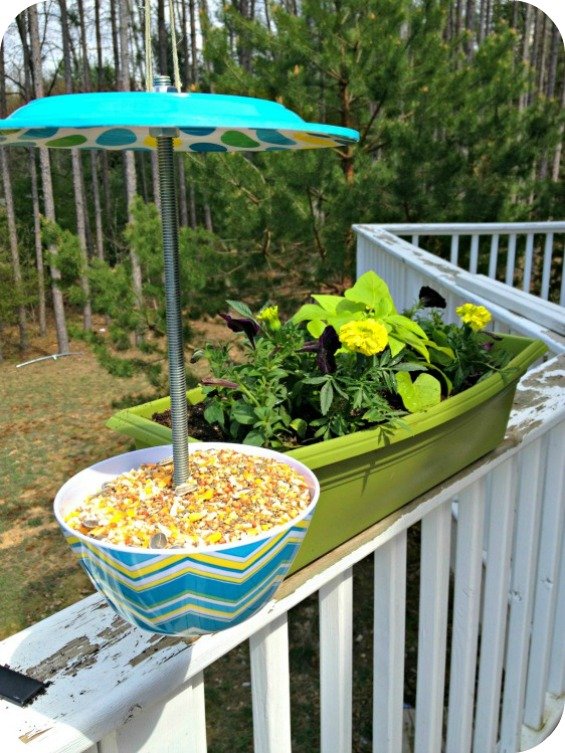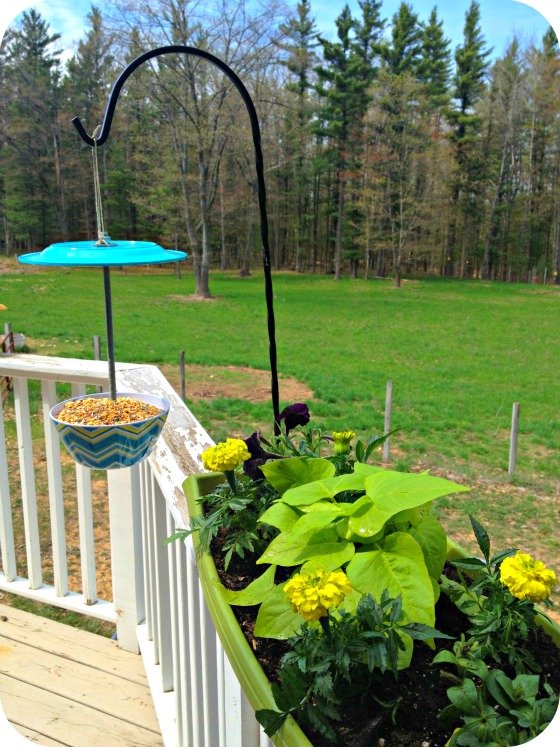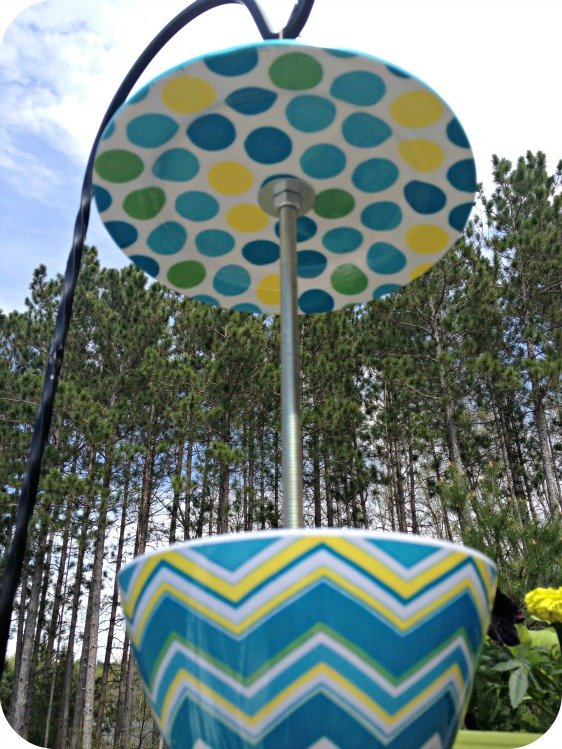 I LOVE looking out the window and seeing such a bright colorful feeder.
Have you ever made a bird feeder from common household things?
Need more Outdoor DIY Projects?
Check out my 16 Outdoor DIY Projects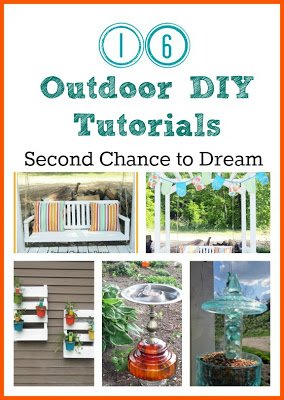 (Visited 8,661 times, 2 visits today)