As women, we often struggle to achieve our goals despite our best efforts. It can be frustrating and disheartening, but the first step towards overcoming these obstacles is to identify what's holding us back. In this blog post, we will explore five effective ways to pinpoint the factors that might be hindering your progress and offer insights on how to address them. By understanding these barriers, you can take proactive steps towards a more fulfilling and successful life.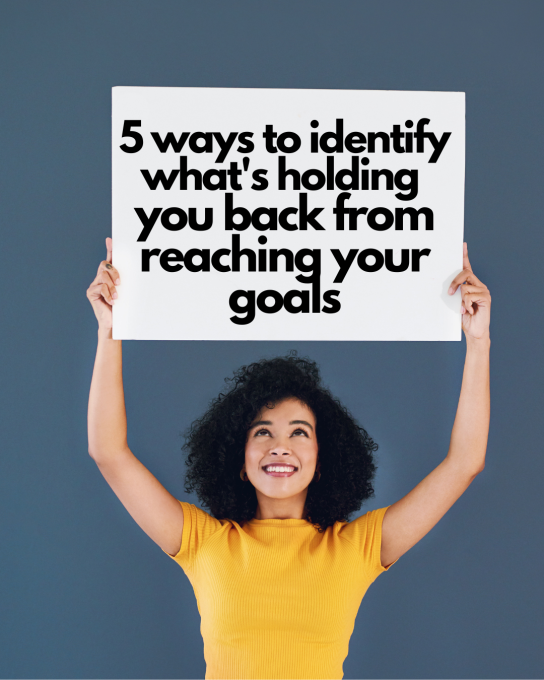 Self-Reflection and Goal Alignment:
Begin by engaging in deep self-reflection. Take some time to evaluate your goals and assess whether they align with your values, passions, and long-term aspirations. Sometimes, we set goals based on external expectations or societal pressures, which can leave us feeling unfulfilled. When you align your goals with who you truly are, you can gain clarity and purpose. This helps to get rid of internal conflicts that might stop you from moving forward..
Recognize Limiting Beliefs:
Our beliefs shape our reality, and sometimes, they can limit our potential. Identify the beliefs that hold you back and challenge their validity. Are there thoughts like "I'm not good enough" or "I don't deserve success" that frequently resurface? Recognize that these beliefs are often self-imposed and not reflective of your true capabilities. Replace them with positive, empowering affirmations and cultivate a growth mindset that encourages you to embrace challenges and learn from setbacks.
Identifying External Influences:
External factors can significantly affect our progress. Evaluate your environment, relationships, and the people you surround yourself with. Are there individuals who discourage or undermine your aspirations? Do you find yourself in a toxic or unsupportive environment? It's crucial to identify and minimize these negative influences. Seek mentors, friends, and communities that uplift and inspire you, providing the support and encouragement you need to pursue your goals.
Overcoming Fear and Taking Risks:
Fear often stands as a formidable barrier to success. Recognize that it is natural to feel fear when stepping outside your comfort zone, but it should not define your choices. Identify the specific fears that hold you back—fear of failure, judgment, or the unknown—and confront them head-on. Break down your goals into smaller, manageable steps, and gradually expose yourself to the unfamiliar. Remember, growth and achievement often require taking calculated risks, and facing your fears can lead to significant personal and professional growth.
Seeking Professional Support:
Sometimes, despite our best efforts, identifying what's holding us back can be challenging. Seeking professional support from a coach, therapist, or mentor can provide invaluable guidance and insights. These individuals can offer objective perspectives, help you uncover deeper issues, and provide effective strategies to overcome obstacles. Don't hesitate to reach out for professional assistance; it can be a transformative step towards unlocking your full potential.
To overcome obstacles and create the life you want, start by identifying what's holding you back. TYou can overcome obstacles and achieve your goals by reflecting on yourself, questioning your beliefs, acknowledging outside pressures, facing fear, and getting help from experts. Remember, your goals are within reach, and with the right mindset and determination, you can create a path towards success and fulfillment. Embrace these strategies and empower yourself to pursue your dreams with renewed vigor and confidence.
(Visited 27 times, 5 visits today)