Camping season in northern Michigan will be here very soon.  Camping is one of our favorite things to do as a family.  I want to share with you one meal that we have every single time we camp.  It's the perfect meal for a large family and it's the perfect meal for the picky eaters.  It is foil dinners.
Here's how to make Foil Dinners
At home, we chop up all of our ingredients and put them in ziplock baggies and then when it comes time to eat each person assembles their own packet.
Ingredients we like:
Meat: Chicken, ground beef, kielbasa, round steak
Veggies:  corn, sauerkraut, carrots, onions, fresh green beans, potatoes (chopped small so they cook fairly quickly), asparagus, peppers, bean sprouts, water chestnuts
Sauces:  Teriyaki, cream of mushroom soup, and our very favorite sauces are Honey BBQ, Spicy Garlic & Asian Zing from Buffalo Wild Wings.
We sometimes add minute rice to the mixture as well.
Assemble your foil packets.  Spray your foil really well.  Add your choice of veggies and meat.  Add @ 2 T of the sauce of your choice.  You can add salt and pepper if you choose.
Fold and seal your dinner real well. If they are large we add a second piece of foil.  Place your packet into hot coals.  Timing obviously varies with how hot the coals are but usually, they take @ 20 min.  Carefully remove from fire and check to see if things are cooked. Sometimes we have to put them back in.  If done, peel the foil back and dig in.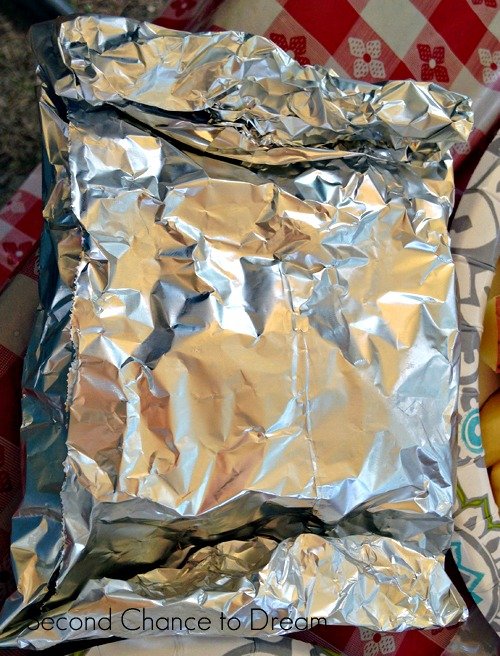 Enjoy!!!
Need more camping ideas?  Here are 3 posts to help you have a successful camping trip.
Camping Organization & Meal Ideas
(Visited 5,490 times, 4 visits today)