It's time for our weekly lesson on Who we are in Christ.  Today we are focusing on I am a Saint.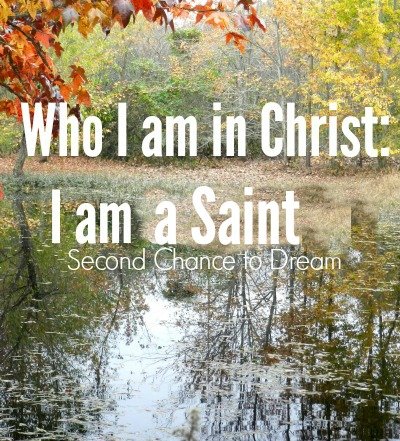 What is the first word you think of when I say the word Saint?
A Catholic saint?  Someone almost perfect?  something unattainable?
The dictionary defines saint as:
any of certain persons of exceptional holiness of life, formally recognized as such by the Christian Church, especially by canonization.
a person of great holiness, virtue, or benevolence.
Did you know that God calls you and me a Saint??
Eph 1:1: To the saints who are in Ephesus, and faithful in Christ Jesus:

2 Cor 1:1: with all the saints who are in all Achaia:

Rom 1:7: To all who are in Rome, beloved of God, called to be saints:

Phil 1:1: To all the saints in Christ Jesus who are in Philippi,

Col 1:2: To the saints and faithful brethren in Christ who are in Colosse:

Eph. 5:33 But sexual immorality and all impurity or covetousness must not even be named among you as is proper among saints.
If we are in Christ, GUESS WHAT??  We are a saint.  Let that sink in for a minute.  We are not a guilty vile sinner who has been forgiven. We are a brand new creation in Christ.  We have a new nature.  Jesus wants us to start thinking like we are a new creation!
Why is it so important that we see ourselves as saints?  Because we will live out the picture we see.
Let's say you have the mindset that you are a sinner that's forgiven and you're presented with a tempting situation.  A sinner sins so chances are you will succumb to that temptation.  But if you are standing in your identity in who Christ says you are and see yourself as a saint, then it will be much easier to resist that temptation because saints are holy because of Jesus.
As a sinner you have a dark past and it weighs you down, but as a saint you have a bright future! That old unworthy, yucky dark sinful life is not who we are. We are new creations.
I was really pondering this yesterday.  I'm not a sinner who still has on raggedy clothes and looks like a bag lady. One who is forgiven but just not quite cleaned up.  NO! I am a New creation with a new nature. Brand new sparkling clean!  When God looks at us He see Jesus, He sees a saint.
 2 Corinthians 5:17 Therefore, if anyone is in Christ, he is a new creation.   The old has passed away; behold, the new has come.
We aren't perfect but Christ is perfect  for us!!
We will sin some of the time but we are a saint all of the time.  Sin is what we do but it is not who we are in Christ.
Another thing I found myself trapped in was thinking, Oh that's great for all of you but I'm the one exception to this saint thing.  You just have NO clue what I've done, been, etc.
I was telling God He was a liar and putting myself on the throne.  YIKES!!! That's called PRIDE and it's a sin and it's not true.
OK if you're like me and you're thinking I want to believe this but how do I get from here to there?
We have to renew our thinking. Rom. 12:2 tells us we will be transformed (changed) by the renewing of our mind.
 Romans 12:2 Do not be conformed to this world, but be transformed by the renewal of your mind, that by testing you may discern what is the will of God, what is good and acceptable and perfect.
How do we renew our mind?
We get into the word daily. We let the word of God wash us.
Eph. 5:26 to make her holy, cleansing her by the washing with water through the word.
We allow the word to change our thinking.
Did you know you are renewing your mind every single day?  It just depends on what you are renewing it with.  You're either renewing it with God's word or are we renewing it with the world?  Something to think about!
We have to believe God's truths about us before we feel it.  We as women can get very hung up with feelings.  If we don't feel it, it can't be true.  BUT that is a LIE!  In fact, God has shown me that my feelings at times have been an idol.
Once we believe the truth our feelings will change.  It takes HARD work to renew your mind.  There was a period in my life when I was changing my thinking and it was so distorted that I had to write down every thought that popped into my head, look at it and identify the lie and then write the truth.  I wrote scriptures on 3 x 5 cards and carried them around with me.
It's being very careful what we allow into our mind.  Watch what you listen to. Watch what shows you are watching.  Watch what conversations you are having with people. Guard your heart and mind.
  Proverbs 4:23  Above all else, guard your heart, for everything you do flows from it.

 1 Peter 5:8 Be sober-minded; be watchful. Your adversary the devil prowls around like a roaring lion, seeking someone to devour.

 Eph. 5:15-17 Look carefully then how you walk, not as unwise but as wise,  making the best use of the time, because the days are evil.  Therefore do not be foolish, but understand what the will of the Lord is.
I can get lazy!  I can go numb. I can shut down and go through the motions. But if we are to renew our mind and think and live like a saint it's going to take intentional, on purpose work.
Lifework:
Ask God to show your where your thinking is not in line with His truth that you are a saint! When He shows you write down the lies on the Lies/Truth sheet.
Example:
I can never be free from my past.
I am somehow less than everybody.
You've done something that says you are dirty.
Find scripture that says that speaks otherwise.
Example:  Romans 8:1 I am free from ALL condemnation in Christ Jesus.
Pray this prayer:
I thank you for showing me the lies that I have believed about myself and my life.  I can see how damaging they have been to me and the negative effects they have had on my behavior.  I renounce the lie _________________ (State the Lie you have believed). I announce the truth that ___________________ (state the truth from the scripture)  I confess that I have believed all these things contrary to your truth and I specifically renounce all the ways the lies have caused me to live in guilt, shame, fear and pride.  I thank you for your total forgiveness and cleansing as stated in 1 John 1:9 If we confess our sins he is faithful and just to forgive us our sins and cleanse us from all unrighteousness.  I now choose to draw near to you my Father, not as a slave trying to earn my acceptance, but trusting that I am already loved and accepted as your precious child.
This prayer was taken from The Grace Course by Steve Goss, Rich Miller & Jude Graham copyright 2012
2.  If you are caught in the sin, confess, sin, confess cycle or are having trouble believing you are a saint pray this prayer daily.
I declare that I am a new creation in Christ.  I am dead to sin and alive to God.  I confess my sins_________________________________ (specifically name any habitual sin) and turn away from them.
I specifically declare that __________________________(name each habitual sin) does not rule me any longer and I renounce its control over me.  Jesus is my master and ruler and all that I am belongs to him.
Thank you Jesus that you have made me a saint, a holy one so I can glorify you.  Therefore I refuse to offer my body to be used to commit unrighteousness.  Instead, I submit all that I am to my Heavenly Father who raised me to life with Christ.  I now gladly offer the parts of my body:  my heart, my eyes, my ears; mouth; tongue; hands; feet; sexual organs; mind; understanding; mental powers; emotions; imagination; and reasoning to God, and I choose to use these parts of my body for righteousness, completely relying on the Holy Spirit to accomplish this.
So I submit myself completely to God and resist the devil who must flee from me now. James 4:7
This prayer was taken from The Grace Course by Steve Goss, Rich Miller & Jude Graham copyright 2012
God wants us to live an abundant life!  Let's do it!!
If you'd like to follow along in this series you can find the rest here:
Who I am in Christ: I am God's Child
Who I am in Christ:  I am Christ's Friend
Who I am in Christ:  I am Justified
I'd love to have you follow along and catch the rest of this series. You can subscribe to my RSS Feed or sign up to receive daily Emails delivered to your inbox . You can also follow along viaFacebook, Google + or .Twitter.
I link up to the following Link Parities:
It's Overflowing
, 
DIY Showoff
,  
Titi Crafty
,
The Girl Creative
,
Interior Frugalista
/
Under the Table and Dreaming
, 
Skip to my Lou
, ,
Keeping it Simple
, 
Between Naps on the Porch
,
 Thrifty Decor Chick
,
I Should Be Mopping the Floor
,
Craft
,
The Hankful House
// 
Tip Junkie
, 
Sugar Bee Crafts 
, 
Not Just a Housewife
A Bowlful of Lemons
,
Coastal Charm
, 
Growing Home Blog
, 
Timewarp Wife
,  
New Nostalgia
, 
Yesterday on Tuesday
, 
The Gunny Sack
///
Inspiration Exchange
, 
The DIY Dreamer
, 
Gingersnap Crafts

 
, 
We are that Family,
Raising Homemakers

 
,
Women Living Well
NY Melrose Family
,  
Someday Crafts
Family Home and Life
, 
Life with the Crust Off
,
Crystal & Comp,
Live, Laugh, Rowe
, 
Imparting Grace
,  
Saving 4 Six
,, 
Artsy Fartsy Mama
, / 
The Shabby Nest, 
Chic on a Shoestring,
Craft O M
aniac
, 
One Project Closer
,
The Best Recipes Blog
, 
Filled Fridays
,
The
Thirty Sixth Avenue
,
Six
. 
Link Party Palooza
//
 Sister's Stuff
, 
Bowdabra Blog
, 
Cheerios and Lattes
, 
Funky Junk Interiors
,
Be Different, Act Normal
, Too Much Time On My Hands, 
Made From Pinterest
(Visited 1,093 times, 1 visits today)