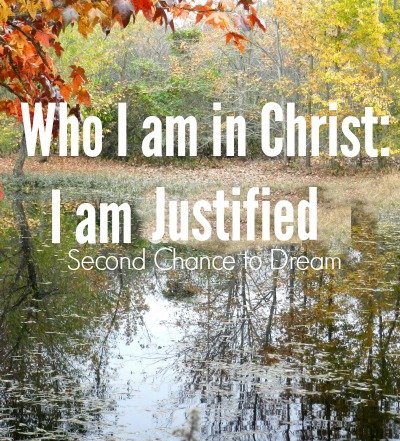 This week in the series on Who I am in Christ we are going to be focusing on  "I am Justified."
Whenever I study a word like justified I like to define the word.  Dictionary.com defines justify as:
verb

(used

with

object)

,

justified,

justifying.
1.  
to
show
(an
act,
claim,
statement,
etc.)
to
be
just
or
right:
The
end
does
not
always
justify
the
means.
2.  
to
defend
or
uphold
as
warranted
or
well-grounded:
Don't
try
to
justify
his
rudeness.
3.  
Theology.
to
declare
innocent
or
guiltless;
absolve;
acquit.
If you grew up in church then I'm sure you've heard the definition of justified:  just as if I never sinned.  But justification is so much more than that.  It's not just that we are looked at as one who never sinned but it also means that I am given Jesus  righteousness,  I am clothed in His righteousness-pure, clean & holy.
Justification declares us to be free from the laws curses and demands.  We are FREE to be who Jesus created us to be.   The pressure is off we don't have to be perfect. We are free because Jesus took the penalty of our sins.
For a lot of years of my life I lived with intense fear and a nagging sense of guilt and condemnation that God just didn't like me and if I did ANYTHING wrong I would be punished or even worse killed. There was a period of time in my life where I was afraid to go to sleep because I knew he was so disgusted with me he'd love to take me out.   I'm so thankful to God for learning of His perfect love for me and for growing and renewing my mind and receiving the justification that I have been given.
One of the benefits of being justified is that we have peace with God. "Peace with God" is very different from the "peace of God" (see Philippians 4:7). The peace "of God" is that inner peace which God gives to the Christian, even when life is crazy.  But "peace with God" is different. It is that peace which marks the end of our hostility toward God and of His hostility toward us (see Ephesians 2).   Rom. 5:1 Therefore, since we have been justified through faith, we have peace with God through our Lord Jesus Christ,
Here are a few verses to help you renew your mind.  Write then on a 3 x 5 card and carry them around with you and read often.
Rom. 3:24 and all are justified freely by his grace through the redemption that came by Christ Jesus.
Rom. 5:9  Since we have now been justified by his blood, how much more shall we be saved from God's wrath through him!
Rom. 8: 30 And those he predestined, he also called; those he called, he also justified; those he justified, he also glorified.
Lifework:
One of the benefits of being justified is that we have peace with God.  Does your everyday life show that you have peace or are you walking around with the baggage of old sin? If so, pray and ask God to show you if there is any area of your life where you need to let go and repent? Repentance is a weapon and it's also a gift.  Get your journal out and spend some time journaling.
Isa. 30:15 This is what the Sovereign Lord, the Holy One of Israel, says: "In repentance and rest is your salvation, in quietness and trust is your strength, but you would have none of it.
If you'd like to follow along in this series you can find the rest here:
Who I am in Christ: I am God's Child
Who I am in Christ:  I am Christ's Friend
I'd love to have you follow along and catch the rest of this series. You can subscribe to my RSS Feed or sign up to receive daily Emails delivered to your inbox . You can also follow along viaFacebook, Google + or .Twitter.
(Visited 694 times, 1 visits today)