I mentioned in my post on How do you handle disappointment?  that I  would be back to talk about a close friend of disappointment- EXPECTATIONS.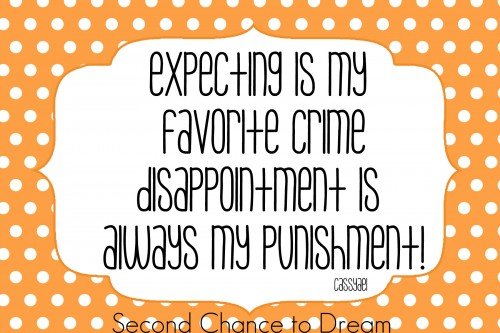 Unrealistic expectations can get us into some real trouble and disappointment is always the result!
Before we jump in to far, let's look at how the dictionary defines expectations.
ex·pec·ta·tion   
ˌekspekˈtāSHən/
noun
a strong belief that something will happen or be the case in the future.

"reality had not lived up to expectations"

2.  a belief that someone will or should achieve something.

"students had high expectations for their future"
Here's an example of something that happened recently at my home.  I wanted a couple hours together as a family without any friends over. Now realize this a pretty rare things.  I thought it would be nice to go out to lunch and just have a time to sit and talk and connect with my twin boys who are almost 16. In my mind I'm "expecting" that we will sit and chat and really enjoy each other.  Problem was I never communicated that to any of them that I had a strong need to connect.  We get to the restaurant after church and one boy is super tied and barely awake.  The other one was on his phone engrossed in some game.  I could feel my blood pressure starting to risebecause they weren't meeting my expectations. They weren't fulfilling the picture I had in my mind of how the day would go. Thankfully, I caught myself before I said something I regretted and told them what I needed.  
When I started learning about this I found that I have "expectations" in lots of areas in my life that can leave me in a bitter place.
Answer these questions for me:
If you really cared about me, you would…
If you don't agree with me, I feel…
If I tell you how I feel, you should…
If you are upset, I should…
A man/woman should be…
My boss expects me to…
I think I should be more…
My parents expect me to…
I have worked hard and I deserve…
The answers to  those questions are your expectations.  We expect things to happen in a certain way. We've planned them in our minds, sometimes even unconsciously.
Expectations are what you believe should  happen
"Expectations breed fear and discontent. And your unfulfilled expectations are the catalyst for acting out the rage, self-pity and victimization that stem from your fears.", says Rhonda Britten
Do you ever have fear or discontent?  Boy I have and sometimes I've lived in those places for a long time.
I find expectations are the most dangerous in relationships.
 Ann VosKamp says, "Expectations kill relationships"
If you are married or have a close relationships, just take a minute and think back to your last fight?  Can you spot any expectations you or the other person had?  I bet you can!
" When you have expectations, you are setting yourself up for disappointment".   Ryan Reynolds
Boy, isn't that the truth!  That takes us back to the definition of disappoint in this post.
dis

ap

point

 [dis-

uh

–

point

] 
verb
1.

 
to
fail
to
fulfill
the
expectations
or
wishes
of:
His
gross
ingratitude
disappointed
us.
2.  
to
defeat
the
fulfillment
of
(hopes,
plans,
etc.);
thwart;
frustrate
I told you they were closely related!
The Language of Expectations
The following comes from Rhonda Britten's Book "Fearless Living".   Mentally circle any of the following words or feelings that come up for you in daily life. This
will give you an indication of how often you are expecting things to be different than
they are.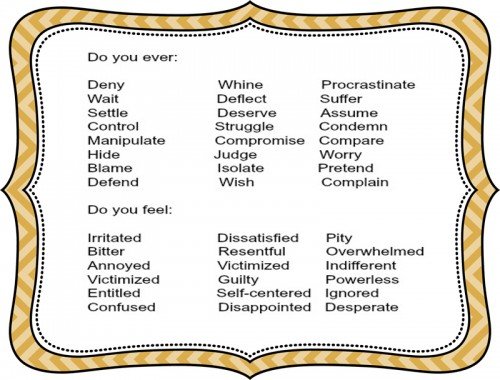 If you circled any of those words you are living with expectations.  If your like me you circled most of them.
OK what do we do about it?  We NEED to be AWARE when we are living in expectations. When we are AWARE we? can make the changes.  Take some time and pray and ask God to clearly show you where you are living with expectations in your life.  Here are questions to help you become  aware.
1.  How have expectations been frustrating you in  your life?
2.  What do you do when your expectations are not met?
3.  Do you have any silent contracts with anyone in your life?  Check your spouse, because it's crazy how many I had.
4.  How often do you silently punish someone for not meeting your expectations?
5.  For the next week, write down every time you think or say, "I can't, should, if only, supposed to." This will help you notice how often you are living with  expectations.
I;m gonna leave you hanging a little bit.  Come back next week and I will share with you how to change your expectations to intentions.
Do you live with a lot of expectations of others or yourself? Leave me a comment and let me know.
Thanks for stopping by. I'd love to have you follow along and subscribe to my RSS Feed or sign up to receive daily Emails delivered to your inbox . You can also follow along via Facebook, Twitter or Google +.
I link up to the following:
I link up to the following Link Parities:
It's Overflowing
, 
DIY Showoff
,  
Titi Crafty
,
The Girl Creative
,
Interior Frugalista
/
Under the Table and Dreaming
, 
Skip to my Lou
, ,
Keeping it Simple
, 
Between Naps on the Porch
,
 Thrifty Decor Chick
,
I Should Be Mopping the Floor
,
Craft
,
The Hankful House
// 
Tip Junkie
, 
Sugar Bee Crafts 
, 
Not Just a Housewife
A Bowlful of Lemons
,
Coastal Charm
, 
Growing Home Blog
, 
Timewarp Wife
, 
New Nostalgia
, 
Yesterday on Tuesday
, 
The Gunny Sack
///
Inspiration Exchange
, 
The DIY Dreamer
, 
Gingersnap Crafts

 
, 
We are that Family,
Raising Homemakers

 
,
Women Living Well
NY Melrose Family
,  
Someday Crafts
Family Home and Life
, 
Life with the Crust Off
,
Crystal & Comp,
Live, Laugh, Rowe
, 
Imparting Grace
,  
Saving 4 Six
,, 
Artsy Fartsy Mama
, / 
The Shabby Nest, 
Chic on a Shoestring,
Craft O M
aniac
, 
One Project Closer
,
The Best Recipes Blog
, 
Filled Fridays
,
The
Thirty Sixth Avenue
,
Six
. 
Link Party Palooza
//
 Sister's Stuff
, 
Bowdabra Blog
, 
Cheerios and Lattes
, 
Funky Junk Interiors
,
Be Different, Act Normal
, Too Much Time On My Hands, 
Made From Pinterest
(Visited 629 times, 1 visits today)