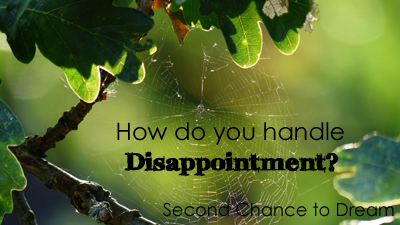 I find it ironic, that I wrote this post a week ago and then early this week I had  something I had been praying for and knew for  SURE was going to happen, that didn't happen.  It was a huge disappointment and I got to live my very own words.  So please know this isn't just easy answers being thrown out.
~~~~~~~~~~~~~~~~~~~~~~~~~~~~~~~~~~~~~~~~~~~~~~~~~~~~~~~~~~~~~~~~~~
How do you handle your disappointment?    Do you run from it, bury it, eat it, deny it. lash out at others?? Pout, sulk or play the martyr?  Do you say " oh well, I didn't deserve it anyway?" " Or oh well, no big deal", but your heart is screaming it hurts, it hurts!
Before we get to far I want to stop and see how the dictionary defines disappointment:
dis

ap

point

 [dis-

uh

–

point

]
1.  
to
fail
to
fulfill
the
expectations
or
wishes
of:
His
gross
ingratitude
disappointed
us.
2.  
to
defeat
the
fulfillment
of
(hopes,
plans,
etc.);
thwart;
frustrate:
to
be
disappointed
in
love.
verb
(used
without
object)
~How do you handle your disappointment?
You know the prayer you prayed and you truly believed it would happen and then it didn't.  The betrayal from a spouse or a best friend?  Not getting the job that you were so certain was yours?  Down to the night out with the girls that didn't happen because your child got sick?
Some disappointments are like  a knife stabbed into your heart and others disappointments feel like  a dull toothache.  Disappointment comes in all shapes and sizes.
~I have a little assignment for you.  Grab your journal and take a second and write down the first words that pop into your head when you say the word disappointment.
What does your disappointment look like?  Is is the face of a person?  Is it something that triggers failure every time you see it?  Is it a dream you buried long ago into a deep dark hole? Is it watching your friend succeed and you are nowhere close to success? Is it seeing your husband and knowing your marriage is nowhere close to what you dreamed or expected?
~What do you want to do right now with that disappointment that has resurfaced?
Eat? Run? Hide? Punish yourself? Drink?Bury it? Blame someone else? Be angry?
~ Don't go to your "normal" places with your disappointment. 
Start writing. What would you like to say to God about your disappointments? Are you angry?  Tell him.  Pour out your disappointments ( your failed expectations) in writing to God. Tell him EVERYTHING no matter how ugly it is!  I have been known to throw what I call a 2 yr. old temper tantrum because I didn't get my way.  I just pour it out!  He already knows my heart and he's not at all shocked at my feelings.  He wants my heart just as it is. He loves me &  you that much, just as we are!
Did you know the stuff we keep buried can never heal? 
 Hand to him every disappointment you have! It needs to come to the surface so you can bring it to him and he can heal your heart. I'd like to challenge you to ask him for forgiveness for trying to handle your disappoint on your own.
Depression begins with disappointment. When disappointment festers in our soul, it leads to discouragement.  Joyce Meyer
~OK after you're done  laying it all out there start a new page to write down everything you are grateful for.   There is almost always good that can come out of bad situations.  Sometimes we have to do a little excavating to find it.  Gratitude helps you with that. One of the greatest things I learned from Drew's accident was that wrapped up in tragedy/trials  there are lots and lots of blessings.  God doesn't waste a thing but we have to have our grateful eyes open and look for the blessings.
When we focus on our gratitude, the tide of disappointment goes out and the tide of love rushes in.  Kristin Armstrong
~What can you learn from your disappointments? Did you have unrealistic expectations? Can you adjust your expectations? Can you pay attention to what your expecting when you find yourself back in that situation again ?   I think expectations can get us into huge trouble. So much so, that my next life lesson will focus on expectations.  What I have learned through stepping back and looking at the situation with different eyes is that most of the time what I thought I so desperately wanted would have been a disaster had I gotten it.
It's important to know you probably won't work through your disappointment in a day and you might have to do this over and over but just keep bringing them to the surface to be healed/
The beauty is that through disappointment you can gain clarity, and with clarity comes conviction and true originality. Conan O'Brien
OK, I've given you quite a bit of  to work on.  I would lo e to hear your thoughts on this topic?
 Thanks for stopping by. I'd love to have you follow along and subscribe to my RSS Feed or sign up to receive daily Emails delivered to your inbox . You can also follow along via Facebook.
(Visited 287 times, 1 visits today)