It's here!  It's time for a fresh blank start to a brand new year.  To help you get your year off to a great start I'm sharing a Goals for 2016 free printable.  Get those goals in writing. You will be thankful you did.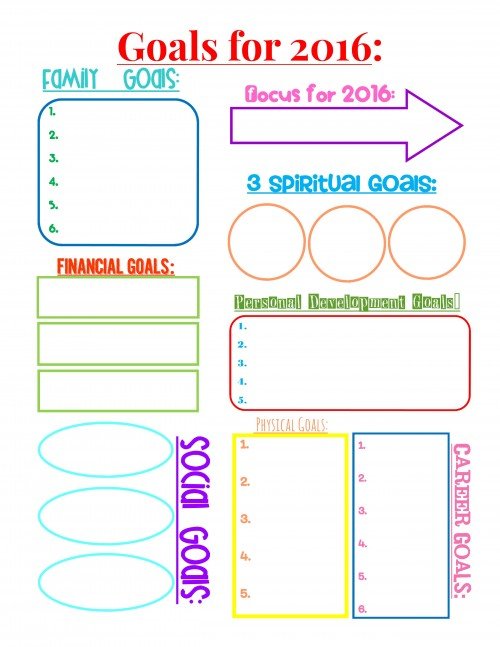 I also took advantage of listening to Jon Acuff's webinar last night on 5 Simple Ways to Win at New Year's Resolutions.  I thought I's share with you the notes I took.
There are 5 enemies to achieving your New Year's Resolutions.  They are:
There will not be only one calling!  Don't get stuck there.  A calling can be a really good hiding place when you don't want to do what know you need to be.
There is NO PERFECT hustle!
Be brave enough to be imperfect.
Messy and finished beat perfect and incomplete every time.
Challenge: Do one imperfect thing tomorrow.
Comparison is a deadly trap.  If your ahead, you will be cocky.  If you're behind you beat yourself up.
Comparison leads to arrogance or shame but NEVER happiness.
These days it's easier than ever to compare yourself to others because of all the social media.
Challenge:  Unfollow one person you are envious of.
We think goal setting has to be done alone.  We need to find people who will support and encourage us?
Leaders who can't be questioned end up doing questionable things.
We need community.  Community calls us to heights that we cannot do by ourselves.
Challenge:  Find 1-3 people who you can talk to  and share your goals with them.
Ego says, I can't admit weaknesses.
Old School philosophy says If you share your weaknesses people will not trust your strengths.
New school philosophy says If I pretend I don't have weaknesses people will not trust my strengths.
You need to deal with ego to have any growth in your life.  You can't grow and change if you pretend you don't have any problems.
Challenge: Next time you need to make a decision run it by this question:
Is this the best thing to do or is this the best thing for my ego?
You will not find a perfect job.  You will not always love your work.  There is no such thing as a job that provides 100% comfort and joy all the time.
Great lives are rarely created in great comfort. 
The amount of growth you get will be determined by the amount of comfort you sacrifice.
What are you doing today to prepare for a GREAT 2016?
Check out this post on:
(Visited 2,063 times, 3 visits today)