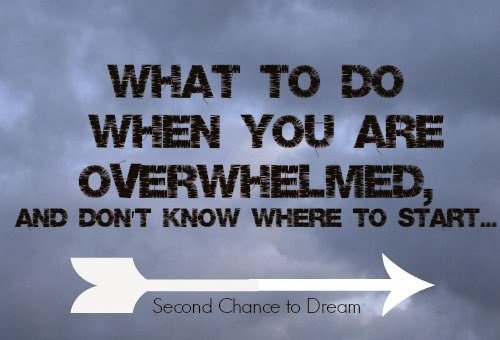 Right now, I'm overwhelmed. I am thoroughly exhausted, you know the bone weary kind of exhaustion. I feel lost and don't know where to start so I'm going to STOP, PRAY and just go back to what I know.
What do I know?
I know that God says:
"Come to me, all who labor and are heavy laden, and I will give you rest. Take my yoke upon you, and learn from me, for I am gentle and lowly in heart, and you will find rest for your souls. For my yoke is easy, and my burden is light." ~Matthew 11: 28-30

I know that I'm carrying more of the load than I should. So I'm laying my heavy laden bag of burdens at Jesus feet. Whew, I feel better already.

Sometimes the load we carry isn't ours to carry. I have to look closely at the motive for WHY I'm doing something. Do I do it because I feel I HAVE to do it or am I being called to do it? Am I trying to impress someone? Am I trying to prove my worth?? Take a few minutes and look at the burden your carrying. You just might be surprised to see you shouldn't even be doing it.

What do I know?

I know I need to stop and take some deep, deep breaths! Sometimes I forget to breathe. I know shallow breathing makes me tired. That makes a big difference!

What do I know?

I know, I need to make a list of all the things I need to do that are whirling around my brain. If I don't get those things on paper, I have no clue where to start and my mind spins and I do NOTHING! Then the guilt starts and I spiral down a huge hole. Have you been in that hole? It's not a fun place and just feeds the overwhelmed feeling. Here is a "to do list" that can help you get started. No excuses.


Now that it is all written down, I need to prioritize what NEEDS to be done today and what can be put off until tomorrow. For me, I need wisdom and direction from God to discern this. So, I pray.


May the favor
[a]
of the Lord our God rest on us;
establish the work of our hands for us-
yes, establish the work of our hands. Ps. 90:17
When I get done praying I am surprised by how little really HAD to be done today. Writing it down took all the clutter out of my mind and I was able to break it down into manageable pieces.
What do I know?
I know that I need to do the hardest thing first. If it's really hard I give myself permission to set a timer for 15 min. and then stop when the timer goes off. Take a break for 15 minutes and then get back at it. I can do anything for 15 minutes and 15 minutes is better than 0 minutes. One of the things hanging over my head is my home needs a deep clean and a serious de-clutter. But it feels overwhelming! I don't know where to start. So I need a plan. My plan is to pick a room and clean and de-clutter in that room for 15 min. a day. Most times I am in a groove and I keep going past the 15 minutes, BUT I don't HAVE to. I get way more done when I do it that way.
I am confident of this; I will see the goodness of the Lord in the land of the living. Ps. 27:13
I need to go! My timer is set. I can do this! I feel better already.
Do you have any thing you do when you get overwhelmed to get you back on track?

v
I link up to the following Link Parities:
DIY Showoff, Flamingo Toes, Suburban Mama, Titi Crafty,

Twigg Studios

, Raising Reagan, Creative Home Expressions,Under the Table and Dreaming, Skip to my Lou, Craft O Maniac,

Keeping it Simple

,

Between Naps on the Porch, Booggieboard Cottage,

What Joy is Mine

,

A Mama's Story

,

The Alabaster Jar

,

A Proverbs 31 Wife

,

The Better Mom

,

Worthy of the Prize

,

Huckleberry Love

,

Pursuit of Functional Home

,

Thrifty Decor Chick

,

Pink Odidty, I Should Be Mopping the Floor, Craft, The Hankful House//Sugar Bee Crafts ,

Not Just a Housewife

A Bowlful of Lemons

,

Coastal Charm,

Growing Home Blog, MercyInk, Timewarp Wife, Blackberry Vine

,

New Nostalgia

,

Hope Studios

,

Ladybug Blessings

,

Teach Me Tuesdays

,

Yesterday on Tuesday

,

Brag About It

Cropped Stories, The Gunny Sack///Inspiration Exchange, The DIY Dreamer, Gingersnap Crafts

,

Seven Thirty Three

, We are that Family, Creations by Kara,

Raising Homemakers

,

Women Living Well

NY Melrose Family

,

Someday Crafts Family Home and Life,, Fine Craft Guild,

Upward Not Inward

, Internet Cafe Devotions,

Deep Roots

at Home

, The Real Housewives of Rivertown, Fluster Buster

,

My Girlish Whim

,

The Shady Porch

,

Life with the Crust Off, Taylor House//

52 Mantels, Live, Laugh, Rowe, Imparting Grace, Saving 4 Six

,

, Artsy Fartsy Mama, , Sparkles and Stove, CIS Project, The Girl Creative, A Peek into My Paradise//

The Shabby Nest,

Chic on a Shoestring,

While He was Napping

,

A Night Owl, One Project Closer, Diana Rambles: Pin Me Party,Practically Functional,The Best Recipes Blog,

Summer Scraps Pin Party

, DIY Vintage Chic, Creative Connection, Life Inspired Link Party,

Thriftiness Miss

,Faith Filled Fridays,
The Thirty Sixth Avenue
,
Six.
Link Party Palooza

//
Sister's Stuff,
Bowdabra Blog,
Cheerios and Lattes,
Funky Junk Interiors,
Be Different, Act Normal, Lemon Paper Designs
S
erenity You,
Too Much Time On My Hands

,
It's Ovterflowing, Or So She Says, Sew-Licious, 3 Boys and a Dog Pinterest Party,
Susie Q,

Made From Pinterest

Thanks for stopping by. I'd love to have you follow along and subscribe to my RSS Feed or sign up to receive daily Emails delivered to your inbox . You can also follow along via Facebook.
(Visited 1,060 times, 3 visits today)