Hi Guys!  I'm right now sitting at a park watching the whitecaps on Lake Superior.  God does some GREAT artwork.  Because I'm gone and have limited internet access, I'm running this Freezer Crockpot Meals post again.  With school starting back up we need a little help getting back into routines.  I hope this helps you be more organized.  
~~~~~~~~~~~~~~~~~~~~~~~~~~~~~~~~~~~~~~~~~~~~~~~~~~~~~~~~~~~~~~~~~
Now that I have my
 Homework Station Organization
 and 
Make-Ahead Breakfast's
 and 
Sandwich-less Lunches
planned I wanted to come up with some suppers to put in the freezer. It's always hard getting used to new routines and adding sports practices, youth groups, etc. I wanted to eliminate any reason for not having dinner ready.  In my search for freezer meals, I found
freezer slow cooker
meals. That works even better for me! The idea of throwing it in the crockpot before heading out for work or the day's activities and coming home to dinner already cooked?? That is what I'm all about!
Are you familiar with freezer cooking? Years ago I did it and I LOVED it!  It saved me so much time and so much money.  I'm not a huge fan of cooking and it was so nice to take a day and cook several meals and pull them out when needed.  
To get started with freezer cooking I suggest you visit Simple Organized Living.  She has a great guide on what you can and can't freeze.  You don't want to go to all the work and then things are all mushy.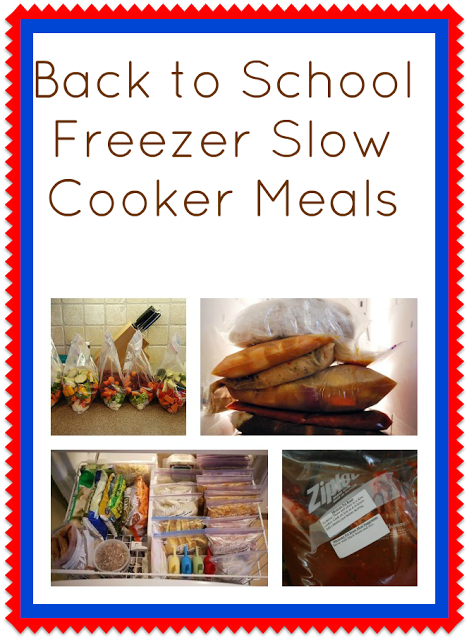 OK
, here are the meals that I found on my search.  They look so good. I can't wait to get cooking.
Six Cents
Part 1
Hawaiian Chicken Sandwiches
Savory Pepper Steak
Scalloped Potatoes and Ham
Salsa Chicken
Chicken Curry
Part 2
Divine Chicken
Spaghetti (with some hidden veggies in it)
Garlic Ranch Chicken
Beef Fajitas
Brown Sugar Chicken.
Part 4
Poppyseed Chicken
Shredded Pork Tacos
Ground Beef Stroganoff
Chicken Delicious
BBQ Sauce and Hamburgers
Part 5
Mediterranean Pork Chops
Beef Pot Roast
Chipotle Lime Chicken
BBQ Pork Sandwiches
Tomato Beef Stew
Golden Chicken
Bacon Feta Roast Chicken
Mexican Pot Roast
Sausage and Bean Supper
Pork & Veggies
Chicken Cordon Bleu Bundles
Cheesy Slow Cooker Pizza

 Chicken and Salsa Flautas
Cafe Rio Crockpot Chicken
Spaghetti Sauce and Meatballs
Sweet and Tangy Meatballs
Cheesy Chicken and Wild Rice Casserole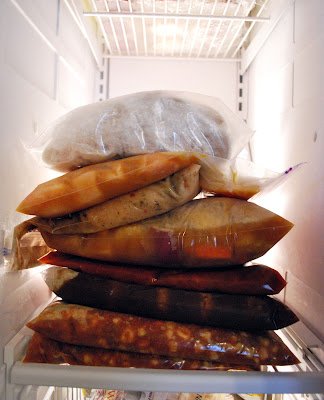 The Test Kitchen of Melissa Fallis

Savory Vegetable Beef Soup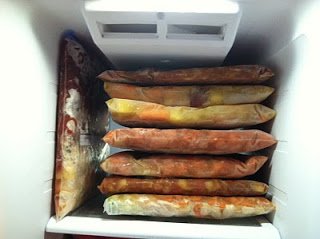 Saving you Dinero

Crockpot Hawaiian Chicken
Beef Burritos
Garlic Honey Chicken
Teriyaki Pork Chops
Chicken Fajitas

1 Hour + 1 Mess = 5 Crock Pot Meals


Ring Around the Rosies 

(this site is a wealth of information)
Freezer Cooking 1
Teriyaki Chicken
Lazy Day Stew 
Savory Chicken 
Sweet & Tangy Meatballs 
Sausage & Peppers 
Browned Ground Chuck – Italian Style 
Shredded Chicken & Chicken Stock

Freezer cooking 2
Newlywed Beeftips
Slow Cooked Beef Fajitas
St. Patricks Day Pork and Kraut
Beef Roast

Freezer Cooking 3
Mini Meatloaf Cups
Family Freezer Meals:
Spaghetti for a Crowd
Divine Chicken
Summertime Beef Tips (to be grilled)
Cilantro Lime Chicken with black beans and corn

Freezer Cooking4
Mama Barbara's Lasagna
Ginger Cranberry Pork Roast
French Beef Dip
Cumin Cinnamon Beef Stew
Summer Veggie Soup

Freezer Cooking 5
Chicken Cacciatore
Pepper Steak
Taco Soup
Bake Green Chile Enchiladas
Baked Goulash
Roast
Each one of these sites contains a wealth of information.  Also, if you are interested in just freezer cooking to do a search on that.  There are tons of resources out there.
I've included a freezer inventory sheet so that we can keep track of the meals we have done.  I don't want to waste my hard work.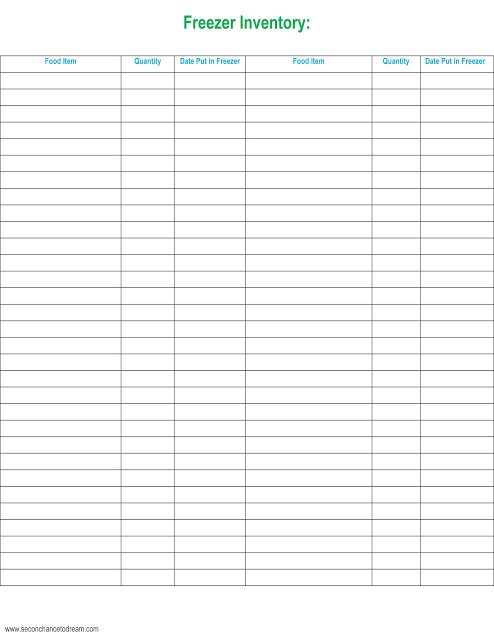 Download Here
OK, I have NO excuse to not have a phenomenal school year!  I'm on my way to the grocery store to buy my food to get cooking.  Are you a fan of freezer cooking?
If you need some "Back to School" help check out these other blog posts:
(Visited 7,196 times, 1 visits today)