These whiteboards and the three baskets hanging for papers and folders would come in very handy.
I love the look of this. Love it! Great way to bring in color inexpensively.  Not sure how practical it would be in our family's lives, but I love the look.
This would be great for a large family.
Dual Homework Station
Love the looks of this dual station.
Again another system to hang backpacks underneath it each individual child's to do. I like the pictures on them.  I'm pretty sure my 13 yo boys wouldn't like their pictures up there.
Organized Homework Posters
These are poster board organizers. They would be very inexpensive!
.
I like the corkboard with the initials on it.  You could customize this for your needs.
Just a cute little-organized space.  Aren't the clothespins glued to the shelf with the days of the week clever?
Any one of these would be great on our kitchen desk so everything is very accessible.
I learned something about myself.  I LOVE the looks of all these spaces. What I love is the clean, crisp, organized look.  Mine starts out looking that way but doesn't always stay that way.  I'm great at planning and accomplishing this look, but keeping it that way is another thing.  Do any of you have this issue or am I the only one????
I'm going to pull from a few of these ideas and put them together and I'll show you next week what I did.  I've got my creative juices flowing.  Here is the link to My Back to School Organization.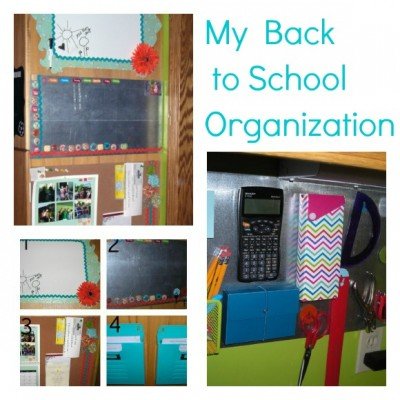 Do you have a great way you organize for Back to School?  Please share.
(Visited 21,172 times, 1 visits today)