Week 2 Praying for Our Children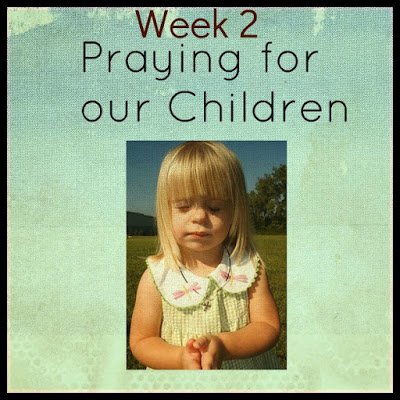 Last Monday I shared with you a calendar on different areas to pray for your children.  I also shared with you scriptures you can personalize & pray for them.  If you missed that post you can find it here:  Praying for Our Children.  In my quiet time this week I ran across this scripture that confirmed that we are to be intentional in how we conduct our lives.
 Look carefully then how you walk! Live purposefully and worthily and accurately, not as the unwise and witless, but as wise (sensible, intelligent people),  Making the very most of the time [buying up each opportunity], because the days are evil. Therefore do not be vague and thoughtless and foolish, but understanding and firmly grasping what the will of the Lord is. Eph. 5:15-17 
I have to be honest (because I want to hold myself accountable), I didn't pray each one every day.  I prayed them all but not one everyday.  I want to be purposeful in how I pray so I'm going to try to do better this week.  I did print the scriptures out and put a copy in my purse. When I was at stop lights I would get them out and pray one or two.  Now you might not think that shouldn't count but we are told to pray continually and I think God's ok if  I  pray at stop lights. :).
Rejoice always, pray continually, give thanks in all circumstances; for this is God's will for you in Christ Jesus. I Thess. 5:16-18
Here is a copy of the calendar if you didn't get it last week.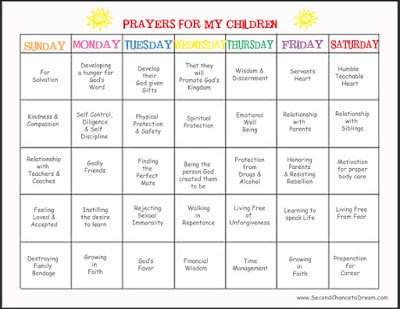 Kindness & Compassion
Clothe ___________ with compassion, kindness, humility, gentleness, and patience  Col 3:12
Let ________ open his arms to the poor and extend his hands to the needy.  Proverbs 31:20
Let __________ be kind and compassionate one to another forgiving each other just as in Christ God forgave you.  Ephesians 4:32
Fill __________ with you Holy Spirit so that they may produce fruit:  love, joy, peace, patience, kindness, goodnes, faithfulness, gentleness & self control.  Galatians 5:22-23
Comfort ______ in all their troubles, so that they may comfort those in any trouble with the comfort they have received from you, Lord.  @ Coritnthians 1:4
Self Control, Diligence & Self Discipline
Set a guard over _____________'s mouth, O Lord: keep watch over their lips.  Don't let their heart be drawn to what is evil or allow them to take part in wicked deeds.  Psalm 141:3-4
Whatever _________ does may they work at it with all their heart, as working for you, Lord, not for people.  Colossians 3:23
Do not give ________ a spirit of timidity but a spirit of power, of love, and of self-discipline. 2 Timothy1:7

Cause __________ to make every effort to add to their faith goodness; goodness, knowledge; knowledge, self control; and to self control, perseverance and to perseverance, godliness; and to godliness, brotherly kindness; and to brotherly kindness, love.  Let ____________ posess these qualities in increasing measure, so that they will be effective and productive in knowledge of our Lord Jesus Christ.  Peter 1:5-8
Make _______ be self-controlled and alert.  Their enemy the devil prowls around like a roaring lion looking for someone to devour.  Help them to resist him and stand firm in the faith.  1 Peter 1:13
Physical Protection & Safety
I pray that __________ will enjoy good health and all would go well with them.  3 John 2
Don't let ___________ be wise in their own eyes; rather cause them to fear you and shun evil. You have promised that this will bring health to their body and nourishment to their bones.  Proverbs 3:7,8
Lord you are faithful, please strengthen and protect __________ from the evil one.  2 Thessalonians 3:3
Let _________ take refuge in you and be glad; let them ever sing for joy. Spread your protection over _________ that they may rejoice in you.  Psalms 5:5
Give ___________ victory  and be their shield.  Guard their course and protect their way. Proverbs 2:7-8
Spiritual Protection
Do not  let anyone lead ____________ astray.  Cause them to do what is righteous  rather than sinful.  Thank you for sending your son to destroy the devils work. 1 John 3:7-8
Keep men of 

perverse heart far from ____________ and let them have nothing to do with evil . Psalms 101:4
Keep _________ from the snares the enemy has laid for him, from the traps set by evildoers.  Let the wicked fall into their own nets while he passes by in safety. Psalms 141:9,10
Clothe __________ with your  full armor so that he can take his stand against the devil's schemes. Help him to stand firm with the belt of truth buckled around his waist and the breastplate of righteousness  in place.  Fit his feet with the readiness that comes from the gospel of peace.  Give ___________ the shield of faith with which he can extinguish all the flaming arrows of the evil one.   Place the helmet of salvation on their head and  the sword of the spirit which is your word in his hands.  Finally, teach them to pray and be alert.  Ephesians 6:11-18
Give ________________ the weapons they need to demolish the strongholds, arguments, and every pretension that sets itself up against the knowledge of you.  Help __________ to take captive every thought they have to make it obedient to Christ.  2 Corinthians 10:4-5
Emotional Well Being
Do not let ________________ be enslaved by their emotions.Christ has set them free, so let them stand firm, refusing to let themselves be burdened again by a yoke of slavery. Galatians 5:1
Let __________ be filled with the joy given by the Holy Spirit. Let ______________ be joyful always, pray continually, and give thanks in all circumstances, for this is your will for him in Christ Jesus.  1 

Thessalonians

 1:6 5:16-18
Bestow on _____________ all the goodness you have stored up for them because they fear you.  When their feelings are hurt be their shelter and refuge, and keep them safe from the strife of unkind words.  Psalms 31:19-20
When ___________ is confronted with fear, grief, uncertainty or pressure, remind them or your promise in 

Isaiah

 41:10 Do not fear for I am with you,  do not be dismayed for I am your God, I will strengthen you and help you, I will uphold you with my righteous right hand.  
Show ________________ that they are fearfully and wonderfully made, and that your works are wonderful.  Teach them that they are precious in your sight and that you love them.  Psalms 139:14, Isaiah 43:4
Relationship with Parents
Cause

 ___________ to obey us, for this is right.  Let them honor us, his father and his mother, so that it may go well with him and that he may enjoy a long life on earth.  Ephesians 6:1-3
Don't let us exasperate __________; instead, help us bring them up in the training and instruction of the Lord.  

Ephesians

 6:4
Let _________ listen to his father's instruction, and never forsake his mother's teaching.  Let __________ love wisdom and therefore bring joy to our hearts.  Proverbs 1:8, 29:3
Teach ___________ to obey us in everything, for this pleases you, Lord.  Do not let us do or say anything that would embitter or discourage them.  Colossians 3:20,21
Let us love one another with the love that comes form you.  And as we  love each other, live in us, Lord, and make your love complete in us.  1 John 4:7, 12
Relationship with Siblings
Cause my children to be devoted to one another in brotherly love, honoring one another above themselves.  Romans 12:10
Show my children how to be kind and compassionate to one another, forgiving each other, just as you forgave them.  Ephesians 4:32
Make our home a good and pleasant place, where brothers and sisters live together in unity.  Psalm 133:1
Let my children live in harmony with their siblings, being sympathetic, compassionate, and humble.  Don't let them repay evil with evil or insult for insult, but with blessing.  1 Peter 3:8-9
Do not permit my children to be quarrelsome; instead, cause them to be gently, patient, and humble, especially when one of them is in the wrong… because then they will be more likely, with God's help, to turn away from their wrong ideas and believe what is true.  2 Timothy 2:24-26
The resources I used for this blog post were from these 3 books.
(Visited 2,325 times, 1 visits today)