In today's fast-paced world, distractions are everywhere. Distractions can take away valuable time when working on important projects or goals. However, with the right strategies and mindset, you can reclaim your focus and achieve your goals. In this blog post, we'll explore practical techniques to help you stay on track and boost your productivity.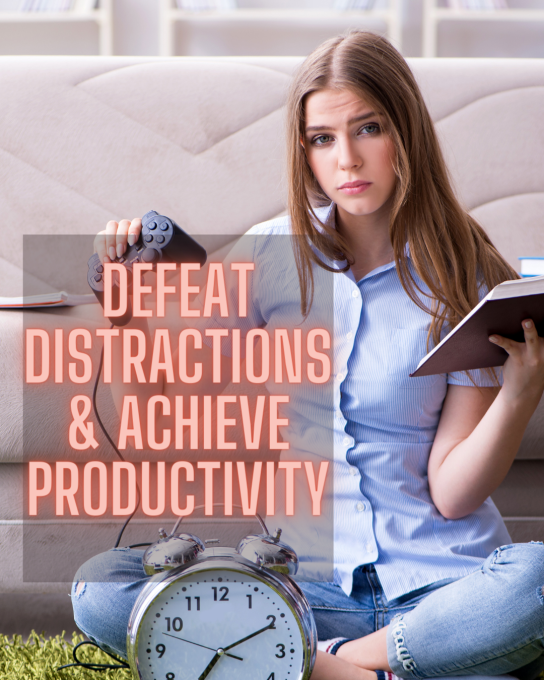 Understand the Enemy: Types of Distractions
Before we can defeat distractions, it's essential to understand the various forms they can take:
Internal Distractions: These come from within your mind. Examples include daydreaming, worrying, or a lack of motivation.
External Distractions: Things outside of you can distract you. These things include phone notifications, noisy neighbors, and a messy workspace..
Now, let's dive into strategies to conquer these distractions:
1. Prioritize Tasks
Start by setting clear priorities. Identify the most important tasks that will move you closer to your goals. Focus on completing these tasks first. This can help you discern what truly needs your attention.
2. Create a Distraction-Free Environment
Your physical workspace plays a crucial role in your ability to concentrate. Minimize external distractions by:
Decluttering: Keep your workspace clean and organized.
Silencing Notifications: Turn off unnecessary notifications on your devices.
Designating a Workspace: If possible, have a dedicated area for work or study.
3. Set Specific Time Blocks
One effective method to defeat distractions is to allocate specific time blocks for focused work. Work for 25 minutes and then taking a 5-minute break. During your work period, commit to single-tasking, focusing solely on the task at hand.
4. Practice Mindfulness
Mindfulness techniques can help you stay present and reduce internal distractions. Consider integrating practices like meditation and deep breathing exercises into your daily routine. These can improve your ability to concentrate and manage stress.
5. Use Technology Wisely
While technology can be a source of distractions, it can also aid in defeating them. Try these tech-savvy approaches:
Productivity Apps: Use apps designed to block distracting websites or track your time spent on tasks.
Digital Detox: Periodically disconnect from the digital world to refresh your mind.
6. Stay Accountable
Share your goals and progress with a friend or colleague who can hold you accountable. Knowing that someone is tracking your progress can motivate you to stay on task.
7. Reward Yourself
Last, celebrate your victories, no matter how small. Treating yourself after finishing a tough task can help you stay motivated. I find this is critical in my life.
Conclusion
Defeating distractions is an ongoing battle that requires self-awareness and discipline. To reach your goals, learn how to avoid distractions, prioritize tasks, create a good environment, and use different techniques. Remember, you can develop the skill of conquering distractions with practice.. Start today, and watch your productivity soar as you inch closer to your dreams.
Keep Shining!
Barb
(Visited 22 times, 1 visits today)