Do you find yourself going through the motions of life zombie like?  You know when you get up, life is mundane and you just function on auto pilot?  Or you are running so busy through life you aren't experiencing any of it? I sure do!  I lived a lot of my life like that for years.  But I'm here to tell you that there is MORE to life than that and I want to share with you ways you can create passion and vision and start living your life.
In Proverbs 29:18 KJV  it says, "Where there is no vision, the people perish:"
Definition of Perish:
 

to

pass

away

or

disappear: 

an

age

of

elegance

that

has

forever

perished.

 

to

suffer

destruction

or

ruin: 

His

valuable

paintings

perished

in

the

fire.

 

to

suffer

spiritual

death: 

Save

us,

lest

we

perish.
When we don't have vision or purpose, we die.  We won't die physically but our soul starts dying and we start living very stagnant lives. Lives where we are just going through the motions of life.
William Wallace in Braveheart said, "Every man dies; not every man lives".  That is a sobering thought.  I know this to be true in my life and I think there are a LOT of us functioning this way.
I know I don't want to live in that place so HOW do we change? How do we start living fully alive?
Note: If we are mothers or work full time it doesn't mean we ditch everything and everyone and start focusing on just us.  That would not be good!  There are ways that we can live in our truest self without ditching all of our other responsibilities.
If you are like me when I first started coming alive you have very little idea about what you like or what you don't like. To start figuring this out it's gonna take a little alone time.  It doesn't have to be a lot of alone time.  Get up early, use nap time or lock yourself in the bathroom for 10-15 minutes.
I like to pray before I do these kinds of things because I want the creators input since He made me and knows me intimately.  Invite Him into the process.  Grab a journal and answer these questions :
What makes me feel alive?
What feeds my heart?
What gives me energy?
What do I love?
What do I wish I could do if money or time wasn't an option?
Write down everything you hear or think of.  Don't analyze your answers and start looking at all the reasons you can't or never.
Now look at the list is there something on there that you can do today?  These might be on my list today.
Read a book
Take a bubble bath
Go to the beach (Well maybe do this in a month here in Northern MI)
Drink a cup of tea
Just sit for 15 minutes doing nothing
Go for a walk
Do some gardening
Craft
Do a coloring page (there are lots of free ones on Pinterest)
Listen to music with your eyes closed
Spend some time with Jesus
Try and do something for yourself that feeds you as often as you can.  It will help you come back to life.  It's so incredibly hard to not get sucked up into all the activity of life and lose ourselves.  You are going to have to fight for it and YOU are worth fighting for.
Maybe you need to confess and repent that you aren't living fully alive, that you are just going through the motions.  Pray something like this:
 God, I come to you today. I confess I have not been living to my full potential and in fact, I really am just going through the motions of life.  I want to wake up and live the life you have called me to.  Show me what that life looks like.  Show me clearly in a way I can't mistake.  Give me vision, dreams and purpose. I want the abundant life you came to give me. In Jesus name, amen.
God wants us to LIVE life ALIVE!!  Let's do it!!  Share with me what gives you LIFE in the comments.
Here are a couple of posts I think you'll LOVE!
Life Lesson Learned while on vacation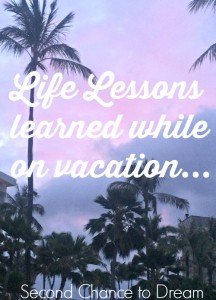 I'd love to have you follow along. You can subscribe to my RSS Feed or sign up to receive daily Emails delivered to your inbox . You can also follow along via Facebook, Google + or Twitter.


(Visited 2,791 times, 1 visits today)