Hey there, early birds and snooze enthusiasts! Are you tired of feeling like a groggy zombie stumbling through your mornings? Well, fear not, because I've got the ultimate recipe for a morning routine that will set you up for a productive and successful day. Get ready to kick start your mornings with a smile and conquer the world!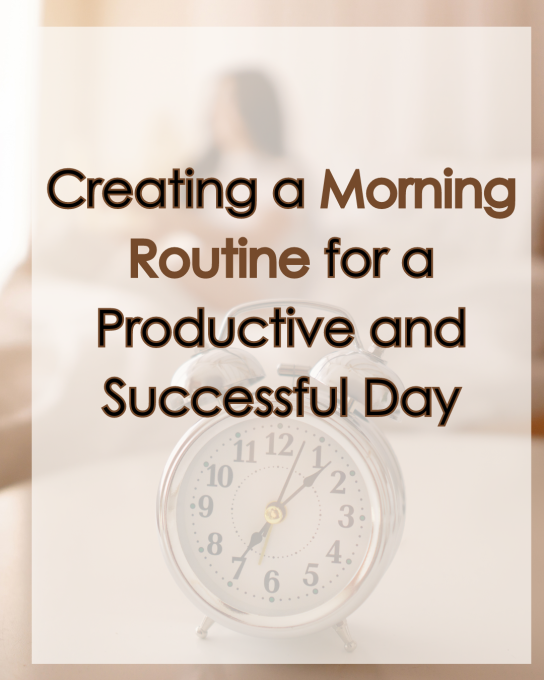 Embrace the Sunlight Alarm Clock:
Say goodbye to the annoying buzz of your alarm clock and embrace the gentle awakening of a sunlight alarm clock. As the soft light gradually fills your room, it tricks your brain into thinking it's waking up naturally with the rising sun. Trust me, waking up like this will make you feel like a Disney princess (or prince) ready to take on the day!
Sip and Savor God's Word:
Just as a warm cup of coffee comforts our bodies, let the Word of God nourish your soul. Set aside some quiet time to read a few verses from the Bible or meditate on a devotional. Allow God's wisdom to guide your thoughts and fill your heart with peace and strength. It's the perfect way to start your day with a heavenly perspective.
Stretch It Out:
Once you're out of bed (no falling back in, I promise), it's time to give your body a good stretch. Reach for the sky, touch your toes, twist those limbs—it's your personal morning yoga session! Stretching helps increase blood flow, boost energy levels, and banish any lingering sleepiness. Plus, you might discover a newfound appreciation for your own flexibility (or lack thereof).
Hydrate, Hydrate, Hydrate:
Before you reach for that magical cup of morning joe, remember to hydrate yourself first. Guzzle down a glass of water like you're in a desert oasis, because your body has been running on empty all night. Not only will this help rehydrate your organs, but it also jumps starts your metabolism, making you feel refreshed and ready to conquer the day.
Breakfast Bonanza:
They say breakfast is the most important meal of the day, and they're not wrong. Give your body the fuel it needs by indulging in a delicious and nutritious breakfast. Whether you prefer fluffy pancakes, a hearty omelet, or a bowl of fruity goodness, make sure it's something that puts a smile on your face and nourishes your body. Remember, you can't conquer the world on an empty stomach!
Move That Body:
Now that you've fueled up, it's time to get moving! Engage in some form of physical activity that gets your blood pumping and your endorphins flowing. Take a brisk walk, dance to your favorite tunes, or hop on a stationary bike—whatever floats your boat. Moving your body not only improves your physical health but also boosts your mood and enhances your cognitive function. Let's get those brain cells grooving!
Choose the Thoughts you want to Think for the Day:
As you get dressed and ready for the day, take a moment to give yourself a pep talk in the mirror. Tell your brain the thoughts it should think. If left to its own accord, it will fill in the blanks and you probably won't like the blanks. Set intentions for the day ahead. Remind yourself that you are capable, confident, and ready to tackle any challenge that comes your way with the help . Believe me, a reminder of how much God loves you can work wonders for your mindset.
Prioritize and Plan:
Finally, grab your trusty planner or smartphone and prioritize your tasks for the day. Write your goals, deadlines, and any important reminders. Organizing your thoughts and setting a clear plan of action will help you stay focused and avoid feeling overwhelmed. Remember, Rome wasn't built in a day, but with a well-planned schedule, you can conquer the world—one task at a time.
So there you have it, fellow morning warriors! With this light-hearted morning routine, you'll be well on your way to starting your days with a spring in your step and the energy to conquer the world. Embrace the morning sunshine, nourish your body, and set your intentions. Get ready to unleash your productivity and embark on a path to success.
Rise and shine, my friend, for the world is waiting for you!
(Visited 57 times, 3 visits today)