Hi friends, Sara is back to share some tips on how your interior decor can make you happier.   
Making a few improvements to your living standard, here and there, is a totally normal, everyday thing to do. After all, our tastes and styles change, and knowing you have power over your space is one of the most mentally uplifting things we have in life. So, following down a similar vein, it only makes sense that you can use your own interior decorating style to make you happier! 
Of course, as long as you like your interior decor, you're going to feel happy coming home every day. However, there are a few tried and tested tips and tricks you can put to good use to get the most out of your living space.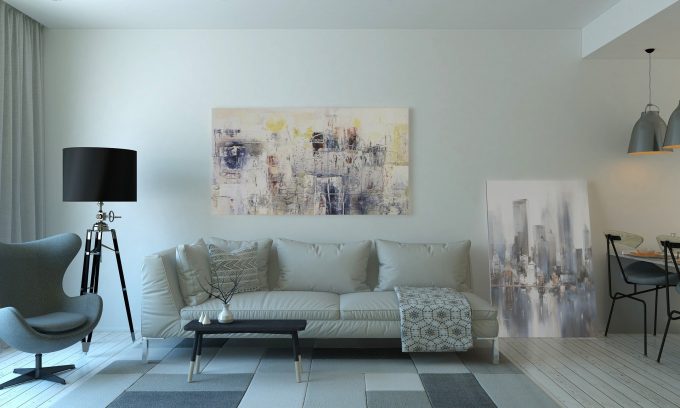 Through the Right Lighting
The right lighting is always going to lift your mood, simply because our brains and bodies respond to light by creating serotonin, which is a chemical that helps us to feel happier throughout the day. And the best lighting to have in your home is natural lighting. 
This is why it's a good idea to invest in some blinds, rather than curtains. With blinds, you can let sun rays in without having to completely open up the window, which is good for both privacy and heat/cool preservation. And, if you're someone who doesn't have a lot of natural light to work with, you can use sun lamps and daylight bulbs to your benefit here instead. 
Through a Good Mix and Match 
A good mix and match of furniture that's old and new, affordable and luxurious, is a good way to make your space feel more cozy and homelike. This is especially good for people who look around and think they're living in a showroom – mixing and matching is the best way to add a bit of personality! 
For example, investing in Murano Chandeliers to really light up your space, and then buying some older, darker colored bookshelves to go around your walls, could help your living room to feel a lot more snug, especially if you're a fan of libraries. Similarly, you could buy modern, minimalist furniture, and then use plenty of vintage accents (cushions, teapots, etc.,) to help your space feel more multipurpose and lifelike. 
Through Valuing Your Personality
And finally, your interior decor can help make you happier by simply valuing your personality. As we detailed above, if you're someone who loves to read, being surrounded by books is a great way to go. However, if you're not a big reader, you don't need to keep all those items around simply because you think they should be there!

Get rid of them, and replace them with something more you. Maybe video games, maybe statues and character models, maybe lights and candles, etc. When your space reflects who you are as a person, you're guaranteed to feel happy within it. 
If you feel like smiling a little more this month, and you've got some time to rearrange your furniture, put the tips above to good use.
I'd love to have you follow along. You can subscribe to my RSS Feed or sign up to receive daily Emails delivered to your inbox. You can also follow along via Instagram, Facebook, or Twitter.


(Visited 57 times, 1 visits today)