If you've been parenting little ones for a while you have probably found yourself in a hard place at some point in that process.  As a mom of 6 kids and a wife of 38 years, I've had a little experience with some hard places.  I want to offer you young struggling moms some words of encouragement.  Let me share with you a time I was living in a really hard place parenting my twin boys.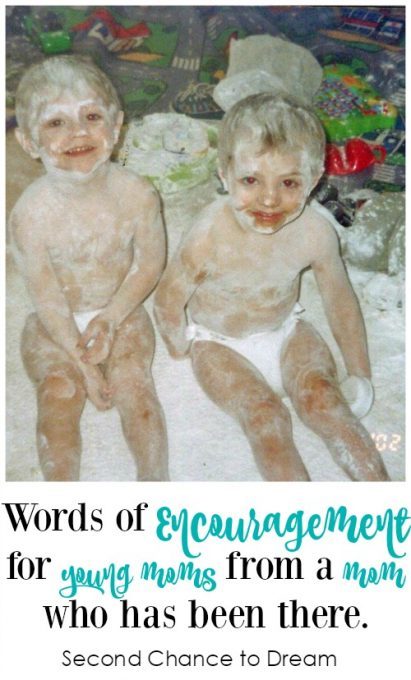 In 1997, I had 4 children ages 20-7 and my husband won a trip to Cancun through his work. We went for 10 days and we brought home two souvenirs- twin boys. Costly souvenirs I might add.   Ummmmm…. That is NOT what I had planned for my life. I had dreams and plans for my life and starting over with newborns was NOT in my plan.
I wasn't just starting over with one baby but two!  Some people DREAM of having twins. That was a concept I had never even thought of before, ever.  The whole pregnancy really threw me for a loop.  Twins are a LOT of work and Life was HARD!  These boys consumed my life, not just mine but everyone in our family.  It was so HARD!  I felt like every bit of ME disappeared.  I was continually tired. I felt like I was shriveling up and dying inside. I wanted desperately to know that I would come out of this sane and with hair.
I wish I could say I handled everything perfectly but I didn't.  Not even close.  I ended up doing things as a parent I said I never would.  NOTE:  Everything I said I would never do in my life, I have ended up doing. Be careful with what you say never too; it will come back to bite you in the buns.  I put the twins in daycare 2 days a week so I didn't go crazy but that simple move to save my sanity went against everything I believed in up until that point. You see I was a homeschooling mom who would never do such a thing.  I prided myself on the fact that I could control everything about my children and probably all of life if I was honest.  God has a way of showing us that control is really an illusion.  (Trying to control our world is a whole blog post on its own.)
If I could talk to a younger mom who is at her wit's end  and barely hanging on, I would say:
You can do it! Don't give up.  Galatians 6:9 really is true-
Let us not grow weary or become discouraged in doing good, for at the proper time we will reap if we do not give in.
It is HARD, you aren't just being a weeny.
It is really hard to parent and to parent well takes even more work.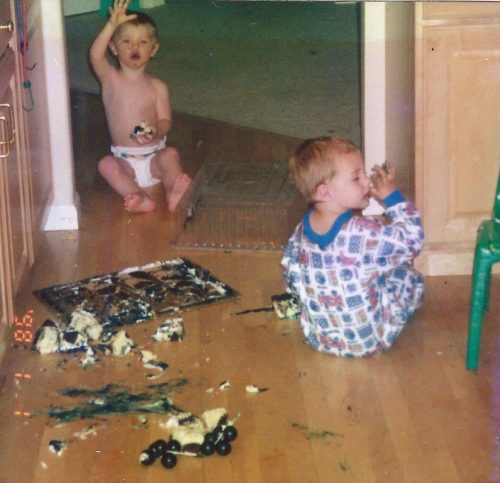 PS That's my 40th Birthday cake they are playing with.  Nothing like rubbing it in. wink!
Run to Jesus during those hard periods.
I didn't always do that and let me tell you I made the load much harder to carry.  We aren't created to do things in our own strength. We were created to let Him carry the burdens.
Matthew 11:28 "Come to me, all of you who are weary and carry heavy burdens, and I will give you rest.
Don't shut down.
Stay present.  Yes, I know it's hard!  Shutting down and just going through the motions robs you of precious life.  It feels easier to shut down when we're in the hard places but God can and will use it if you LET him! There are a lot of us women who are walking around half alive.  We've given up and as a result, we live very mundane lives.  I shut down.  I did exactly what I just told you not to do.   Part of the reason for my blog name- Second Chance to Dream is because God did give me a second chance to dream and live vibrantly but you don't have to make the mistakes that I did.

5. If you are struggling, please tell someone.
Silence and secrets are satans playground.  He will whip you around like a rag doll on a merry go round if you continue keeping things hidden until you eventually give up. (This goes for ANY area of your life, not just parenting.)
6. God has a purpose for giving you these babies.
Be a good finder and practice seeing the good in every situation.  My girlfriend encouraged me to take pictures of each of the boys' messes.  That served 2 purposes-
1.  It diffused the anger
2.  I now have some blackmail against them (the pictures will be on their graduation boards) 🙂 Keep the purpose in front of you. If we remember our purpose it gives us life and energy just as the opposite is true if we forget it.
7.  The HARD will be worth it!
My boys are 17 and will be seniors in the fall and NO I really never thought I'd make it this far.  I really didn't, but I get teary just thinking back on those early years and wondering if I would survive and then looking at them now and wondering how we got here and praising God for where we have come.  There have been so many blessings along with the HARD things. There have been so many layers of flesh stripped away.  God, really does know what He's doing. I can't imagine life without them.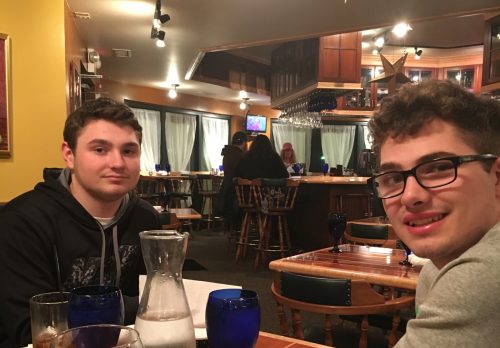 I hope these words of encouragement help you to press on.  Onward and upward!
You CAN do HARD things through Christ who strengthens you!!
I'd love to have you follow along. You can subscribe to my RSS Feed or sign up to receive daily Emails delivered to your inbox. You can also follow along via Facebook, Google + or Twitter.







(Visited 646 times, 3 visits today)