Today we conclude our series on spiritual weapons.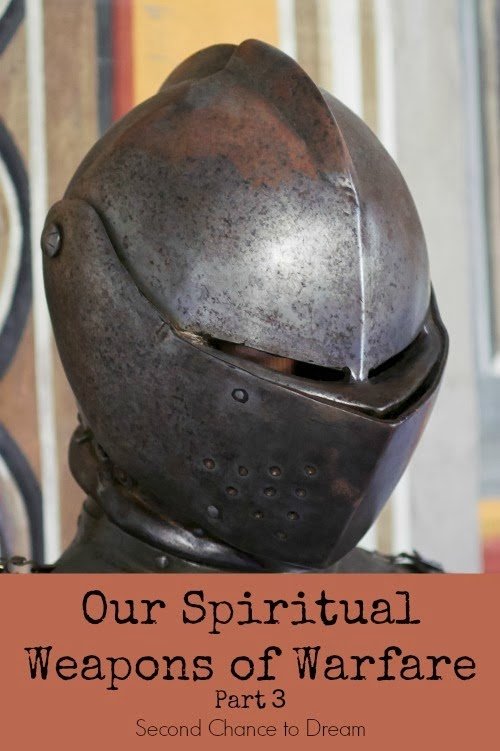 Again our assignment is to ch

oose one spiritual weapon a day. Read the verses for that weapon.  Ask God to teach you how to practice using that weapon all day. Write down in your journal what weapon you used and anything you learned or found to be 

particularly

 hard.
 Satan knows that this is the control center for your life.
He knows that if he can seize this area, that he can begin to control your emotions and thoughts. 
  If your salvation – like a helmet is not worn tightly on your head the enemy will come to steal the multiple benefits and blessings right out of your
 life.
Eph 6:16-17, In all circumstances take up the shield of faith, with which you can extinguish all
the flaming darts of the evil one; 17 and take the helmet of salvation…
Ps 51:12, Restore to me the joy of your salvation and grant me a willing spirit, to sustain me.
Ps 18:35, You have given me the shield of your salvation, and your right hand supported me,
and your gentleness made me great.
We need to stand  in the peace of God.
 This involves casting our care and anxiety on Him-1 Peter 5:7  
"
And let the peace of God rule in your hearts, to the which also ye are called in one body; and be ye thankful"
 (Colossians 3:15). The 
peace of God
 will become a reality to us as we abide in Christ and this is a powerful weapon.  If satan can get us in worry, anxiety and fear he has an upper hand.  
John 14:27-28, Peace I leave with you; my peace I give to you. Not as the world gives do I
give to you. Let not your hearts be troubled, neither let them be afraid.
John 16:32-33, Behold, the hour is coming, indeed it has come, when you will be scattered,
each to his own home, and will leave me alone. Yet I am not alone, for the Father is with me.
33 I have said these things to you, that in me you may have peace. In the world you will have
tribulation. But take heart; I have overcome the world."
Isa 26:3-4, You keep him in perfect peace whose mind is stayed on you, because he trusts in
you. Trust in the Lord forever, for the Lord God is an everlasting rock.
Phil 4:5-7, Let your reasonableness be known to everyone. The Lord is at hand; do not be
anxious about anything, but in everything by prayer and supplication with thanksgiving let
your requests be made known to God. And the peace of God, which surpasses all
understanding, will guard your hearts and your minds in Christ Jesus.
Sleep is a weapon, we think much more clearly, our moods are dramatically improved.  I'm sure that you have had those times when your sleep has been affected for a few days and someone says something to you and it either sends you into anger or depression. As moms sleep is often the one thing we give up, but that does allow satans darts to penetrate if we aren't aware.
1 Kings 19:5-6, And he lay down and slept under a broom tree. And behold, an angel touched
him and said to him, "Arise and eat." 6 And he looked, and behold, there was at his head a
cake baked on hot stones and a jar of water. And he ate and drank and lay down again.
Ps 4:8, In peace I will both lie down and sleep; for you alone, O Lord, make me dwell in safety.
Jer 31:25-26, For I will satisfy the weary soul, and every languishing soul I will replenish."
At this I awoke and looked, and my sleep was pleasant to me.
Faith and trust are a powerful weapon. It is the foundation for our whole relationship. Without faith it is impossible to please God.  Heb. 11:6  Our faith and trust is not in what we can do but it is in what  Jesus Christ has done and will do.  satan loves nothing more than undermining our belief that God will do what he says he will.
Eph 1:19-20, …and what is the immeasurable greatness of his power toward us who believe,
according to the working of his great might 20 that he worked in Christ when he raised him
from the dead and seated him at his right hand in the heavenly places…
Matt 9:28-30, When he entered the house, the blind men came to him, and Jesus said to
them, "Do you believe that I am able to do this?" They said to him, "Yes, Lord." 29 Then he
touched their eyes, saying, "According to your faith be it done to you."
Phil 1:6-7, And I am sure of this, that he who began a good work in you will bring it to
completion at the day of Jesus Christ.
Luke 22:31-33, "Simon, Simon, behold, Satan demanded to have you, that he might sift you
like wheat, 32 but I have prayed for you that your faith may not fail. And when you have
turned again, strengthen your brothers."
Obedience is very important.  We have to be willing.  We don't have to do it in our own strength we do it in the power of the Holy Spirit.  Not obeying something God asks us to do opens up the door for satan to to fling those fiery darts.
John 3:36, Whoever believes in the Son has eternal life; whoever does not obey the Son shall
not see life, but the wrath of God remains on him.
Acts 5:32, And we are witnesses to these things, and so is the Holy Spirit, whom God has given
to those who obey him."
2 Cor 10:3-6, For though we walk in the flesh, we are not waging war according to the flesh. 4
For the weapons of our warfare are not of the flesh but have divine power to destroy
strongholds. 5 We destroy arguments and every lofty opinion raised against the knowledge of
God, and take every thought captive to obey Christ, being ready to punish every
disobedience, when your obedience is complete.
Heb 13:17 Obey your leaders and submit to them, for they are keeping watch over your
souls, as those who will have to give an account. Let them do this with joy and not with
groaning, for that would be of no advantage to you.
James 4:7-8, Submit yourselves therefore to God. Resist the devil, and he will flee from you.
Draw near to God, and he will draw near to you.

OK as we conclude I need to remind us that yes we are in a battle, BUT, we already know the outcome of the battle and we have been given the authority to use these weapons.

All power [authority] is given unto me in heaven and in earth' Matt. 28:18

 The reason the Son of God appeared was to destroy the devil's work. 1 John 3:8

"It is finished."  John 19:30

I have overcome the world. John 16:33

Jesus has already won, so let's use these weapons and stand.  Finally, be strong in the Lord and in his mighty power.  Put on the full armor of God, so that you can take your stand against the devil's schemes.  Eph. 6:10,11
I hope you find this list  of weapons beneficial. This list was taken from a Bible Study at our church called Know Your Enemy.  This list is not an exhaustive list.
 Have you found anything that helps you fight those daily battles? Did you practice any of this last week?  I'd love to hear.
Make sure you come back next Tues. I'll be sharing darts satan throws at you to trip you up. 
1 Peter 5:8 "
 Be alert and of sober mind. Your enemy the devil prowls around like a roaring lion looking for someone to devour." 
Also, find out the weapons satan uses against you!
Need more spiritual stimulation?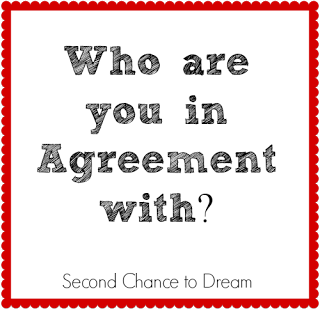 (Visited 954 times, 2 visits today)