Are you aware we are in a battle?  You know those days when you feel like you're trudging through the muck and mire and can barely move. Or it's 9:00 in the morning and you're already ready to go back to bed??  Well… God knew we'd have these battles and not only does He give us armor to protect us (Eph.6: 10-18) but He gave us some 

spiritual
 weapons to deal with these battles.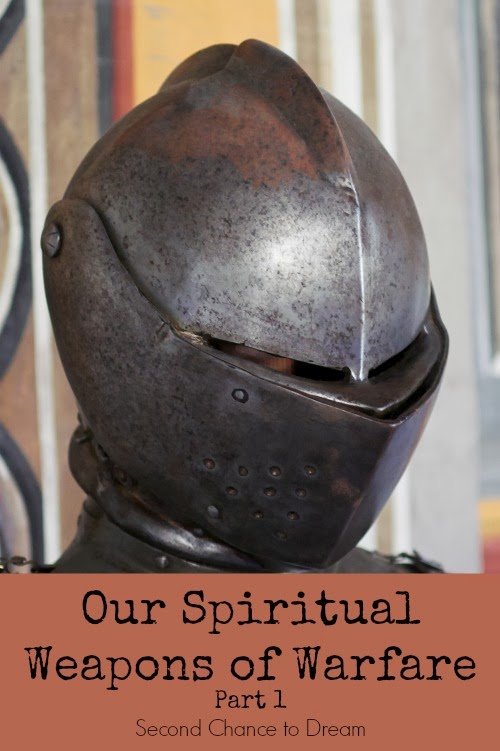 The weapons that we naturally want to use in a battle, (telling someone off, pouting, arguing, quitting) will NOT work. God says: 
2 Cor. 10:3-6  For though we walk in the flesh, we are not waging war according to the flesh.
4

 

For the weapons of our warfare are not of the flesh but have divine power to destroy strongholds.
5 

We destroy arguments and every lofty opinion raised against the knowledge of God, and take every thought captive to obey Christ,
6 

being ready to punish every disobedience, when your obedience is complete.
We have to fight our battles in the spiritual realm.
I will be sharing 7 weapons today, one for each day of the week. 

Choose one spiritual weapon a day. Read the verses for that weapon.  Ask God to teach you how to practice using that weapon all day. Write down in your journal what weapon you used and anything you learned or found to be 

particularly

 hard.
Our Spiritual Weapons 
Godly Discernment
Discernment is nothing more than the ability to decide between truth and error, right and wrong. Discernment is the process of making careful distinctions in our thinking about truth.  This requires us to be in the word and so we can know the truth.
Phil. 1:9-11 NIV  And this is my prayer: that your love may abound more and more in knowledge and depth of insight, 10 so that you may be able to discern what is best and may be pure and blameless for the day of Christ, 11 filled with the fruit of righteousness that comes through Jesus Christ—to the glory and praise of God.
Rom. 12:1-2  I appeal to you therefore, brothers, by the mercies of God, to present your bodies as a living sacrifice, holy and acceptable to God, which is your spiritual worship. 2 Do not be conformed to this world, but be transformed by the renewal of your mind, that by testing you may discern what is the will of God, what is good and acceptable and perfect.

Heb. 5:14  But solid food is for the mature, for those who have their powers of discernment trained by constant practice to distinguish good from evil.
2 Kings 6:8-13 Once when the king of Syria was warring against Israel, he took counsel with his servants, saying, "At such and such a place shall be my camp." 9 But the man of God sent word to the king of Israel, "Beware that you do not pass this place, for the Syrians are going down there." 10 And the king of Israel sent to the place about which the man of God told him. Thus he used to warn him, so that he saved himself there more than once or twice. 11 And the mind of the king of Syria was greatly troubled because of this thing, and he called his servants and said to them, "Will you not show me who of us is for the king of Israel?" 12 And one of his servants said, "None, my lord, O king; but Elisha, the prophet who is in Israel, tells the king of Israel the words that you speak in your bedroom." 13 And he said, "Go and see where he is, that I may send and seize him." It was told him, "Behold, he is in Dothan."
Humility/Service
When we start feeling depressed or down, this weapon is a great one to pull  us up out of it. It gets our eyes off our self and focuses on meeting the needs of  someone else. Your attitude will change by serving.
Phil. 2:3-5 Do nothing from selfish ambition or conceit, but in humility consider others better than yourselves. 4 Each of you look not only to his own interests, but also to the interests of others. 5 Your attitude should be the same as Christ Jesus.

Matt 20:25-28 But Jesus called them to him and said, "You know that the rulers of the Gentiles lord it over them, and their great ones exercise authority over them. 26 It shall not be so among you. But whoever would be great among you must be your servant, 27 and whoever would be first among you must be your slave, 28 even as the Son of Man came not to be served but to serve, and to give his life as a ransom for many."

1 Peter 5:6-7 Humble yourselves, therefore, under the mighty hand of God so that at the proper time he may exalt you, 7 casting all your anxieties on him, because he cares for you.
Praise and Worship
T

his has been the greatest weapon that I've been using lately.  If I'm having mind battles or struggling with my attitude, I repent and then turn on the praise music.  This is definitely a powerful weapon. When we're praising God, Satan has to plug his ears, because he can't stand it.
Ps. 22:3 
Yet you are
holy,
enthroned on the praise of Israel.
Matt. 4:8-10 

Again, the devil took him to a very high mountain and showed him all the kingdoms of the world and their glory.

 

9 

And he said to him, "All these I will give you, if you will fall down and worship me."

 

10 

Then Jesus said to him, "Be gone, Satan! For it is written, 

"worship the Lord your God

 

and him only shall you serve.''
Ps. 149:6  Let the high praises of God be in their throats  and two-edged swords in their hands,
Prayer
I just read from Neil Anderson's daily devotional. and what he shared there was so powerful.  He shared about a man 

who was a high priest in the upper echelons of Satanism but gave his life to the Lord. Six month l
ater he
  gave his testimony in church. At the close of his testimony Neil asked him, "Based on your experience on 'the other side,' what is the Christian's greatest strategy against demonic influence?" 
"Prayer," he answered forcefully. "And when you pray, mean it.
Fervent prayer thwarts Satan's activity like nothing else."
 We have a very powerful weapon here, let's get good at using it!!!
1 Thess. 5:16-18 
 

Rejoice always,
17 pray without ceasing,
18 

give thanks in all circumstances; for this is the will of God in Christ Jesus for you.
James 5:17-18 Elijah was a man with a nature like ours, and he prayed fervently that it might not rain, and for three years and six months it did not rain on the earth. 18 Then he prayed again, and heaven gave rain, and the earth bore its fruit.

Eph. 6:18 praying at all times in the Spirit, with all prayer and supplication. To that end keep alert with all perseverance, making supplication for all the saints,

James 5:13-16  Is anyone among you suffering? Let him pray. Is anyone cheerful? Let him sing praise. 14 Is anyone among you sick? Let him call for the elders of the church, and let them pray over him, anointing him with oil in the name of the Lord. 15 And the prayer of faith will save the one who is sick, and the Lord will raise him up. And if he has committed sins, he will be forgiven.16 Therefore, confess your sins to one another and pray for one another, that you may be healed. The prayer of a righteous person has great power as it is working.

Crying Out
God, I need you and I need you now! This shows our dependence on Him and he is willing to honor that.
Ps. 34:6 
This poor man cried, and the
Lord
heard him
and saved him out of all his troubles.
Ps. 34:17-18 
When the righteous cry for help, the
Lord
hears
and delivers them out of all their troubles.  
18 
The
Lord
is near to
the brokenhearted
and saves the crushed in spirit.
Ps. 119:169-170 

Let my

 

cry come before you, O

 

Lord

;

 

give me understanding according to your word!

170

 

Let my plea come before you;

 

deliver me according to your word.
Jer. 33:3 
Call to me and I will answer you, and will tell you great and hidden things that you have not known.
Rom. 8:15-16 
 

For you did not receive the spirit of slavery to fall back into fear, but you have received the Spirit of adoption as sons, by whom we cry, "Abba! Father!"
16 

The Spirit himself bears witness with our spirit that we are children of God,
Quietness/Rest
Sometimes we just NEED rest, Jesus did, so why would we be any different.  Check out that last sentence of the first scripture.  It's always so very convicting.
Isa. 30:15 For thus said the Lord God, the Holy One of Israel, "In returning and rest you shall be saved; in quietness and in trust shall be your strength."But you were unwilling,

Matt. 11:28-30 Come to me, all who labor and are heavy laden, and I will give you rest. 29 Take my yoke upon you, and learn from me, for I am gentle and lowly in heart, and you will find rest for your souls. 30 For my yoke is easy, and my burden is light."
Body of Christ
 God uses the body to help us fight those weary battles. 

We NEED the body of Christ and satan knows that and will very often pull us off into isolation. Check your life for isolation because it slips in very slowly!
1 Peter 5:8-11 
Be sober-minded; be watchful. Your adversary the devil prowls around like a roaring lion, seeking someone to devour.
9 

Resist him, firm in your faith, knowing that the same kinds of suffering are being experienced by your brotherhood throughout the world.
10 

And after you have suffered a little while, the God of all grace, who has called you to his eternal glory in Christ, will himself restore, confirm, strengthen, and establish you.
11 

To him be the dominion forever and ever. Amen.
Eph. 6:19-20 Pray also for me, that whenever I speak, words may be given me so that I will fearlessly make known the mystery of the gospel, 20 for which I am an ambassador in chains. Pray that I may declare it fearlessly, as I should.

Jam. 5:16 Therefore, confess your sins to one another and pray for one another, that you may be healed. The prayer of a righteous person has great power as it is working.

Eph. 6:18 And pray in the Spirit on all occasions with all kinds of prayers and requests. With this in mind, be alert and always keep on praying for all the Lord's people.

I hope you find this list beneficial. This list was taken from a Bible Study at our church called Know Your Enemy.  Have you found anything that helps you fight those daily battles?  I'd love to hear.
Also, find out the weapons satan uses against you!
(Visited 989 times, 2 visits today)