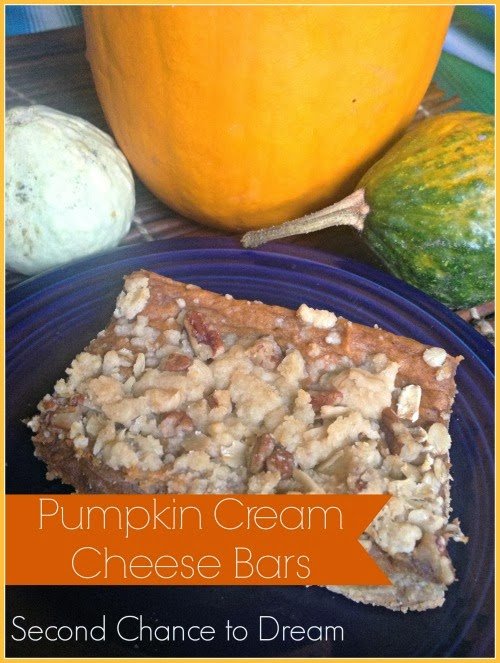 I have a YUMMY dessert to share with you today.  I made this for a charity event and it was so good you will definitely want to give it a try. Not only was it good but it was easy. It will make a GREAT dessert for Thanksgiving and you can make it ahead if you need to.
Here's What You Need
1 Can (15 ounces) Solid Pack Pumpkin
1 1/3 Cups All-Purpose Flour
1/2 Cup Brown Sugar, packed
1 Package (8 Oz)  Cream Cheese
Here's how you do it:
 1. Preheat Oven to 350.
2. In a small bowl mix flour, 1/4 cup sugar, and the brown sugar. Cut in the butter until it's crumbly.  
Stir in your oats and pecans. Save 1 cup for the topping.
3.  Press the crumb mixture into the bottom of a 13 x 9 glass baking pan. Bake for 15-17 minutes. 
4. In another small bowl beat the cream cheese, spices, and remaining sugar until smooth. Beat in the vanilla and pumpkin. Add Eggs and beat on low speed just until smooth.
5. Pour the mixture over the warm crust.
6. Top with the remaining crumb mixture.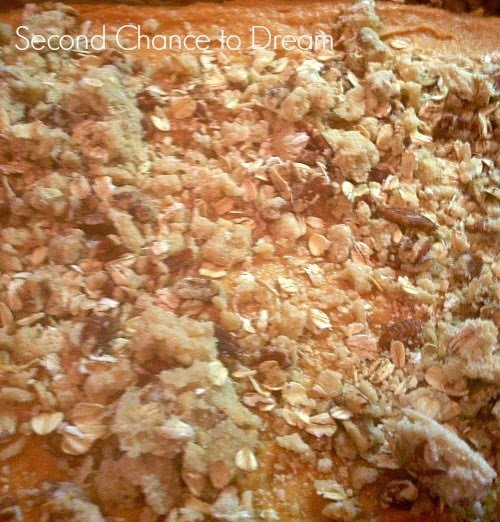 7. Bake 20-24 minutes. Cool and cut into bars!
8.  Enjoy!
I hope you enjoy this as much as we did.
Here is another great easy make-ahead Thanksgiving dessert.
Have a wonderful weekend!
I'd love to have you follow along. You can subscribe to my RSS Feed or sign up to receive daily Emails delivered to your inbox. You can also follow along via Facebook, Google + or Twitter.





(Visited 2,917 times, 4 visits today)