Hello,

I wanted to share today a challenge that Kori our Bible Study leader/Pastors wife shared with us this week.  It's 10 days of "specific" prayers for the men in our lives.  You can print this out and put n your Bible or you can just bookmark and come back every day.  Just imagine how our families will change when God answers these prayers.     May we go boldly before the throne!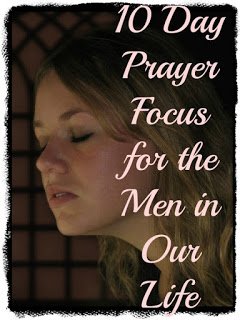 Dear Ladies,
IT IS TIME!! It's time to rally our troops and gather all the praying women we know to spend some detailed and concentrated time lifting up our men. The Devil has planned an all-out assault on our men for far too long to keep them from their God-given roles. This affects us deeply in many ways! Together with the women of God, I want these plots from the Enemy uncovered, exposed and reduced to nothing by the great Name of our Lord Jesus Christ. Nothing can match the power of the Blood of Jesus being poured over the minds of our Fathers, Brothers, Husbands and Sons. Women of Faith, we have an audience with the King, not to mention the soft spot the Father has for each one of His beautiful daughters. Let us use our position in Christ Jesus and ask our gracious, merciful, loving, kind, powerful and limitless God for BIG things for our men –the ones we know and the ones we don't. We will pray for the men that know God and those that have yet to know the Savior. May they be like the Mighty Men of old who Know Their God and do great Exploits!! Together, we can boldly storm the gates of Heaven, inner the Holy of Holies and beg our Father to move the hearts of these men – His very own beloved sons!

Thank you for your time and prayers,
Kori Trierweiler

Day 1 – Deliverance from Satan
Dear Father, We humbly yet boldly come before Your Throne today and ask You to receive our request. We know that You love us deeply with a special, unique love reserved for Your daughters alone!. We know that we are the apple of Your Eye and that Your unquenchable love for us will drive Your answer to our cry. It is not of our own doing but the work of Your Beloved Son, our Savior, Jesus Christ that has solidified our place in Your heart. We thank You for Your Love to us! It is because of our special position and because of Your Love that we make this request before You today. Father, please LOOK TO OUR MEN!! We need Your help! Father, please do something, get up, stand up from Your Throne, kindle Your terrible anger and fight for our men. For too long they have been ambushed, attacked, distracted, stolen from, killed and destroyed by Your enemy, Satan. They have been lied to, harassed, demonized, and have been left for dead, lying motionless on a spiritually bloody battle field all alone. Father, we beg You with loud cries and tears to move on behalf of these men. Great God, with the nod of Your head, You can send out entire regiments of Angelic Beings to GO and make war on the enemy. We pray that You would do that right now for ___________________ (name every man that comes to your mind). In the Name of Jesus, we plead the Blood of Jesus over these men's hearts, minds, souls, emotions, relationships, and workplaces. You are God, these things are NOT hard for You! Today begin a new work in these men that will take root and never stop growing until they come into complete mature manhood. Amen!

2 Cor 1:8-11, For we do not want you to be ignorant, brothers, of the affliction we experienced in Asia. For we were so utterly burdened beyond our strength that we despaired of life itself. 9 Indeed, we felt that we had received the sentence of death. But that was to make us rely not on ourselves but on God who raises the dead. 10 He delivered us from such a deadly peril, and he will deliver us. On him we have set our hope that he will deliver us again. 11 You also must help us by prayer, so that many will give thanks on our behalf for the blessing granted us through the prayers of many. ESV

Matt 6:9-13 "This, then, is how you should pray: "'Our Father in heaven, hallowed be your name, 10 your kingdom come, your will be done on earth as it is in heaven. 11 Give us today our daily bread. 12 Forgive us our debts, as we also have forgiven our debtors. 13 And lead us not into temptation, but deliver us from the evil one.' NIV

Day 2 – Salvation for the Lost
Dear Father God,
We pray for our Fathers, our Brothers, our Husbands and our Sons that are still under the power of the evil one at this time and eternally lost to You and to us. Father, unless You do something, unless You move in them there is no hope. But we thank You that we have been given the Ear of the King – the only One who can do anything for our men. Father, have mercy and go after the lost in our families, our churches, our nations and our world. We pray for the most obstinate, hateful, hardest hearts and know that You alone can turn them. We pray for those who hate You in their ignorance and would never step foot in the door of a church. We also pray for those who are in church every week but have no relationship with You. They sit in spiritual darkness thinking they are already saved but are not. Our faces look to You and watch with great anticipation for the salvation of their souls, their release from bondage and the redemption of all that has been lost. Father, may it be pleasing to You to look with favor upon our request and do what we ask. We want You to rob satan of our lost fathers, brothers, husbands and sons. May You take pleasure in stealing away our men from the grip of the enemy and silencing his obnoxious taunts. We want You to grow tired of the enemies' gloating over these men of ours and avenge Your great Name. Father, show off Your love and mercy and may You plunder the kingdom of darkness and take back our men – our earthly leaders, protectors, providers, and mighty warriors. Do not leave us fatherless, husbandless and our children left defenseless. Please Father, do it soon, do it now!!! Amen. 

2 Cor 4:3-5, And even if our gospel is veiled, it is veiled only to those who are perishing. 4 In their case the god of this world has blinded the minds of the unbelievers, to keep them from seeing the light of the gospel of the glory of Christ, who is the image of God. ESV

John 6:44-46, "No one can come to me unless the Father who sent me draws him, and I will raise him up at the last day. 45 It is written in the Prophets: 'They will all be taught by God.' Everyone who listens to the Father and learns from him comes to me. NIV 

Day 3 – Call them by name
Dear Father God, 
We need You to move deeply in the hearts of our men and may You begin by getting their attention and calling them by name. We ask on behalf of Your mercy that You would pursue them rapidly and whole-heartedly. Just like the Father with the prodigal son, God we ask that You would pick up Your royal robes and run after our men! Wither they desire You and seek You or not, we ask that You would go after them anyway. Father, please speak loud and clear to them in their sleep, at work, in the car, when they get up in the morning and when they go to bed at night. Speak to them in their thoughts, their memories, through their friends, their music, and their dreams. Don't let them escape Your Voice! Father, please smother them with Your Holy Spirit, pouring out on them without limit or restraint. May these men dream divinely oriented dreams and see divinely oriented visions. May You move in their hearts and bring them to their knees. May Your Spirit fall fresh and hard upon them so that they shed tears of repentance, confession and forgiveness. In the Name of Jesus Christ, wake them up and release them from any apathy, addictions, insecurities, selfishness, passivity, carnality, spiritual impotency and pride. Father, set them free from following these other paths so that they may hear Your Voice clearly, renounce their sin and follow You all the days of their lives. Amen.

2 Chron 7:13-16 When I shut up the heavens so that there is no rain, or command the locust to devour the land, or send pestilence among my people, 14 if my people who are called by my name humble themselves, and pray and seek my face and turn from their wicked ways, then I will hear from heaven and will forgive their sin and heal their land. 15 Now my eyes will be open and my ears attentive to the prayer that is made in this place. ESV

John 10:3-5 To him the gatekeeper opens. The sheep hear his voice, and he calls his own sheep by name and leads them out. 4 When he has brought out all his own, he goes before them, and the sheep follow him, for they know his voice. 5 A stranger they will not follow, but they will flee from him, for they do not know the voice of strangers." ESV

Day 4 – Release our Men from Captivity
Dear Mighty God, 
You have made us woman to be Mighty Princess Warriors who forcefully advance Your Kingdom. Today we fight for our Fathers, our Brothers, our Husbands and our Sons so that they can be released from captivity and in turn lead us and fight for us to advance Your Kingdom. We thank You for the men who are faithfully doing this already. Father, strengthen them and increase their numbers! Jesus said that He would build His church and the gates of Hell will NOT prevail again it. Father we are claiming this promise! In the Name of Jesus Christ, we speak to ourselves and our brothers-in-Christ to wake up from spiritual slumber! From a position of Victory, we take up our Swords of the Spirit and our Shields of Faith and cover our men with our prayers to our Great God. Father, where the enemy has gained an entrance through sin and held ourselves and our brothers captive in various ways we ask You to come and sever the ties, strongholds and influences of the enemy.

In the Name of Jesus, we come against the evil spirits of fear, loneliness, sorcery, idolatry, drugs, isolation, sexual immorality, insecurity, materialism, selfishness, bigotry, addiction, swearing, confusion, apathy, male chauvinism, bitterness, despair, theft, pride, self-hatred, anger, alcohol, porn, covetousness, feminism, depression, gluttony, hatred, unforgivness, lying and _______________ (any more you want to add). We pray to You, Father that whatever power that enemy has gained over us and our men will be broken by Your Son's Blood. Father, cover us, wash us, redeem us and protect us by the Powerful Blood of Jesus Christ. May the lies and evil influences of the Enemy be exposed, defeated and continually repelled by The Blood! Amen.

2 Tim 2:24-26 And the Lord's servant must not quarrel; instead, he must be kind to everyone, able to teach, not resentful. 25 Those who oppose him he must gently instruct, in the hope that God will grant them repentance leading them to a knowledge of the truth, 26 and that they will come to their senses and escape from the trap of the devil, who has taken them captive to do his will. NIV

Rom 7:5-6 For while we were living in the flesh, our sinful passions, aroused by the law, were at work in our members to bear fruit for death. 6 But now we are released from the law, having died to that which held us captive, so that we serve not under the old written code but in the new life of the Spirit. ESV

Day 5 – Give them a New Heart, a New Spirit
Dear Unfailing and Limitless God, 
We ask that as You release us and our men from captivity that You fill every place that was once controlled by the evil one with Your precious Holy Spirit. May the temple of their bodies be filled up and flooded with God Himself. May You so transform these men that they no longer look like themselves but they look like Jesus. We are coming before an unfailing God Who has unlimited resources. Father, we are asking for a "blank check" of Your blessings to be written out to each one of these men (by name) and personally signed by You! Father, to the degree that the enemy has attacked, stolen, beaten down, striped away, bound up, harassed and inflicted pain on our men, we pray to that degree x 100 that You would bless them! Father, we pray that the Kingdom of Heaven would come upon them in great Power!

In the Name of Jesus, we bless our Fathers, Brothers, Husbands and Sons with peace, joy, freedom, purpose, purity, boldness, thick Kingdom anointing, a God-confidence, a Holy Spirit assertiveness, divine wisdom, compassion and Jesus' very own feelings and emotions in any given situation. We speak blessings of physical healing, a hunger for the Word, a passionate pray life, divine relationships in the body of Christ, financial freedom, Godly success and favor at work, divine leadership over their homes, clear God-sought decisions, a sound mind, endurance to stay truth to Your Name to the very end. We speak blessings over their words, their actions, their attitudes, their relationships, their worship, their battles, and the complete restoration of all that has been lost as a result of sin and bondage. Father, Give them a new heart and a new spirit so that they may glorify Your Name. Amen.

Ezek 36:24-29
I will take you from the nations and gather you from all the countries and bring you into your own land. 25 I will sprinkle clean water on you, and you shall be clean from all your uncleannesses, and from all your idols I will cleanse you. 26 And I will give you a new heart, and a new spirit I will put within you. And I will remove the heart of stone from your flesh and give you a heart of flesh. 27 And I will put my Spirit within you, and cause you to walk in my statutes and be careful to obey my rules. 28 You shall dwell in the land that I gave to your fathers, and you shall be my people, and I will be your God. 29 And I will deliver you from all your uncleannesses. ESV

Day 6 – Prayer for our Men to Crave Godly Relationships/Community
Dear Perfect, Emotional, Relational Father, 
We pray for our men to be like You! They have been made in Your Image so we pray that they will reflect that Image perfectly, especially in the areas of their emotions and relationships. Father God, appoint and release spiritual fathers to come along-side the spiritually, emotionally and physically fatherless – men who have been rejected, belittled, abandon and stuck in immaturity for far too long regardless of their age. Father we ask for things we know that You want to give so we ask with great confidence that You WILL work in this area. May Your Holy Spirit coordinate interactions, divine appointments, internal promptings, and boldness among our men so that much healing and spiritual growth may occur in relationship and emotions. In Jesus Name, remove the obstacles that keep men from having deep, healthy, challenging, and encouraging relationships with other godly men. We pray also for a release over their emotions so that they know themselves and know their God through in this area. In the Name of Jesus, We speak LIFE over our men's relationships and emotions where self-protection, fear, isolation and death once reigned. Father, wake them up and bless them mightily in these areas so that they may join forces with their spiritual brothers and fight for King and Kingdom- the Kingdom of Heaven!! Amen!

1 Peter 3:8-10 Finally, all of you, have unity of mind, sympathy, brotherly love, a tender heart, and a humble mind. 9 Do not repay evil for evil or reviling for reviling, but on the contrary, bless, for to this you were called, that you may obtain a blessing. ESV

Phil 1:9-11 And this is my prayer: that your love may abound more and more in knowledge and depth of insight, 10 so that you may be able to discern what is best and may be pure and blameless until the day of Christ, 11 filled with the fruit of righteousness that comes through Jesus Christ — to the glory and praise of God. NIV

Day 7 – Rapid Spiritual Growth
Dear Faithful God, 
Today we pray for You to MOVE swiftly among our men and grow them up with a firm foundation of Your Great and Amazing love for Your Sons. We do not need to remind You about Your deep, unfailing love reserved exclusively for Your Sons. It is a special love that we as Your daughters will never quite understand, but we don't need to understand it in order to ask You to pour it out on them. May Your streams of Living Water rush up like a raging river deep within their souls. Please, overwhelm and surprise them with how insatiable, unquenchable and powerful Your love for them is. Reduce them to heap on the floor as You overpower them with Your limitless, passionate, all-consuming love. As they experience Your Love, May they be forever changed and forever addicted to You!! 

Give them supernatural Power to experience, understand and receive Your individual Love for them. Lord, may this Love accelerate their spiritual growth and may they quickly with firm foundation grow up into mature manhood for Your Kingdom. Give wisdom with humility beyond their years. May they keep in perfect step with the Holy Spirit and be careful to do everything that You command them to do. In the Name of Jesus, please keep them from regressing, becoming stagnate or falling away. Keep them in the palm of Your Hand and keep them on the straight and narrow path that leads to life. You can do this, it is NOT hard for You. We place our trust not in ourselves, not in our men but in You and You alone. Amen!

Heb 5:12-14 For though by this time you ought to be teachers, you need someone to teach you again the basic principles of the oracles of God. You need milk, not solid food, 13 for everyone who lives on milk is unskilled in the word of righteousness, since he is a child. 14 But solid food is for the mature, for those who have their powers of discernment trained by constant practice to distinguish good from evil. ESV

Day 8 – Mighty Warriors
Dear Father, 
We praise You with our lips and with our hearts, knowing that You are a good God with good plans. We praise You for the work of the Cross, for with it You have defeated the kingdom of darkness once and for all time. We thank You that one day we will cease from our battles and rest in all that You have prepared for us. But until then, we must fight so we pray for our men to be an elite team of divinely gifted, fearless, and strong warriors in the Kingdom of Heaven. We pray that they will know their battle ground, their battle positions and be highly skilled in their spiritual weaponry. Father, send them out in teams (brothers-in-arms) who work together like a well-oiled machine; each man uniquely skilled and needed for a divine purpose. May they know their gifts of the Spirit and may they know how to operate in them to the highest degree for the benefit of the Body of Christ. Father, may they quickly gain Victory over their own territories (their minds, homes, etc.) in order that they may in turn help fight for their brothers territories and then for the lost. Father, we ask You to build and equip the spiritual armies of Your people who are called by Your Name. Please do this rapidly and with great Power for we know that the time is short, Jesus is coming back soon and Satan is very angry about it. Amen.

Zech 10:5 They shall be like mighty men in battle, trampling the foe in the mud of the streets; they shall fight because the Lord is with them, and they shall put to shame the riders on horses. ESV

Day 9 – Blessing of spiritual Discernment
Dear Father, 
We pray for truth, discernment, righteousness and purity to be upon our leaders and our men in the Name of Jesus. May Your sons hate evil with a holy, righteous loathing! May they see wickedness, evil and sin and be repulsed by it. May they be sick to their stomachs with dread toward anything that would hinder their relationship with You, their wives, their children and the Body of Christ. May they recoil and shrink back from any hint of sexual immorality or impurity. May they be moved to action and make a bold covenant with You to rid their minds, homes and lives with anything that greaves the Holy Spirit living within them. Father, will You protect our men from seeing all the impurity and images that assault a man of God in a given day. Be a shield of protection all around them so that they may be blind to the images, billboards, commercials, and improperly dressed women that the enemy would use to assault our Fathers, Brothers, Husbands and Sons. Father, please make them oblivious to the temptations from the enemy, may his tactics be ineffective because of the Blood of Jesus that covers their minds. But give them a sharpened awareness to all that is good and right and pleasing in Your sight. May they grow to spiritually see and love the things that You love!!! And grant them the discernment to know the difference between good and evil.

Jude 24-25 Now to him who is able to keep you from stumbling and to present you blameless before the presence of his glory with great joy, 25 to the only God, our Savior, through Jesus Christ our Lord, be glory, majesty, dominion, and authority, before all time and now and forever. Amen. ESV

Day 10 – Supernatural Angelic Protection
Dear Father,
We ask for this particular prayer to be answered immediately and to also be kept in "holding" ready to be used at any given time it is needed for our men. In the times that they are surrounded by evil and no one is there to help, Father we ask You to take this prayer and at just the right time answer it! May this prayer come to the surface and may You move mightily on their behalf as a result of a prayer offered in faith on this day. Dear Holy Father, rally Your angelic warriors and send aid right now. May they get there fast and not be hindered in any way from providing help. May Your child cry aloud for help and may You come to his aid right now. Defeat the enemy and cut off the lying tongues of evil. Cut off all communications between the unclean spirits and confuse their minds. May all their plots and years of planning come to nothing in a moment by Your power. We are asking for complete victory in the deepest, darkest, loneliest battles for our men. May they not be hurt, nor a hair on their heads be touched by the evil one. Deliver them because You delight in them! Breathe hope into the despair and fear, rescue them from the pit and set their feet upon the Rock!! Bring victory and protection to them all the days of their earthly existence. Assign to their guard extra angelic spirits of high rank and great ancient victories, to give them protection as they walk this earth. May You do this for Your Kingdom and by Your order from Your Throne Room. Amen!

Ps 91:11-16 For he will command his angels concerning you to guard you in all your ways.
12 On their hands they will bear you up, lest you strike your foot against a stone. 13 You will tread on the lion and the adder; the young lion and the serpent you will trample underfoot. 14 "Because he holds fast to me in love, I will deliver him; I will protect him, because he knows my name. 15 When he calls to me, I will answer him; I will be with him in trouble; I will rescue him and honor him. 16 With long life I will satisfy him
and show him my salvation." ESV

Ps 34:6-10 This poor man cried, and the Lord heard him and saved him out of all his troubles.
7 The angel of the Lord encamps around those who fear him, and delivers them. 8 Oh, taste and see that the Lord is good! Blessed is the man who takes refuge in him! 9 Oh, fear the Lord, you his saints, for those who fear him have no lack! 10 The young lions suffer want and hunger; but those who seek the Lord lack no good thing.

Thanks for stopping by. I'd love to have you follow along and subscribe to my RSS Feed or sign up to receive daily Emails delivered to your inbox . You can also follow along via Facebook.
(Visited 2,561 times, 3 visits today)