My daughter-in-law Marcy is at my home visiting from Georgia.  I love it when we can get together. She always wants to do some kind of craft project when we get together.  She knows how to make me happy just like my girls do.  I always tell her to pin some fun projects and we'll do them.  Well….my project today is a project she requested. She saw this pin on Pinterest .  But she wanted to do hand painted wine glasses instead of drinking glasses.  I was game!  I have this really cool dollar store called Dollar Zone.  They had some really fun wine glasses for a 1.00 so we each bought four.  I pulled some paint out of my stash and we set to work.
Here are the finished project: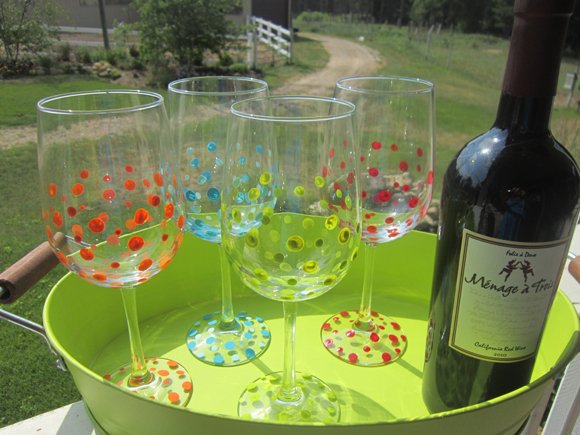 Here is how we did it.  Gather your supplies. You need wine glasses, acrylic paint, a pencil and a mini glue stick, paper plate and wet wipes.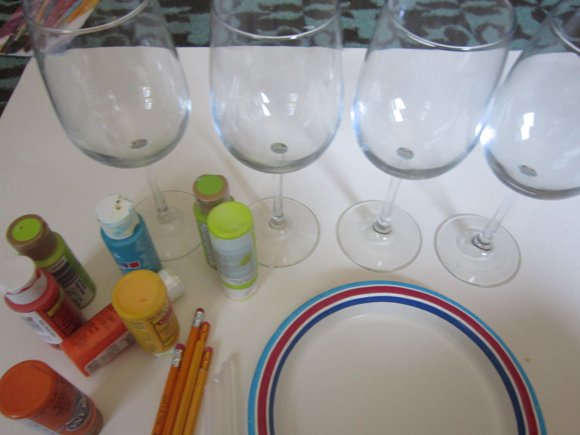 I used a glue stick to make the large dot on my glass and the pencil eraser to make the small dot.  I used two tones of paint for each glass.  Light orange and dark orange, Light green and dark green, Light blue and dark blue and two shades of red.  You can use any colors you want.  My kids bought for me last Christmas a full set of Fiesta Dishes of various colors, which I am absolutely in love with.  So, I wanted my wine glasses to match the fun colors of my dishes.
To paint the glasses put the colors you want to work with on the paper plate.  Take your glue stick and start applying dots alternating where you apply the large dots and then the small dots.  I found it easier to paint the bottom of the glasses first.  The wet wipe is for wiping your mistakes after you forget to do the bottom first.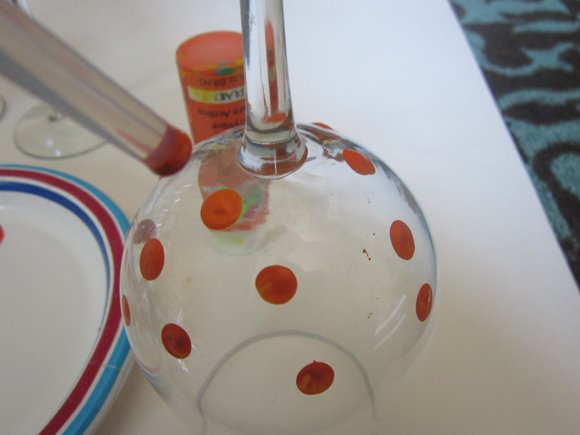 Now take your pencil eraser and start applying a different tone of your color paint to the glass like this;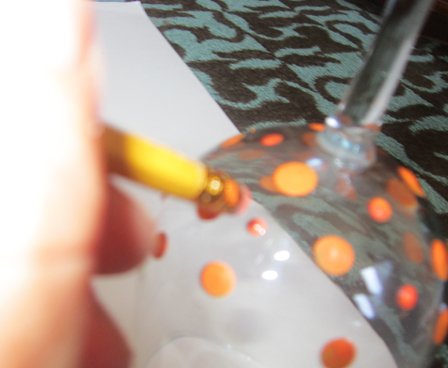 ( Sorry, I still don't have the hang of taking a picture with one hand.  That's one of my goals I need to work on.)
Once all your dots are in place you take your glasses and put them in a cool oven and turn the oven on to 350 degrees  and heat up for 30 minutes and then let them cool in the oven to heat set the paint. Wallla, you now have some super fun wine glasses.
My daughter in law Marcy has just signed up for Stella and Dot and had asked me to have a party when she came home.  I am not a fan of hosting parties but really wanted to support her.  So my party was today.  I thought it was the perfect time to make these glasses and serve at my party tonight.  Here is a picture of the glasses with the food I served.
I LOVE them!  Don't they look so festive and fun with my Fiestaware dishes.
Have you seen Stella & Dot jewelry??  If not you really need to check it out.  It's really fun, the celebrities wear it  and they have a 2 year warranty.  If interested you can check out my party.  It's open for 2 more weeks.  The link for the party is:  
http://www.stelladot.com/style/trunkshow/edd412af-987a-11e1-ad30-005056b55330
.  If you are so inclined to purchase anything, Marcy and I would be very happy!  And if not hopefully I inspired you to create some FUN glasses!  It took minutes with a very, very low cost (4.00 + paint I already had) for creating something FUN! Thanks Marcy, can't wait to see what else we create this week!
 Happy Creating!!
If you need a few more DIY ideas check out these ideas:
Don't let the Grandparent's day gift throw you off.  This can be altered for any gift you may need.

Grandparent's Day Gift
UPDATE:  I wanted to share I have washed my glasses in the dishwasher and they seem to be dishwasher safe.  🙂

Thanks for stopping by. I'd love to have you follow along and subscribe to my RSS Feed or sign up to receive daily Emails delivered to your inbox . You can also follow along via Facebook.
(Visited 4,923 times, 3 visits today)