Chris Camp, my son who lives in Atlanta GA is guest posting for me today. He is the owner of "The Painting Company" and I've watched his business grow from nothing to a very profitable business. He will be discuss the importance of creating a life plan.
Life Plan
What is a plan? Why do we have plans? What do they help us do? These questions all have simple answers that any of you would be able to respond to without much thought. A plan is defined "as a method for achieving an end". A plan gives us steps to achieve something that is larger than us. We use plans for many things in life recipes, budgets, vacations, kids, ect. One area that we don't spend enough time in my opinion is planning our life. What I mean by that is stopping and thinking about what we want those around us to say about us after we have lived our life. The simple question of what do you want your spouse or friends to say about you when you die? If you have ever attended a funeral of someone and it feels like a celebration of their life, that's someone who impacted people on a deep level. That's the kinda life I want to live. If we aren't intentional about what our plan for life is, we'll wake up someday and realize that we never become the person we wanted to be.
So, how do you create a life plan? The first thing in any endeavor is to create a vision for what you want. In this case create a vision for what you want your life to look like. I would recommend doing this for your Faith, Family, Work, Friends, Finances, & Spouse. I think it's important to separate your spouse from family to be intentional about what you want out of that relationship. Once you have created a vision for you each portion of life right down were you are today in each of those areas. This gives a starting point of where we are and an ending point of where we want to be. Now that we have a frame work for what we want out of life we put steps in place to make these things happen. I'll give you an example of one or two from my own life plan. My wife & want to be debt free except for our house including my small business that I own (this is our vision). Currently we have some personal credit card debt and student loans on top of our house (this is our reality). We have created a budget that will allow us to pay off all our debt except our house by next year (steps to our vision). Another example from my life plan is my relationship with my wife. I want to have a Godly marriage were I love her unconditionally like Jesus loves me. (this is my vision) We have a good marriage but we are super busy. She is a teacher and varsity basketball coach. I'm a small business owner with 30 team members, who also coaches a travel baseball team, and we lead a small group at our church. On top of all this we have a very active 2 and a half year old little boy. (this is our reality) Our steps to achieving our vision include weekly date nights between the two of us, marriage events put on by our church, yearly vacations just the two of us, and our weekly couples small group. We are intentional about doing these steps to ensure we are moving closer to our vision.
This isn't a very complex process. It requires us to stop and think about our life, and what we want out of our life. Once we do this it gives a road map for our lives. It allows us to know where we are and where we want to go. Michael Hyatt who writes a blog daily @ michaelhyatt.com, has a free book for anyone who signs up for his daHily email blog called "Creating Your Personal Life Plan" I would highly recommend reading the book and following the steps he lays out.
To remind us of the importance of goal setting I've created a free printable.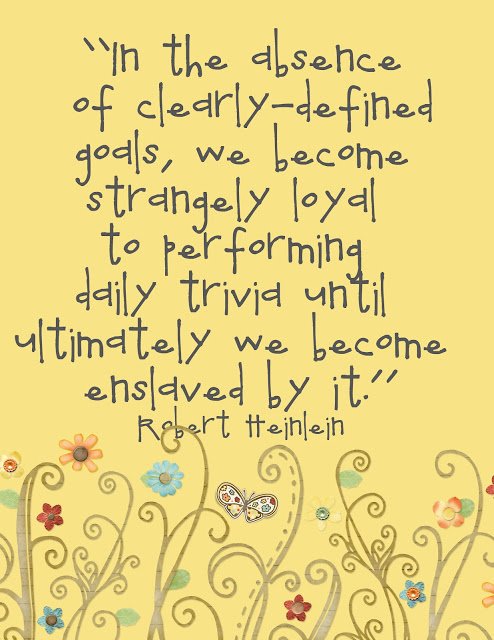 You can download an 8×10 copy
here:

Thanks for stopping by. I'd love to have you follow along and subscribe to my RSS Feed or sign up to receive daily Emails delivered to your inbox . You can also follow along via Facebook.
(Visited 2,065 times, 1 visits today)