Art is always subjective and by that token, so is interior design. We like to think that trends are a mirror image of what the most popular things are according to the populace. But this is simply not true. There are trends that are described as market trends but there are also trends called industry trends. The latter is all about specific people within the key zones of industry, such as thought-leaders. When it comes to the interior design world, market trends have always followed industry trends. That may be hard to understand but essentially, they are the trends that actually matter because it points to where the industry is heading.
Texture arrives
For a long time, smooth and rough surfaces have been the standard. We love our glass panels, metal tables, and leather sofas. But these are surfaces that are being replaced by what one may describe as older textures that have stood the test of time. For example, the leather sofa is being replaced by the fabric sofa. Cotton, linen, and woolen sofas are making a comeback because of their feel. They are softer, more complex and they have individual fibers. The same goes for our dining tables. Going from stainless steel and tempered glass to wood is a major change. The texture adds life to the room, and thanks to better carving techniques, when you run your hand over a wooden dining table it feels more intricate.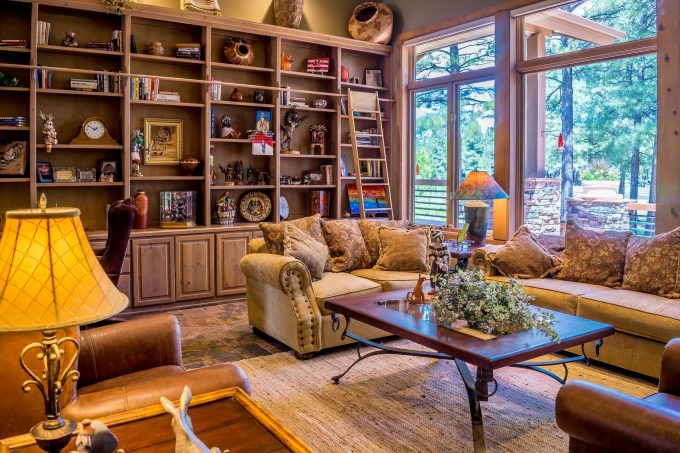 Ornamentation is back
Ornamentation is something that was unique to the Victorian interior design style, but it left behind a whole world that followed its example. Ornamentation is when you decorate your home with various pieces of your life and personality. So if you have been to Africa and bought a giraffe carving made out of wood, then you would place it on your window sill or shelf along with a painting of a landscape in Africa. If you love Chinese art, then the Chinese dolls and dragon emblems would do nicely in another corner of the room. It was all about traveling, showing you are cultured. You can overdo it, so only pick pieces that really matter to you and spread them around the home.
Roman bath
In recent years the modern bathroom has become far too corporate. The metal, glass, and ceramic tile mixture has become a bit of a pale and stale image. Thankfully these types of Luxury Bathroom designs have come back to the forefront. You can have a Roman-style bathroom, with a seashell tub, soft stone tiles, a slate floor, and plenty of clay carvings around the room for artistic pleasure. Columns and pillars are a nice touch in this type of room, but you can also have the typical naked baby angels floating around the walls. You may also want to have the bust of a famous person from this era, such as Augustus, Caesar, or Aurelius.
The interior designs of the past 10 years have made a huge impact. But with a new decade comes new dawn of interior design. These are just some of the examples of a new exciting wave of creativity.
I'd love to have you follow along. You can subscribe to my RSS Feed or sign up to receive daily Emails delivered to your inbox. You can also follow along via Instagram, Facebook, or Twitter.


(Visited 96 times, 1 visits today)