When's the last time you went on a wonderful holiday that left some fantastic memories? Think about that, then think about how great it would be to experience that peace, tranquillity, and excitement every day in your life. Think it's not possible? Well, with home decor it is!
Designing your home to give yourself that peaceful feeling of being on holiday isn't easy, but it's not as expensive as you might think. There are plenty of inexpensive decor ideas that you can utilize, although it does occasionally pay to upgrade things like your furniture or windows to give your home an extra kick in the design department. Without further ado, here are a couple of decor ideas that will give your home that holiday feeling.
Reminders of Your Holidays
If you're well-traveled then you probably have loads of souvenirs just sitting in drawers and cupboards. Why not take them out and set them up around your home to give it that holiday look? Whether it's simple decorative items or larger paintings and framed photographs, holiday decor can be inspiring, simple and awesome to look at.
Making Use of Color
Proper use of color will go a long way when it comes to designing the interior of your home. Focus on using tranquil and neutral colors such as pastels, whites, light browns, greens, and blacks. Earthy colors are fantastic for rooms that need a spa-like feel such as your bathroom, and bold colors are great for eccentric bedrooms.
When to Upgrade Furniture
If you feel like your furniture isn't quite up to scratch then it may be time to give it an upgrade. Luckily, there are plenty of styles and packages that can help you turn your designs into a reality. For instance, check out this life on the beach collection of furniture that showcases some beautiful styles that will remind you of a beach resort. It might sound expensive to purchase new furniture, but it's worth every penny if you can afford it.
Enjoy the Outdoors More
For a relaxing evening in, why not put up a deckchair and soak in the sun instead of sitting on the sofa watching television? While you won't get much sun right now during the colder season, it's still something to keep in mind for when the weather gets a little warmer. However, even during the cold season, you can still get a relaxing outdoor feeling by sitting in your conservatory or sitting in front of a large window while you do your work and daily chores.
Treat Yourself Like a Guest
When you go on holiday you usually stay in luxury hotels and resorts. The holiday feeling comes from being treated like royalty by these establishments, so why not go the extra mile by treating yourself like a guest? Give yourself fresh towels in the morning, serve yourself breakfast in bed on a tray and add accessories and magazines to your bedroom to help you wake up to a relaxing morning.
These are just a few ideas to transform your home into a beautiful holiday retreat, and they're all relatively simple to do yourself.
Thank you, Kristin Hill for your contribution.
Here are 15 DIY Home Decor Projects that will also help your home feel like a getaway.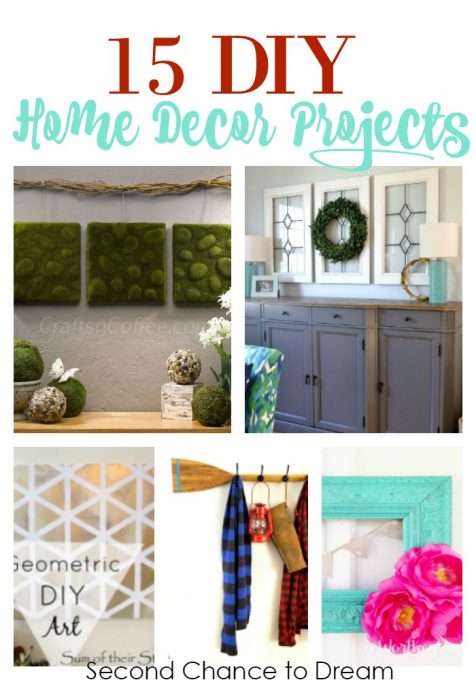 I'd love to have you follow along. You can subscribe to my RSS Feed or sign up to receive daily Emails delivered to your inbox. You can also follow along viaFacebook, Google + or.Twitter.




(Visited 172 times, 1 visits today)