Do you need a last minute 4th of July decoration?  I have the perfect thing for you.  I love to decorate for the holidays and I've enjoyed decorating my House number sign.  I really wanted something patriotic on the sign.  I thought a bunting would be perfect but I needed something that would work outside.  Read on to see how I made my Outdoor No Sew Patriotic Bunting.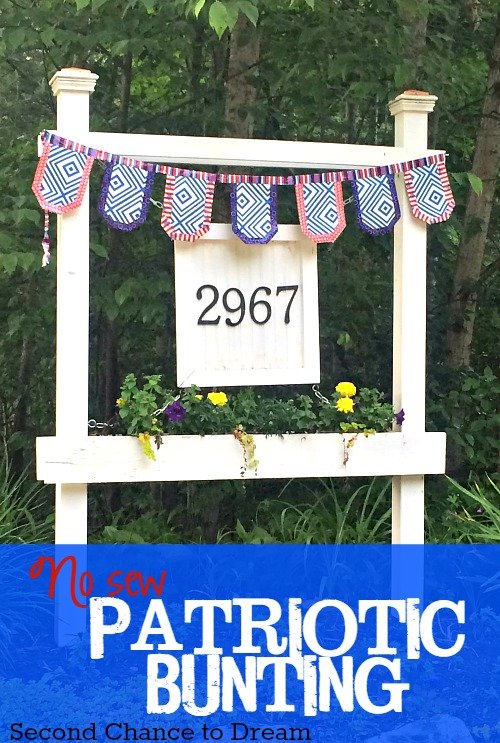 While at the Dollar Tree I ran across some fun patriotic duct tape.  I knew that would be perfect for my bunting, but I was stumped as to what could I come up with to use for the individual pieces.  I browsed the store and I found these vinyl placemats that I thought would be perfect.  So, I bought some.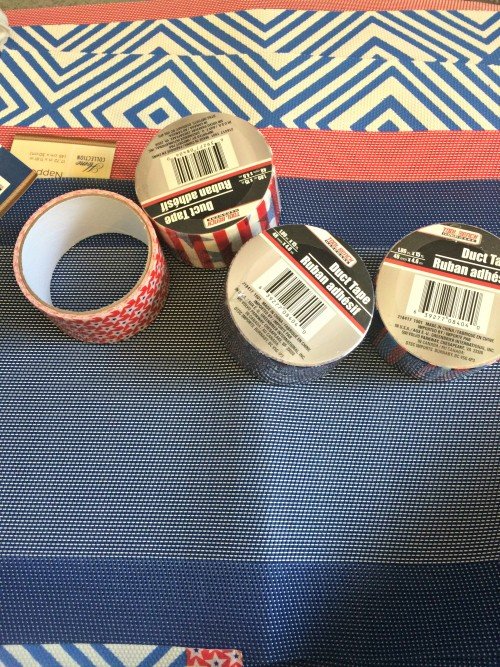 I sat down and started creating.
Here are the supplies I used:
4 rolls of patriotic Duct tape from Dollar Tree-  I used 4 coordinating designs.
Vinyl placemats- The number you will need will depend on how long you want your bunting to be.  You can get 2 pieces from each placemat.
scissors
Here's how I did it:
Take your placemat and cut it in half.  I got two pieces per placemat.  I used 7 pieces to fit the width of my sign.
Decide on a shape that you would like to use.  I don't recommend a rounded edge because its hard to apply to a curved piece.  Need some ideas? Get on Google and search free bunting templates.  There are a lot of them out there.
Cut out all your pieces.
Once the pieces are cut, take your duct tape and go around your edges.  It isn't necessary to do the top since you will be using one long strip across the top.  I used only 3 colors for going around the edges and saved one color for a long piece to adhere all your pieces to.
After you have all the duct tape on your pieces lay them out into the pattern that you would like.
Find a long space ( table, counter top, etc.) and lay out one long piece of  duct tape with sticky side up. Make sure you add enough to tie  onto whatever you are hanging it on.   Carefully place your pieces on half the tape like shown below.
Hang your bunting and enjoy it!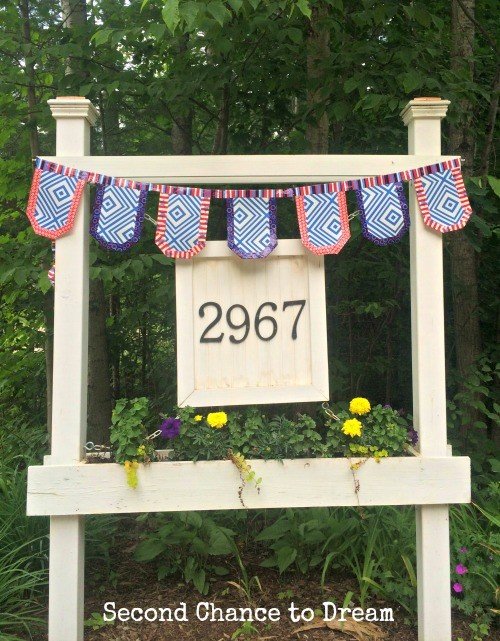 Here are a few other ways I've decorated my DIY House Number Sign.
I'd love to have you follow along. You can subscribe to my RSS Feed or sign up to receive dailyEmails delivered to your inbox . You can also follow along viaFacebook, Google + or .Twitter.




(Visited 394 times, 1 visits today)