Summer is coming and we don't want our kids brains to turn to mush. Stephen Reynolds is back to share some insights on Technology & Mobile Gaming's Positive Impact on Education & Learning today.  Hopefully, this will give you some ideas for planning your summer.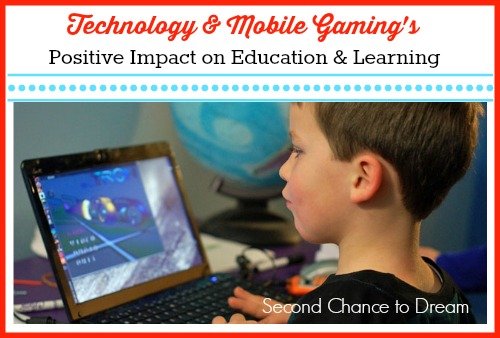 Everywhere we look, technology has become a fixture in modern life. That includes in the lives of children who from an early age are learning to manipulate tablets and phones as easily as they stack blocks. While there's no consensus yet on what the long-term impact of screen time will be in a generation of kids surrounded by gadgets, most parents seem to have come to the conclusion that spending a few hours a week with apps isn't causing anyone any harm.
What's maybe more surprising is that many educators feel the same way. The question is no longer whether quality mobile games, educational apps and the technology itself can be considered benign. Now people are asking whether games and gadgets can actually be beneficial to students – and the answer, according to research, is yes.
You might think that the rise of technology as an educational tool would be the results of improvements in the tech space. But even though advanced mobile technology developed by companies like Snapdragon, a growing lineup of open-ended creative games and hardcore STEM titles, and other developments in the mobile sphere have certainly contributed to the influx of gadgets into the classroom, it turns out that games have probably always been good for kids.
Even games that seem like nothing more than a fun distraction – think race car rallies and shoot-'em-ups – can have a positive effect on a child's ability to understand new information, retain it and process it later. In a 2014 study, people who played fast-paced action games were better at making predictions, remembering what they had learned and understanding new information.
Beyond the brain boost, video games can teach problem solving skills and creativity, inspire interest in other cultures, foster healthy competition and even encourage kids to exercise. The key takeaway for parents and educators is to approach screen time thoughtfully. Unrestricted access to mobile gadgets is still probably not the best idea.
Consider putting time limits on at-home screen time to balance out screen time at school. There are more classroom initiatives to put tech into the hands of students than ever before. That's because on top of the brain-boosting power of games and apps, technology in the classroom can level an increasingly uneven playing field. School-owned mobile devices in particular can give a leg up to students who might not have the latest tech at home.
Suddenly all kids are empowered to communicate with experts across the globe, find esoteric information, solve complex problems and interact with subject matter in new and engaging ways. Numerous studies have shown that mobile gadgets in the classroom can have a positive impact on study habits, literacy and test scores – in kids as young as kindergarten age!
So if you've worried that screen time is out of control at your house, maybe the answer isn't less tech in the hands of your children but a little more oversight by parents who have researched the best apps and games for kids. It makes sense for today's children to be familiar with the kind of technology that will be with them into early adulthood and to know how to find out everything from why the sky is blue to why Fermat's last theorem remains unsolved. Mobile games are just the beginning – access to technology itself can be a gateway into a new world of learning.
Stephen Reynolds, Freelance Journalist
Editor at Upward Onward
Thanks Stephen for your insight!!
Readers do you agree or disagree that technology and gaming can be a positive force in a child's education?  I'd love to hear your comments.
(Visited 264 times, 1 visits today)