Spring is coming!!  If you're a regular reader you have seen a familiar theme: SPRING! I guess I 'm really excited for spring.  There is some grass showing in our yard.  Yippee!!!  OK back on topic.  I wanted something colorful to welcome spring so I created this quick & easy DIY Welcome Spring Sign to hang proudly on my home.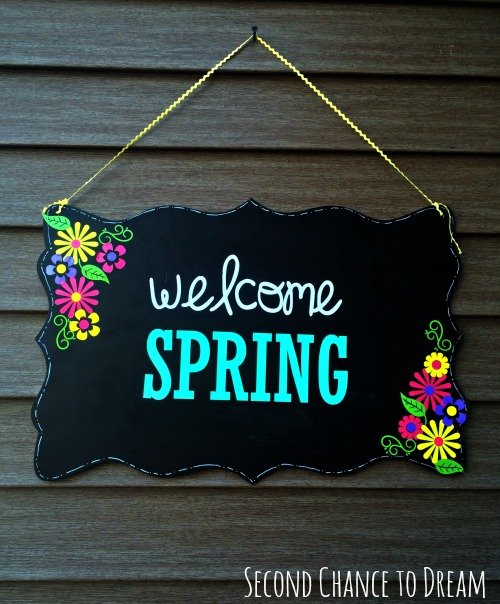 Here are the supplies I thought I'd be using.  LOL!  I always start with what I think will be my supplies and then when I get done, the vision has often changed and so have the supplies.  This project was no exception.    The one thing that stayed the same was my inspiration piece, a wooden chalkboard placemat.  I found the placemat at Michaels on sale.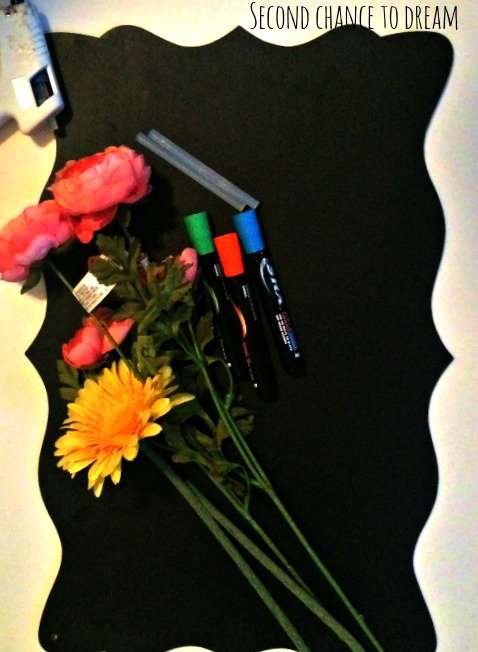 Because this was a  wooden placemat and there was no way to hang it I drilled  holes in the corner.  If you don't trust your drilling skills or don't have access to a drill you could always hot glue your hanger.
Next, I used a permanent chalk marker and went around the edge doodling a line around the placemat.
I originally wanted to write, with the chalk marker the words "Welcome Spring".  So I sketched it on with a piece of chalk and then wanted to go over it with my marker but that idea wouldn't work.  So, I thought why not bring out my Silhouette machine and cut it out with vinyl. I chose my font and the vinyl I wanted to use and got to work.
Once I got the vinyl in place I took off the transfer paper to enjoy my work.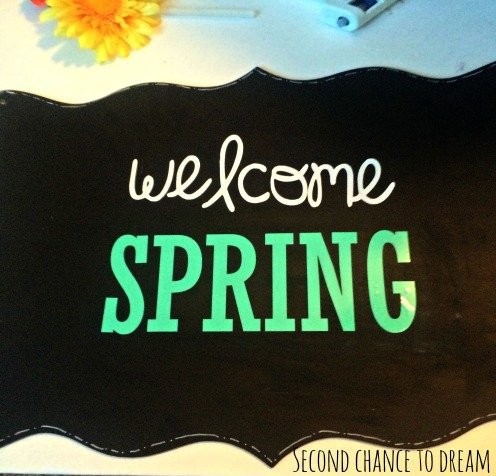 I originally wanted to use the flowers I showed in the supply picture but when I placed them on there I didn't like them.  So, back to my handy Silhouette to cut out various flowers and leaves in fun colors.  I took a piece of rick rac to use as a hanger but you could use ribbon or twine to hang it from.  Also, since my vinyl is an outdoor vinyl I can hang this outside on my covered front porch or I can hang inside. So where will I hang it?
Want some more creative ideas?
I'd love to have you follow along. I've got some more spring projects up my sleeve.  You can subscribe to my RSS Feed or sign up to receive dailyEmails delivered to your inbox . You can also follow along via Facebook, Google + or Twitter.




(Visited 612 times, 1 visits today)