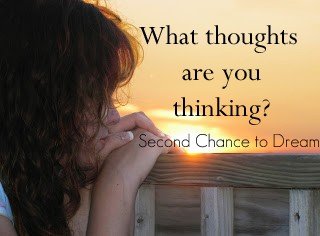 Right now I'm reading/listening to the book "The 4:8 Principle" by Tommy Newberry.  It is a book based on Phil. 4:8.
"Finally, brothers, whatever is true, whatever is noble, whatever is right, whatever is pure, whatever is lovely, whatever is admirable—if anything is excellent or praiseworthy—think about such things."
For years this verse was just words to me.  I honestly couldn't grasp how to practically apply this verse in my life.  I was unaware that I could choose the things I thought about.  I didn't have to think and obsess on whatever came into my mind.  This book and a few others have shown me what we think is so important!
 Here are a few things I learned from the first chapter:
~The secret conversations you hold in your mind are shaping your life little by little.
What does go through your mind?  How you've screwed up so bad, how your nothing but a loser, my life will never change,  I'm stuck. I'm so fat,  I could go on and on.  When I hear that each thought is shaping my life I need to guard my thinking.  I think God says something about that.  Prov. 4:23 says, "Above all else, guard your heart, for it is the wellspring of life."
 ~90% of the thoughts you have today are repeats from yesterday and the day before.
We have to think about what we are thinking about.  We have to discipline our minds.  If we don't we will live a life of mediocrity, not the abundant life God has called us to.  Rom. 12:2 teaches us that change (transformation) comes from renewing our minds.  We need to retrain our thoughts and feelings if we want to experience God's will for our life and get the most out of every moment of everyday.
~We don't have to do the changing! What most of us do is we struggle to change or renew our circumstances (lose weight, fix marriage problems, fix money issues, etc.) and get frustrated and QUIT!  We can ask God to help us renew our minds.  We don't have to struggle to make the changes!  When our minds our renewed, circumstances take care of themselves.
~We can't think about joy and love and worry and fear at the same time.  We get to choose.  Thinking, and talking, and worrying about what you don't want will never bring you what you do want.
~The way you think can either multiply or shrink your gifts and talents. Oh boy do I know this to be true in my life.  Someday soon, I'll share the story of how this blog and the name came about.
~Finally, as hard as you may try, you can't think one thing and experience something else.  You can't think critically about your husband even if it's justified and experience intimacy with him. You can't plant apple seeds and expect oranges.  Each thought we have, matters.
Today, I challenge you to think about what you are thinking about.  Identify one thing you would like to improve in your life and focus on changing the way you think about it. Ask  God to give you new thoughts and to help you change those tho
(Visited 870 times, 1 visits today)