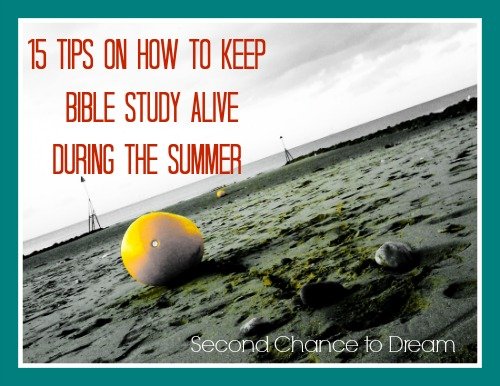 I don't know about you but my routines in the summer can get thrown for a loop.  Don't get me wrong, I love being able to sleep in a little later and throw out some of the intense routines of the school year.  But, I have to be careful or all routine is gone and I don't want that to happen. I want the following verses to be my theme for the summer.
Look carefully then how you walk! Live purposefully and worthily and accurately, not as the unwise and witless, but as wise (sensible, intelligent people), Making the very most of the time [buying up each opportunity], because the days are evil. Eph. 5:15-16
 I want to live purposefully!  So to do that I NEED a plan. I started brainstorming ways to accomplish this.  Here are a few I came up with:
1.  Find an online Bible Study.  I even started the research for you.  Here is a link to online studies I found on Pinterest.
2.  Read a chapter of Proverbs every day.
3.  Read Psalms according to the date.  Today is the 11th, Read Chapter 11, 41, 71, 101, 131.
4.  Beth Moore has a Summer Bible Study going. They are studying Gideon:  Your Weakness, God's Strength by Priscilla Shier.  I am reading a book by Priscilla right now and she is a wonderful writer.  And can't we all relate to Gideon?
5.  Read the Bible on your smartphone.  Download You Version Bible App (FREE)  This app is available on the iPhone, iPad, Android, Blackberry, Palm.  Over 100 different versions of the Bible in many different languages.  They have wonderful reading plans available.  I LOVE being able to look at different versions of the Bible.
6.  Memorize Scripture-  Use the app Bible Memory Verses (FREE) 1,000 Bible verses to chose from to memorize in 4 different versions of the Bible (ESV, KJV, NASB, NIV)."A word removal tool, flashcard tool, audio record & playback functions, search function and the ability for users to add their own verses." Includes quizzes to allow users to test their knowledge.  App for iPhone/iPod.
7.  Make your car a university.  In my town, it takes 20-30 min. to get to places I want.  That is almost the time it takes to listen to one sermon.  Get on 
iTunes
 and download some sermons onto your phone or burn a CD and listen to it as you run errands.  
8.  Join an Audiobook Club and listen to a good Christian book while driving or at the beach.
9.  Listen to the Bible in the car.  Most Bible apps have audio Bible on them.  
10.  Keep a devotional book in your bathroom.  There are so many great devotional books out there.  Read while your blow drying and curling your hair.
11.  Keep a Bible or scriptures you are meditating or memorizing on the kitchen counter.  Glance at it while cooking and cleaning.
12.  Get devotions emailed to you every day.  Crosswalk has a great selection.  
13.  Do a devotional book with your kids. This will keep you on track and breathe faith into your children.  There are tons of books out there but here are a few I recommend.  

These are affiliate links.
14.  Do a book study with a group of girls. This is one I will be doing this summer.  We are reading the book "Good and Beautiful God".  We meet at a park or school so the kids can play on the playground and we study and have fellowship.
15.  Get with a girlfriend and hold each other accountable to have personal a quiet time or whatever your goal is.  Check in with each other every few days or whatever time you set.  Accountability works wonders for me.   
 Here are a couple bonus tips:
 Gail from Bible Love Notes has 1-minute devotion each weekday on BibleLoveNotes.com and a Monday Bible study that is short and sweet on site BiteSizeBibleStudy.com.  Thanks, Gail for bringing that to my attention.
Let's be purposeful and intentional this summer!!!
Don't forget you can get a FREE Bible Study and Prayer request sheet.  To help you record your summer journey.  

Do you have a plan for your summer Bible Study?
  I'd love to hear what you're doing.
(Visited 1,358 times, 2 visits today)