Have you ever had a desire to move abroad with your family?  If so, you will love this article by Joseph Schrauben.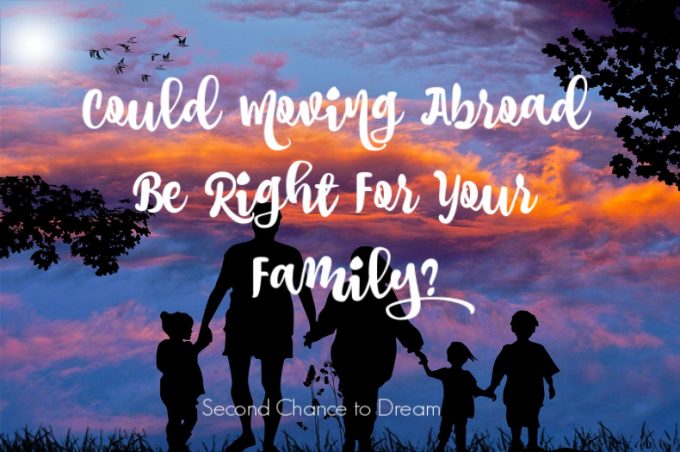 When thinking about the best options for your family and your future, the opportunity to move abroad may be one that you have thought about or might be open to considering. Moving to a different country is a massive step for anyone, whether you're single or have the whole family moving. However, millions of families have done it, and people are making the move every day and even more than that, many have loved it so much they have made it their permanent home. Others who just went for the experience or to earn a certain amount of money or further their career got what they set out to achieve and then moved back home when they were ready to. Whether you're considering a move for work purposes or just seeking a new adventure for your family, moving with a family will mean that finances are likely to be top of your list of considerations, followed by finding schools and childcare services and healthcare facilities. So, have a look at this list of the best places you could move to with your family:
Austria
This is not only a beautiful country but, childcare and education options are abundant. Austria is the country currently at the top of the Family Life Index as the quality in education, and general family well-being scores have improved dramatically from the eleventh to the second place for both childcare and education in just one year. 92% of expat parents in Austria rate the quality of education favorably, compared to the global average of 65%.
Finland
Offering a high-quality but affordable education for children, Finland ranks first out of the 41 countries in the Quality of Education subcategory, and 92% of expat parents give it a positive rating. The country is in the first place when it comes to the cost of education, and 81% of expat parents agree that education is accessible to afford there, which is near twice the global average of 41%. Free from pre-primary levels to higher education, textbooks, transport, and meals are also either free or partly funded in Finland.
Sweden
Sweden is seen as a very secure and spacious country which is not too far from the UK. With plenty of green spaces, outdoor living and winters shorter than you think, Sweden is an ideal place to raise a family. The Swedes enjoy an excellent work-life balance, good quality healthcare, education, and housing. And while the cost of living is quite high and disposable income is low, the nation is still content with Sweden ranking 10th on the World Happiness Report 2016 (the UK is 23rd).
Singapore
Singapore is a tiny Southeast Asian country which achieves high rankings from many expats. With an excellent career and social opportunities as well as world-class education and standards of living, the city can, however, be expensive. There is a meager rate of crime in Singapore which means that it is a very safe country to live in and is ranked second on the Global Safety Index. Singapore offers an excellent education, and the public schooling system provides a high standard of affordable education. Learning a second language is compulsory, and there is a vast variety of extra-curricular activities offered as well. For expats, there is a great social scene and fantastic healthcare facilities. While property and rent prices can be high because the cost of renting in the city is comparable to central London prices, there are however options for buying if you are looking to settle for a long time or you're looking to invest, and you can check out the housing loan rate to see what you could afford.
Israel
It might not be the first place that springs to mind when you think about moving abroad, but the availability of childcare, as well as the well-being of children in Israel, receives very positive rankings from expats.
New Zealand
Children's education and kids' well-being topped the list with 91% of expats also saying they are generally satisfied with the friendliness of the locals towards families with children in New Zealand. Expats in New Zealand say they don't find it hard to get used to the local culture, with 77% agreeing that they feel at home there. New Zealand's schooling system is similar to the UK's. Children start school at the age of five and continue in compulsory education until 16. The quality of schooling is excellent, and the country regularly makes it into the list of top ten worldwide locations for education.
Thank you, Joseph, for sharing this information with us.
I'd love to have you follow along. You can subscribe to my RSS Feed or sign up to receive daily Emails delivered to your inbox. You can also follow along via Facebook, Google + or Twitter.




(Visited 174 times, 1 visits today)